A faster treat­ment for tu­ber­cu­lo­sis? TB Al­liance launch­es piv­otal tri­al for four-drug reg­i­men
Com­bin­ing some of the lat­est break­throughs in tu­ber­cu­lo­sis re­search with some of the old­est treat­ment op­tions, the TB Al­liance has launched a piv­otal tri­al to test how well their four-drug reg­i­men can treat tu­ber­cu­lo­sis in light of grow­ing re­sis­tance to cur­rent ther­a­pies.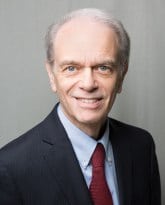 Mel Spigel­man
The not-for-prof­it is con­tribut­ing an ex­per­i­men­tal com­pound, pre­tomanid, which rep­re­sents a class of nov­el an­ti-bac­te­r­i­al agents called ni­troim­i­da­zole. The rest of the reg­i­men calls for J&J's be­daquiline — per­haps bet­ter known as Sir­turo — the off-patent an­tibi­ot­ic mox­i­floxacin, and pyraz­i­namide, a gener­ic med of­ten found in TB com­bos.
Dubbed Sim­plic­iTB, the tri­al will be con­duct­ed among 450 pa­tients across Africa, Asia, Eu­rope and Latin Amer­i­ca, with the first pa­tient al­ready en­rolled in Tbil­isi, Geor­gia.
There are two goals. First, re­searchers want to find out whether the BPaMZ reg­i­men can in­deed treat drug-sen­si­tive TB more quick­ly and ef­fec­tive­ly — some­thing they have ob­served in a small­er, short­er Phase II tri­al — by com­par­ing four months of that to six months of the stan­dard iso­ni­azid, ri­fampicin, pyraz­i­namide and etham­b­u­tol (HRZE) com­bo.
The sec­ond as­sess­ment is on the new reg­i­men's po­ten­tial in mul­ti-drug re­sis­tant tu­ber­cu­lo­sis — cur­rent treat­ments tend to be ex­pen­sive, lengthy and in­volve in­jectable drugs.
"As re­sis­tance to cur­rent TB treat­ments con­tin­ues to grow, we need to in­tro­duce all-oral drug reg­i­mens that can treat every per­son with TB in six months or less, re­gard­less of their re­sis­tance pro­file," said Mel Spigel­man, pres­i­dent and CEO of TB Al­liance. "If proven suc­cess­ful in Sim­plic­iTB, the BPaMZ reg­i­men would rep­re­sent a ma­jor step to­ward this goal."
Tu­ber­cu­lo­sis is among the fa­tal ail­ments that con­tin­ue to af­flict low-in­come coun­tries but re­ceive lit­tle R&D ac­tion. Non-prof­its have large­ly been pick­ing up the charge; the Gates Foun­da­tion has made it one of its pri­or­i­ties by back­ing in­fec­tious dis­ease start­up Vir and, re­cent­ly, set­ting up a biotech-like in­sti­tute to test a tu­ber­cu­lo­sis pre­ven­tion pro­gram it­self.