A Mar­tin Shkre­li wannabe de­fends a big spike in drug price and earns a Twit­ter lash­ing from the FDA's com­mish
There's a broad con­sen­sus that the phar­ma in­dus­try has at least tem­porar­i­ly checked its im­pulse to keep hik­ing prices on their port­fo­lios. But a small drug­mak­er named Nos­trum Lab­o­ra­to­ries ap­pears not to have re­ceived the memo — and now the com­pa­ny is on the re­ceiv­ing end of a Twit­ter-lash­ing by FDA com­mis­sion­er Scott Got­tlieb.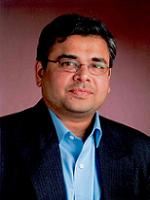 Nir­mal Mu­lye
Ac­cord­ing to the Fi­nan­cial Times' David Crow, which has been field­ing a se­ries of these sto­ries, Nos­trum hiked the price of an old an­tibi­ot­ic from $474.75 to $2,392 last month. And the CEO is proud­ly align­ing him­self with Mar­tin Shkre­li, now do­ing time in a fed­er­al prison for fraud af­ter kick­ing up an almighty storm of protest over his price goug­ing strat­e­gy with Dara­prim.
"I agree with Mar­tin Shkre­li that when he raised the price of his drug he was with­in his rights be­cause he had to re­ward his share­hold­ers," Nos­trum CEO Nir­mal Mu­lye told the FT.
Why raise the price? The on­ly brand­ed al­ter­na­tive still costs more, says the CEO. And what he is do­ing is no dif­fer­ent than an art deal­er sell­ing a paint­ing "for half a mil­lion dol­lars," adding that he was in "this busi­ness to make mon­ey."
The sto­ry trig­gered a sharp re­sponse on Twit­ter from FDA com­mis­sion­er Scott Got­tlieb, who has led the charge against these sud­den price spikes, which are com­plete­ly le­gal.
1/2 Re­gard­ing @FT sto­ry to­day @by­david­crow; there's no moral im­per­a­tive to price gouge and take ad­van­tage of pa­tients. FDA will con­tin­ue to pro­mote com­pe­ti­tion so spec­u­la­tors and those with no re­gard to pub­lic health con­se­quences can't take ad­van­tage of pa­tients who need med­i­cine

— Scott Got­tlieb, M.D. (@SGot­tliebF­DA) Sep­tem­ber 11, 2018
Ac­cord­ing to #FDA's short­ages data­base; the drug in ques­tion — which is a liq­uid for­mu­la­tion of a wide­ly avail­able, and old and less fre­quent­ly used an­tibi­ot­ic — is al­so NOT in short­age.

— Scott Got­tlieb, M.D. (@SGot­tliebF­DA) Sep­tem­ber 11, 2018