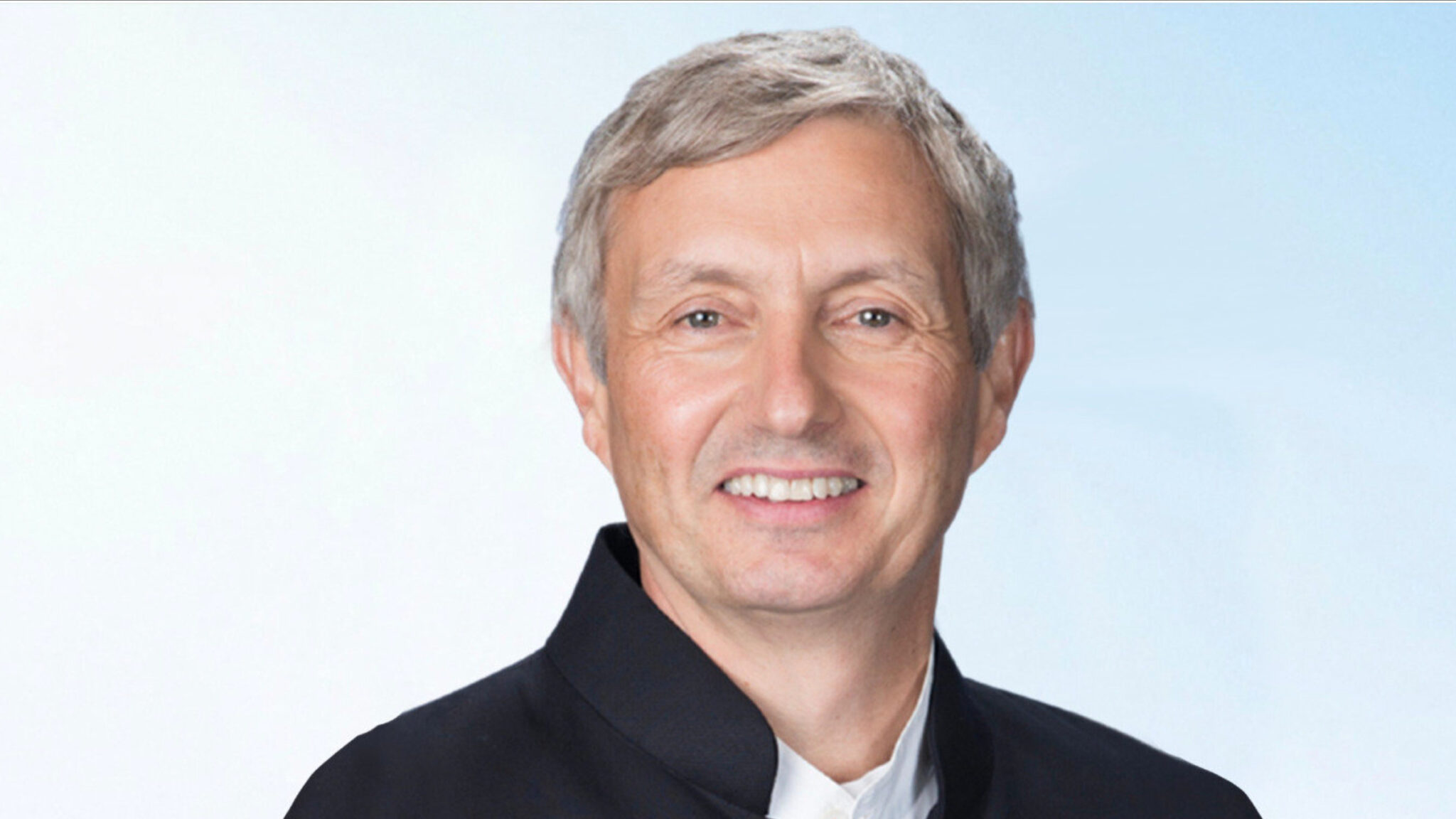 Raymond Stevens, ShouTi Pharma CEO
A new Schrödinger-backed start­up emerges from the sci­en­tist who mapped the first hu­man GPCR
One of the most pop­u­lar tar­gets in drug de­vel­op­ment, rep­re­sent­ing about a third of ex­ist­ing drugs, are G-pro­tein cou­pled re­cep­tors — the tiny but in­te­gral mem­brane pro­teins re­spon­si­ble for rec­og­niz­ing things like light, taste, smell, hor­mones and pain.
But due to chal­lenges in map­ping their struc­ture, the pro­tein fam­i­ly re­mains large­ly un­ex­plored.
A slate of com­pa­nies has emerged over the last few years to change that. If one can fig­ure out the struc­ture of these elu­sive mem­brane re­cep­tors, it might be pos­si­ble to cre­ate small mol­e­cule drugs that over­come the lim­i­ta­tions of, say, bi­o­log­ic and pep­tide ther­a­pies. That promise is what gets se­r­i­al en­tre­pre­neur Ray­mond Stevens out of bed in the morn­ing.
It's al­so what re­cent­ly got his com­pa­ny ShouTi $100 mil­lion from a syn­di­cate of blue-chip in­vestors.
ShouTi, a Schrödinger-part­nered start­up, un­cloaked Wednes­day morn­ing with a hefty Se­ries B round led by BVF Part­ners. Stevens launched the com­pa­ny four years ago with Schrödinger co-founder Rich Fries­ner and land­ed a $58 mil­lion Se­ries A back in 2019. Why wait so long to come out of stealth?
"We asked for the time so that we could stay fo­cused at the be­gin­ning," Stevens told End­points News.
Now the com­pa­ny has 50 staffers and three pro­grams in the works, the first of which is al­ready in the clin­ic for pul­monary ar­te­r­i­al hy­per­ten­sion, or high blood pres­sure that af­fects ar­ter­ies in the lungs and heart. It's a con­di­tion that Stevens and his team be­lieve goes un­di­ag­nosed in much of the world.
The sec­ond pro­gram should be head­ed for the clin­ic ear­ly next year, Stevens said, while the third is still in ear­ly de­vel­op­ment. The CEO is keep­ing the tar­gets for those pro­grams un­der wraps for now.
ShouTi's roots trace back to Syrrx, a com­pa­ny Stevens found­ed in 1998 fo­cused on high-through­put struc­ture-based drug dis­cov­ery. The com­pa­ny was par­tic­u­lar­ly pas­sion­ate about GPCRs, which sci­en­tists knew lit­tle about at the time. In 2007, Stevens and his col­leagues pub­lished the first high-res­o­lu­tion struc­ture of a hu­man GPCR. Short­ly af­ter that, he launched Re­cep­tos with a plat­form around the tricky re­cep­tors.
"There was a com­bi­na­tion of about, you know, 15 dif­fer­ent tech­nol­o­gy de­vel­op­ments that all had to come to­geth­er in or­der for us to get those very first G-pro­tein cou­pled re­cep­tors," he said.
Re­cep­tos al­so had an as­set that proved quite at­trac­tive: an S1P1 ag­o­nist now bet­ter known as Zeposia, a pre­scrip­tion drug for re­laps­ing forms of mul­ti­ple scle­ro­sis. The drug was a key point of in­ter­est in Cel­gene's ac­qui­si­tion of Re­cep­tos in 2015, and sub­se­quent­ly Bris­tol My­ers Squibb's ac­qui­si­tion of Cel­gene in 2019.
When all was said and done, Stevens was left want­i­ng to build out Re­cep­tos' old GPCR plat­form. So when Fries­ner called him with an of­fer to col­lab­o­rate in 2017, he jumped.
Some big-name back­ers have come aboard as well, in­clud­ing Cas­din Cap­i­tal, Cor­morant As­set Man­age­ment, Janus Hen­der­son In­vestors, Lil­ly Asia Ven­tures, Monashee Cap­i­tal, Sage Part­ners, Stork Cap­i­tal, Sur­vey­or Cap­i­tal, TCG X, Ter­ra Mag­num Cap­i­tal Part­ners, Wood­line Part­ners, Schrödinger, Eight Roads, F-Prime Cap­i­tal Part­ners, Qim­ing Ven­ture Part­ners, Se­quoia Cap­i­tal Chi­na, TF Cap­i­tal and Wuxi AppTec.
ShouTi isn't the on­ly GPCR-fo­cused com­pa­ny get­ting at­ten­tion from Big Phar­ma. Japan's So­sei Hep­tares joined forces with both Roche's Genen­tech and Take­da back in 2019 to de­vel­op med­i­cines that mod­u­late GPCRs. And it's es­ti­mat­ed that more than 30% of FDA-ap­proved drugs tar­get this class of pro­teins.
"We've re­al­ly dug in deeply in­to un­der­stand­ing the func­tion, and we re­al­ly un­der­stand the phar­ma­col­o­gy quite well," Stevens said. "So I think that's prob­a­bly one of our biggest ad­van­tages is that un­der­stand­ing."