A sci­en­tist wages a war over women's 'sec­ond-rate' sta­tus at the NIH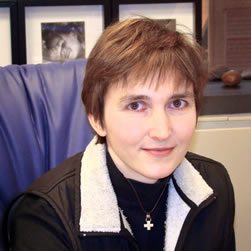 Bib­iana Bieleko­va
Over the past five years, the NIH's at­tempt to achieve some sort of gen­der bal­ance in its sci­en­tif­ic ranks has large­ly failed to de­liv­er any­thing that could be con­sid­ered sta­tis­ti­cal­ly sig­nif­i­cant. Twen­ty-two per­cent of re­search sci­en­tists are women now, up from 19% in 2011, ac­cord­ing to a re­port in the Wash­ing­ton Post. And 38% of the sci­en­tists on a tenure track are women, com­pared to 36% five years ago.
NIH's Bib­iana Bieleko­va, though, isn't buy­ing the NIH's de­fense that it's do­ing the best it can un­der dif­fi­cult cir­cum­stances. She filed an Equal Em­ploy­ment Op­por­tu­ni­ty com­plaint claim­ing that gen­der bias is en­dem­ic at the NIH, the coun­try's pres­ti­gious re­search cen­ter.
"It's not neg­li­gence," Bieleko­va told the Wash­ing­ton Post. "Women are con­sid­ered sec­ond-rate cit­i­zens. They are ful­ly aware that this is hap­pen­ing, the lead­er­ship. It's hap­pen­ing with their bless­ing."
And she's get­ting some help from the Wash­ing­ton Post on this, with a sto­ry that con­cludes that Bieleko­va is "sup­port­ed by a body of re­search that leaves lit­tle doubt that bias is at least part of the prob­lem."
Gen­der bias has been a po­tent is­sue in drug de­vel­op­ment cir­cles as well as acad­e­mia for sev­er­al years now. Women are paid less, earn few­er pro­mo­tions and are far less like­ly to hold a top job in any in­sti­tu­tion, ac­cord­ing to the Na­tion­al Acad­e­my of Sci­ence.
In biotech, a con­tro­ver­sy erupt­ed ear­ly this year af­ter a num­ber of women com­plained about the way they were treat­ed at JP Mor­gan, where the par­ty cir­cuit in­clud­ed some high-pro­file events that re­lied on bring­ing in some leg­gy mod­els as host­esses and sev­er­al women com­plained about the frat boy en­vi­ron­ment. Women rou­tine­ly note that gen­der bal­ance is rarely seen in bio­phar­ma's board rooms and ex­ec­u­tive suites.