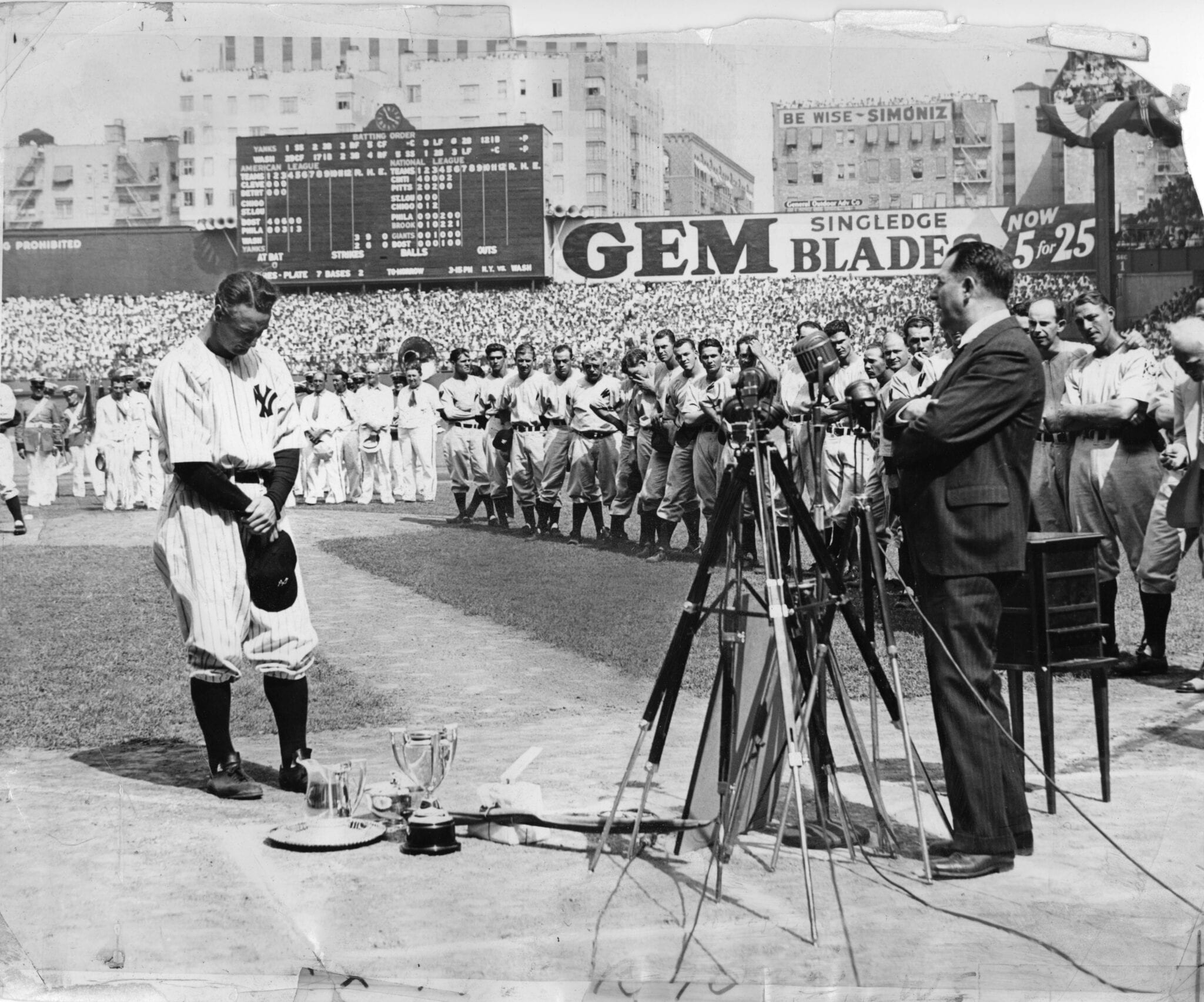 Lou Gehrig gives his farewell speech after being diagnosed with ALS in 1939. Major League Baseball is honoring the slugger Wednesday with the first-ever Lou Gehrig Day. (Credit: Getty Images)
A sim­ple pa­tient sur­vey rev­o­lu­tion­ized ALS drug de­vel­op­ment in the 1990s. Its cre­ator says it may be time for an up­grade
It's been an­oth­er tough year for ALS ther­a­pies. New tri­als that sparked pa­tient hopes ei­ther fell short of sta­tis­ti­cal sig­nif­i­cance or failed to pro­vide enough ev­i­dence for the FDA to rec­om­mend mov­ing for­ward with­out an­oth­er look. The end re­sult is large­ly more of the same for pa­tients — lit­tle progress in a fa­tal dis­ease with on­ly two ap­proved treat­ments.
That frus­trat­ing slog has stirred pas­sion­ate de­bate with­in the pa­tient and ad­vo­ca­cy com­mu­ni­ties, large­ly around things like tri­al de­sign, com­pas­sion­ate use pro­grams or even what the bar for ap­proval should be. Long over­looked in those dis­cus­sions, how­ev­er, is a tool used to eval­u­ate every ALS ther­a­py that's draw­ing in­creas­ing scruti­ny.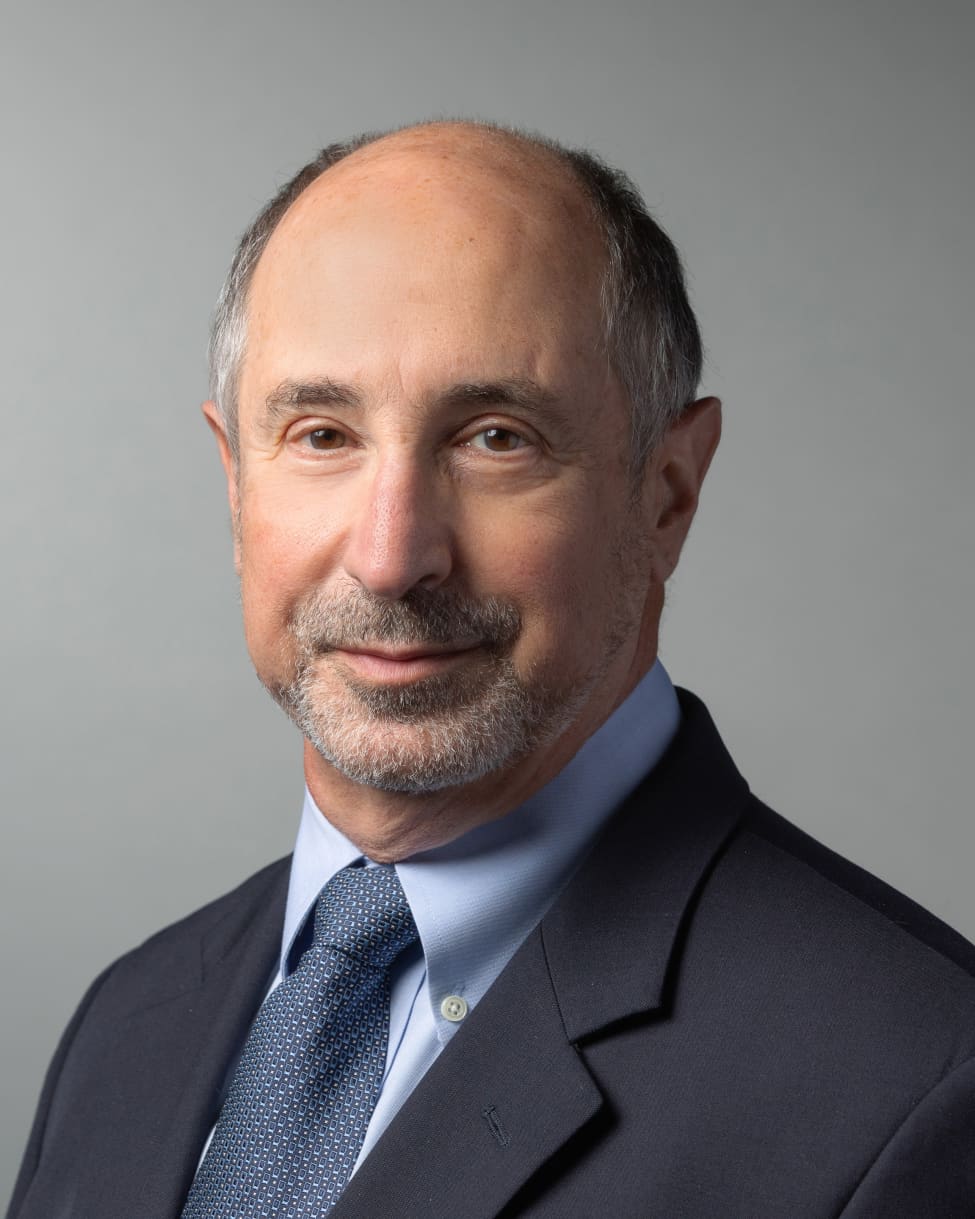 Jesse Cedar­baum
At first, in the 1990s, this tool changed the land­scape in a big way. A group of ALS re­searchers led by then-Re­gen­eron ex­ec Jesse Cedar­baum came to­geth­er to de­vel­op a rat­ing scale to mea­sure how quick­ly the dis­ease pro­gress­es, and whether ex­per­i­men­tal drugs could af­fect it mean­ing­ful­ly. Known as the ALS Func­tion­al Rat­ing Scale, lat­er re­vised in 1999, this scale has be­come one of the pri­ma­ry meth­ods bio­phar­mas have used to try to de­vel­op ALS drugs over the last 25 to 30 years, and is seen by the FDA as a high­ly use­ful tool when eval­u­at­ing whether or not the ex­per­i­men­tal drugs ac­tu­al­ly work.
But there's been ex­as­per­a­tion with­in the ALS pa­tient com­mu­ni­ty over the scale it­self, par­tic­u­lar­ly giv­en the het­ero­ge­neous na­ture of the dis­ease. Be­cause the dis­ease can man­i­fest in a va­ri­ety of ways, two pa­tients can be mea­sured at ex­act­ly the same point of pro­gres­sion while pre­sent­ing com­plete­ly dif­fer­ent symp­toms. There are al­so com­plaints over the lack of gran­u­lar­i­ty in some as­pects of the ALS­FRS-R, with pa­tients and some re­searchers de­scrib­ing how the scale may not ac­cu­rate­ly por­tray how quick­ly some pa­tients' dis­eases progress in some cas­es.
And now Cedar­baum, too, says it may be time to pro­duce a more mod­ern ver­sion of the scale.
"It's proved to be very, very ro­bust, which pleas­es me a lot, but it's not a per­fect scale," Cedar­baum said. "We know so much more about the dis­ease now, med­ical care has changed, so­ci­ety has changed. So many things have changed that it may be time for an up­grade."
De­vel­op­ing the scale
At its core, the ALS­FRS-R is a pa­tient sur­vey. It com­pris­es sev­er­al ques­tions that gauge how far a pa­tient's dis­ease has pro­gressed in 12 dif­fer­ent cat­e­gories un­der three main um­brel­las: speech, mo­bil­i­ty and breath­ing dif­fi­cul­ty. Each cat­e­go­ry is then scored from 0 to 4, with 0 rep­re­sent­ing the com­plete need for as­sis­tance and 4 de­not­ing no help need­ed. In clin­i­cal tri­als, the ques­tions are typ­i­cal­ly asked once a month.
When Cedar­baum first start­ed at Re­gen­eron in 1990, there hadn't been any spon­sored ALS tri­als con­duct­ed up to that point. There was a "hodge­podge" of oth­er sur­veys float­ing around, ask­ing pa­tients ques­tions about their symp­toms and qual­i­ty of life, but it wasn't clear how they re­lat­ed to one an­oth­er.
"They didn't car­ry equal weight in sum­ming things up," Cedar­baum said.
In or­der to launch an ALS tri­al for a Re­gen­eron pro­gram, Cedar­baum want­ed to cre­ate some­thing that could mea­sure the course of pa­tients' dis­eases and how peo­ple are func­tion­ing in mean­ing­ful ways. He set out to en­sure these as­sess­ments would be cor­re­lat­ed with both sur­vival and mus­cle strength, the ba­sic phys­i­o­log­i­cal symp­tom of ALS.
Work­ing this out was no easy task, giv­en all the vari­ables as­so­ci­at­ed with the dis­ease, and he as­sem­bled a cast of char­ac­ters that in­clud­ed sci­en­tists, clin­i­cians and phys­i­cal ther­a­pists from lead­ing ALS cen­ters across the coun­try to solve this prob­lem. They asked them­selves a ques­tion: How can we build a sin­gle rat­ing scale?
The group set­tled on two po­ten­tial mod­els on which to base a new scale. The first was some­thing called the ALS Sever­i­ty Scale, de­vel­oped in the late 1980s by re­searchers at the Uni­ver­si­ty of Wash­ing­ton. This scale at­tempt­ed to eval­u­ate ALS symp­toms nu­mer­i­cal­ly in four cat­e­gories: speech, swal­low­ing, low­er ex­trem­i­ty, and up­per ex­trem­i­ty abil­i­ties. Gen­er­al­ly, it had been used in com­bi­na­tion with a de­vice mea­sur­ing a pa­tients' breath­ing to try to paint as ac­cu­rate a pic­ture as pos­si­ble re­gard­ing an in­di­vid­u­als' dis­ease.
The oth­er mod­el pro­posed was based on a rat­ing scale used at the time in Parkin­son's dis­ease, short­hand­ed as the UP­DRS. This re­lied more heav­i­ly on pa­tient re­spons­es than the ALS Sever­i­ty Scale, ask­ing those with Parkin­son's about all as­pects of dai­ly liv­ing: walk­ing, for ex­am­ple, or ma­neu­ver­ing in bed and cut­ting food. These things al­so proved im­por­tant to ALS pa­tients to de­ter­mine how they might be feel­ing from one day to the next.
Bor­row­ing from oth­er fields is some­thing that hap­pens all the time in neu­ro­log­i­cal dis­eases, Cedar­baum said. Even though dif­fer­ent dis­eases can im­pair dif­fer­ent parts of the body, ba­sic dai­ly tasks are the same.
"Hu­man be­ings ac­tu­al­ly have a very lim­it­ed phys­i­cal reper­toire, un­less you're Tom Cruise or an Olympic gym­nast," Cedar­baum said. "Most of us do the same ba­sic things day in and day out. That's what the FDA is in­ter­est­ed in when talk­ing about func­tion."
Out of these ef­forts came the first it­er­a­tion of the ALS Func­tion­al Rat­ing Scale. The group pi­lot­ed the scale in a nat­ur­al his­to­ry study, putting it through what Cedar­baum said was a "very ex­haus­tive clini­met­ric eval­u­a­tion." Not on­ly did it cor­re­late well with how quick­ly pa­tients pro­gressed, but the in­di­vid­ual do­mains al­so cor­re­lat­ed rea­son­ably well with mus­cle strength and across sec­tions like lung func­tion and abil­i­ty to walk. (Cedar­baum notes he wasn't list­ed as an au­thor on this study but said it in­cludes the same team with whom he de­vel­oped the scale.)
With­in a few years, the scale start­ed be­com­ing a stan­dard fea­ture in ALS drug tri­als, and by 1994 or 1995 the FDA's deputy head of neu­rol­o­gy pub­licly en­dorsed the scale, Cedar­baum said. A re­vi­sion was made soon af­ter to more ad­e­quate­ly rep­re­sent res­pi­ra­to­ry func­tion, adding three ques­tions to a sec­tion that had on­ly pre­vi­ous­ly had one. That fi­nal prod­uct be­came the ALS­FRS-Re­vised and it has re­mained "ba­si­cal­ly un­mod­i­fied" since 1999.
The scale be­came wide­ly used as the pri­ma­ry end­point in late-stage ALS stud­ies. Close­ly watched tri­als from Bio­gen and Amy­lyx both re­ly on it, as does Brain­storm Stem Cell Ther­a­peu­tics' wide­ly panned Phase III study. A promi­nent "plat­form study" at Mass Gen­er­al, seek­ing to eval­u­ate a swath of ther­a­pies at once, al­so us­es the scale.
Val­i­dat­ed, but not per­fect
As more and more bio­phar­ma com­pa­nies be­gan con­duct­ing ALS drug tri­als, the ALS­FRS-R con­tin­ued show­ing cor­re­la­tions be­tween dis­ease pro­gres­sion and the ef­fec­tive­ness of those ex­per­i­men­tal drugs, Cedar­baum said. Many lead­ing clin­i­cal re­searchers, in­clud­ing Mass Gen­er­al's Sab­ri­na Paganoni, who led a Phase II tri­al for a drug be­ing de­vel­oped by Amy­lyx, vouch for its ef­fec­tive­ness and hold the scale up as the gold stan­dard of ALS drug de­vel­op­ment.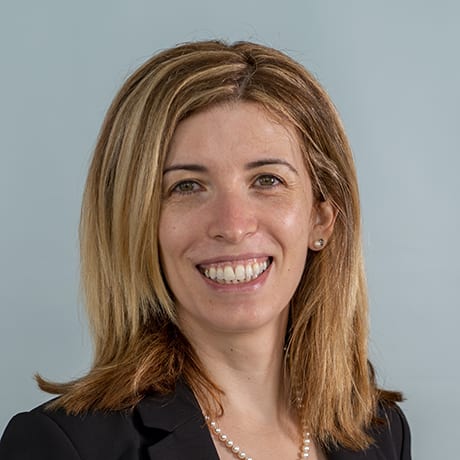 Sab­ri­na Paganoni
"Stud­ies have shown over and over that it's one of the most sci­en­tif­ic ways to de­tect ALS dis­ease pro­gres­sion in re­sponse to treat­ment," said Paganoni. "There are some chal­lenges with it, how­ev­er as of to­day it is a very help­ful mea­sure and one of the best ways to as­sess clin­i­cal­ly mean­ing­ful ef­fects on a pa­tient pop­u­la­tion."
The scale even be­came a help­ful com­mu­ni­ca­tion tool at first, Cedar­baum said, with pa­tients able to tell doc­tors at their ap­point­ments how they were feel­ing on a giv­en day us­ing some sort of guide­line. When pa­tients met oth­er pa­tients, they could in­tro­duce them­selves with their ALS­FRS-R score.
A typ­i­cal con­ver­sa­tion might have gone some­thing like, "Hi, I'm so-and-so my score this week is 36, it's been sta­ble at that lev­el for three months, this is what my doc­tor has done," Cedar­baum said. "Does any­one have ideas when it's get­ting worse in this way?"
But the chal­lenges Paganoni al­ludes to, pa­tients say, add to the al­ready im­mense bur­den placed up­on ALS pa­tients who not on­ly have to deal with their dis­ease it­self, but clin­i­cal tri­als and ther­a­pies that can be phys­i­cal­ly stren­u­ous as well.
Gwen Pe­tersen was just 32 years old when she re­ceived her ALS di­ag­no­sis, af­ter more than a year of strug­gling with bal­ance and co­or­di­na­tion. She re­called her hon­ey­moon in the Ital­ian Alps where she strug­gled to nav­i­gate hik­ing the trails and, up­on re­turn­ing home, saw a host of dif­fer­ent doc­tors to try to fig­ure out what was go­ing on. They ini­tial­ly at­trib­uted her prob­lems to anx­i­ety and or­tho­sta­t­ic hy­poten­sion, a chron­ic, ex­tend­ed ver­sion of the drop in blood pres­sure one ex­pe­ri­ences when stand­ing up too quick­ly.
When doc­tors de­ter­mined ALS to be the cause in 2018, Pe­tersen im­me­di­ate­ly got to work on a jour­ney she says many pa­tients and fam­i­lies face af­ter di­ag­no­sis — per­form­ing an ex­haus­tive in­ter­net search of ex­per­i­men­tal ther­a­pies and ALS clin­i­cal tri­als, while send­ing a flur­ry of emails and phone calls to par­tic­i­pat­ing cen­ters. For Pe­tersen, who now spends her time work­ing with the I Am ALS ad­vo­ca­cy group, that jour­ney brought her to Brain­Storm and their Phase III study for the cell ther­a­py pro­gram known as NurOwn.
While par­tic­i­pat­ing in the NurOwn tri­al — a process that re­quired sev­en lum­bar punc­tures con­duct­ed in spe­cial­ized clin­ics with three need­ing overnight hos­pi­tal stays — Pe­tersen says she be­came dis­il­lu­sioned with the scale when she re­al­ized how it tries to ho­mog­e­nize a het­ero­ge­neous dis­ease. Be­cause the dis­ease can man­i­fest in a va­ri­ety of ways, two pa­tients can score ex­act­ly the same on the ALS­FRS-R while pre­sent­ing com­plete­ly dif­fer­ent symp­toms, she said.
Pe­tersen fur­ther de­scribed the test as "painful­ly sub­jec­tive," claim­ing scores can vary de­pend­ing on the per­son ask­ing the sur­vey ques­tions, the kind of day pa­tients are hav­ing or the time of day it­self.
"If you asked me, "How's your speech?"; nor­mal­ly I would say it's slow but in­tel­li­gi­ble," Pe­tersen said. "If you asked me the same ques­tion af­ter a long day of meet­ings when my voice is fried and I need to re­peat my­self, well that's a dif­fer­ent an­swer."
The scale's lack of gran­u­lar­i­ty has al­so both­ered Phil Green, an­oth­er I Am ALS ad­vo­cate and Brain­Storm pa­tient that took part in the Phase III. Green, al­so di­ag­nosed in 2018, told End­points that not hav­ing frac­tion­al an­swers for the ques­tions doesn't give an ac­cu­rate sense of how quick­ly some­one's dis­ease can progress. One per­son can walk for a mile and be com­plete­ly fine, but af­ter a month be­come ex­haust­ed sim­ply walk­ing out­side to their mail­box. Those two cas­es, Green said, will score the same on the ALS­FRS-R am­bu­la­to­ry ques­tion.
"I like to use a fruit anal­o­gy," Green said. "If we think ALS is an ap­ple, you may have dif­fer­ent va­ri­eties of ap­ple that taste dif­fer­ent­ly, may rot or ripen at dif­fer­ent rates, have dif­fer­ent col­ors, dif­fer­ent sizes. But we're all con­sid­er­ing them to be the same be­cause they're all ap­ples, and that's not true."
Paganoni pushed back on some of these con­cerns, point­ing to stud­ies that sug­gest ALS­FRS-R can re­li­ably show whether a drug slows dis­ease pro­gres­sion. Clin­i­cians who ask the ques­tions un­der­go rig­or­ous train­ing in or­der to use the scale the way it was in­tend­ed, she said. And the lack of avail­able ALS treat­ments is not a re­sult of the scale's short­com­ings.
"I'm not say­ing that the ALS­FRS-R is per­fect and we should nev­er move for­ward," Paganoni said. "It would be great to de­vel­op more sen­si­tive scales, as well as more sci­en­tif­ic bio­mark­ers… there is a lot of work go­ing in this di­rec­tion, but it's not that easy. That's why we don't have an al­ter­na­tive yet."
Ad­dress­ing the con­cerns
Cedar­baum, too, said he's aware of these com­plaints and has been try­ing to push the ALS As­so­ci­a­tion to con­vene a con­fer­ence or meet­ing to re­view and up­date the ALS­FRS-R. He not­ed that the Parkin­son's scale was up­dat­ed in 2008 based on changes rec­om­mend­ed by the Move­ment Dis­or­der So­ci­ety with the scale con­tin­u­ing to be re­vised — most re­cent­ly in 2019.
"One thing the field could re­al­ly, re­al­ly ben­e­fit from," Cedar­baum said, "is com­ing to­geth­er and hav­ing ex­pert groups of pa­tients and not just physi­cians but clin­i­cians, oth­er peo­ple like OTs, PT, speech ther­a­pists, who work with ALS pa­tients all the time, come to­geth­er and say, 'OK, this was a great scale for the '90s and the first quar­ter of the 2000s, but we can do bet­ter.'"
He stressed that it's im­por­tant to find the cor­rect lan­guage for ques­tions de­ter­min­ing what might ex­ist be­tween a 3 and a 4 on the scale, and float­ed how a 3.5 could rep­re­sent pa­tients strug­gling to eat cer­tain foods but not hav­ing pro­gressed to the drop­ping of a full point. Such ques­tions ide­al­ly would be craft­ed with heavy pa­tient in­put, which is a more mod­ern way of do­ing things com­pared to when the ALS­FRS-R was first de­vel­oped in the 1990s, he said.
"This is the kind of thing that can be learned by talk­ing to pa­tients," Cedar­baum said, "Let's go back and find peo­ple who were re­cent­ly di­ag­nosed, or talk to peo­ple ear­li­er in their dis­ease, and say, 'Let's go back to be­fore your di­ag­no­sis, what was go­ing on in that year or two? What were you think­ing you were hav­ing prob­lems with? What were you telling peo­ple?'
"We can talk with spous­es or care­givers," he con­tin­ued. "'What was your spouse or loved one telling you wasn't quite right about what was go­ing on?' And then we can use that in­for­ma­tion to frame out maybe new gra­da­tions in that ear­ly phase of the dis­ease that will help. These are the kinds of things that would need to be con­sid­ered in any up­grade."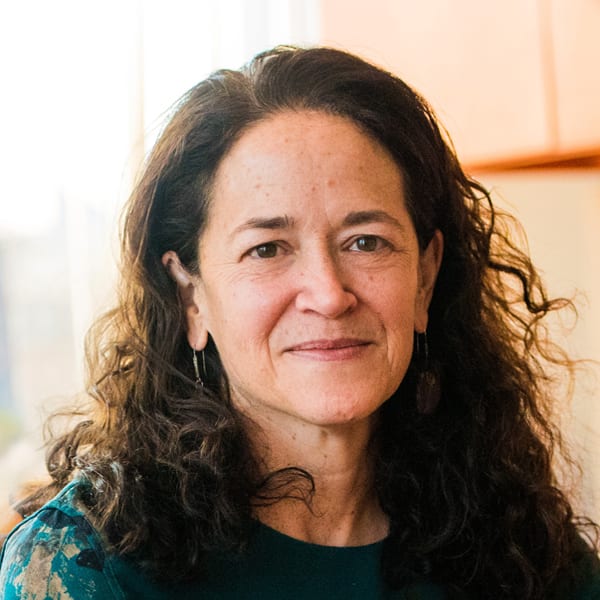 Mer­it Cud­kow­icz
With the way the ques­tions are cur­rent­ly con­struct­ed, the scale cur­rent­ly ex­hibits phe­nom­e­na known as "floor and ceil­ing ef­fects," said Mer­it Cud­kow­icz, an­oth­er Mass Gen­er­al re­searcher and one of the lead in­ves­ti­ga­tors of the Brain­Storm study. Sim­ply put, the ALS­FRS-R cor­re­lates less well with pa­tients who have very ear­ly-stage and very late-stage dis­ease. But Cud­kow­icz says in the mid­dle, where most tri­al par­tic­i­pants ex­ist, the scale does show mean­ing­ful changes.
Cedar­baum added that there sim­ply aren't any da­ta from peo­ple who are in these stages of the dis­ease — all of the da­ta on the scale comes from clin­i­cal tri­als, he said, which re­cruit pa­tients with spe­cif­ic in­clu­sion and ex­clu­sion cri­te­ria.
Cud­kow­icz ac­knowl­edged Brain­Storm pa­tients' com­plaints around the scale, and said that as some­one who helped de­sign the tri­al, she could take the heat. Brain­Storm's study no­tably missed its pri­ma­ry goal and the com­pa­ny was di­rect­ly re­buked re­cent­ly by the FDA for tout­ing a study that missed every end­point. Cud­kow­icz, though, says the flop was like­ly due more to a tri­al de­sign fail­ure than the ALS­FRS-R's short­com­ings. But the way pa­tients were re­cruit­ed and placed in­to a three-month lead-in pe­ri­od be­fore be­ing ran­dom­ized to place­bo on­ly com­pound­ed some of these faults.
"It was ac­tu­al­ly de­signed to pick peo­ple who were pro­gress­ing fast in or­der to be able to pick up a pos­i­tive treat­ment ef­fect in six months," Cud­kow­icz said. "But the com­bi­na­tion of the lead-in and pick­ing fast pro­gressers meant that by the time peo­ple were treat­ed, they were in a much sick­er state than would have been op­ti­mal to start treat­ment."
Brain­Storm claimed to see a po­ten­tial­ly pos­i­tive sig­nal among pa­tients who hadn't yet pro­gressed far with their dis­eases. Even though the FDA has pub­licly dis­avowed the Phase III da­ta, Brain­Storm is pur­su­ing an ap­proval in this sub­pop­u­la­tion and de­clined to com­ment on the NurOwn Phase III tri­al specif­i­cal­ly, giv­en the pend­ing reg­u­la­to­ry dis­cus­sions.
But Cedar­baum not­ed there's a dis­tinct, even es­sen­tial, ad­van­tage in dis­till­ing a het­eroge­nous dis­ease in­to a sin­gle num­ber. The scale arose out of the need for drug­mak­ers to be able to pre­cise­ly de­ter­mine how their ex­per­i­men­tal ther­a­pies are work­ing. When bio­phar­mas ul­ti­mate­ly have to present their find­ings to reg­u­la­tors, he said, they can on­ly use one num­ber to show sta­tis­ti­cal sig­nif­i­cance.
While Cedar­baum rec­og­nizes pa­tients' mis­giv­ings over this as­pect of the ALS­FRS-R, prog­noses among sim­i­lar scor­ing in­di­vid­u­als are rel­a­tive­ly com­pa­ra­ble, re­gard­less of how the dis­ease man­i­fest­ed or how symp­toms are pre­sent­ing.
"The at­tempt to ho­mog­e­nize is prized for clin­i­cal tri­als," Cedar­baum said. "The pa­tients might feel like it puts them in a meat grinder, but that's done de­lib­er­ate­ly so sta­tis­ti­cians can deal with it suf­fi­cient­ly in com­mu­ni­cat­ing with FDA."
The path for­ward
Many of the pa­tients' com­plaints stem from the fact that there are no con­sis­tent bio­mark­ers in ALS, leav­ing drug­mak­ers to use the ALS­FRS-R or some oth­er mea­sure­ment in­stead, Green said. One of the most promis­ing bio­mark­ers that could prove to be the miss­ing piece is some­thing called neu­ro­fil­a­ment. Nor­mal­ly found in nerve cells, it's a pro­tein that leaks in­to blood and cere­brospinal flu­id when those cells be­come in­jured.
Much like cho­les­terol is el­e­vat­ed in in­di­vid­u­als with heart dis­ease, neu­ro­fil­a­ment lev­els in the blood­stream and CSF have gen­er­al­ly been found to be high­er in ALS pa­tients, Cud­kow­icz ex­plains. Many ALS stud­ies al­ready look at neu­ro­fil­a­ment lev­els as sec­ondary mea­sures, but there hasn't been much work yet in tar­get­ing these pro­teins specif­i­cal­ly.
The tri­al that's come the clos­est to show­ing a re­la­tion­ship is Bio­gen's Phase I/II for an ex­per­i­men­tal drug called tofersen, Cud­kow­icz said, which showed a clin­i­cal ben­e­fit in ad­di­tion to about 50% low­er neu­ro­fil­a­ment lev­els. But that study was very small with on­ly four peo­ple test­ed on the high dose, she added, and even though it looked like there wasn't much pro­gres­sion com­pared to the place­bo, it's still "way too small" for any­one to say.
Brain­Storm had done ex­ten­sive bio­mark­er re­search be­fore con­duct­ing its stud­ies, and it's one of the things that im­pressed Pe­tersen and Green be­fore they signed up for the ex­per­i­men­tal ther­a­pies. Cud­kow­icz not­ed their tri­al saw low­ered lev­els of neu­roin­flam­ma­tion — some­thing Brain­Storm says cor­re­lat­ed to a po­ten­tial clin­i­cal ben­e­fit in that small group — de­spite NurOwn's ma­jor whiffs on the pri­ma­ry and sec­ondary end­points.
In the Phase III NurOwn study, re­searchers looked at three dif­fer­ent kinds of bio­mark­ers, Brain­storm pres­i­dent and CMO Ralph Kern said. The first looked at neu­roin­flam­ma­tion by ex­am­in­ing lev­els of cy­tokines and ef­fec­tor mol­e­cules; the sec­ond ex­am­ined neu­ronal in­jury and neu­rode­gen­er­a­tion bio­mark­ers, the um­brel­la con­tain­ing neu­ro­fil­a­ment; and the third ex­plored how re­pair mol­e­cules de­liv­ered ap­pro­pri­ate car­go to in­jured cells.
Though each bio­mark­er serves a dif­fer­ent pur­pose, when tak­en to­geth­er they paint a "com­pre­hen­sive pic­ture," Kern said.
And that bio­mark­er re­search is al­so one of the rea­sons Green feels that the Phase III study shouldn't be dis­count­ed as a fail­ure. If the NurOwn ther­a­py can show a po­ten­tial ben­e­fit for a small group of pa­tients, Green ar­gues, then Brain­Storm and the FDA should be do­ing every­thing in their pow­er to make it avail­able to that group of pa­tients. In ALS, every lit­tle thing helps, he said.
"From an over­all sys­temic per­spec­tive, we re­al­ly need to re­think what a win looks like in ALS clin­i­cal tri­als," Green said. "It's time that we have a work­ing meet­ing with all of the stake­hold­ers to re­al­ly fig­ure out how to fix the ther­a­peu­tic de­vel­op­ment process in ALS, be­cause we've had so many failed tri­als in our dis­ease. But maybe it's not the ther­a­pies that are fail­ing, it's the process in which they're be­ing eval­u­at­ed that's fail­ing the ther­a­pies."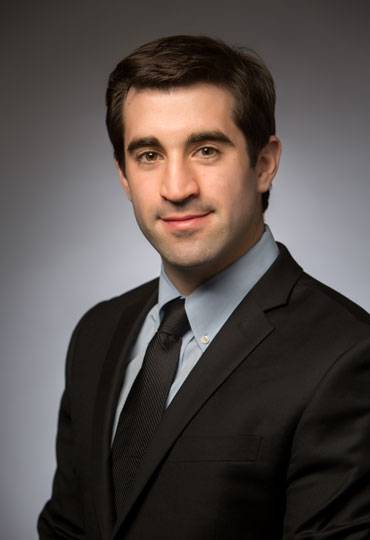 Joshua Co­hen
Not every­one is on board the neu­ro­fil­a­ment train, how­ev­er, with the folks at Amy­lyx ex­press­ing doubt that it might be the key re­searchers are look­ing for. Find­ing a clin­i­cal bio­mark­er for any neu­ro­log­i­cal dis­ease would amount to a "holy grail," CEO Joshua Co­hen said, but added there's still a lot more work that needs to be done for some­thing to de­fin­i­tive­ly re­place the ALS­FRS-R.
It's worth not­ing that Amy­lyx's pro­gram, which hit sta­tis­ti­cal sig­nif­i­cance in the ALS­FRS-R scale and will be sub­mit­ted for ap­proval in Eu­rope and Cana­da by the end of the year, showed no cor­re­la­tion be­tween slow­ing pro­gres­sion and neu­ro­fil­a­ment lev­els — a fact Co­hen of­fered up freely.
But the ques­tion for him comes down to how much stock you then put in­to the mea­sure­ment tests. If the drug is shown to im­prove the neu­ro­fil­a­ment lev­els, or im­prove­ments in an­oth­er bio­mark­er, but not slow dis­ease pro­gres­sion ac­cord­ing to the ALS­FRS-R, is that some­thing that should be giv­en to pa­tients?
"At the end of the day, if the drug is not im­pact­ing peo­ple's dai­ly func­tions — if it's im­pact­ing the blood bio­mark­er but not the func­tion — I'm not sure that's op­ti­mal," Co­hen said. "I think what would re­al­ly make a bio­mark­er con­vinc­ing is one im­pact­ing that bio­mark­er would al­so cor­re­spond­ing­ly im­pact that func­tion. And I think to date we just don't have that."
Go­ing for­ward, com­pa­nies and in­ves­ti­ga­tors are con­tin­u­ing to tweak and ex­per­i­ment with ALS tri­al de­signs with the aim of in­clud­ing more pa­tient in­put. There are oth­er meth­ods out there be­ing de­vel­oped to pro­vide ei­ther a more gran­u­lar rat­ing scale or a more com­pre­hen­sive look at how drugs cor­re­late to symp­toms, in­clud­ing a new­er rat­ing sur­vey called the Rasch-Built Over­all Amy­otroph­ic Lat­er­al Scle­ro­sis Dis­abil­i­ty Scale, or ROADS. Pe­tersen and Green both feel ROADS is less sub­jec­tive than the ALS­FRS-R and are try­ing to push com­pa­nies to in­clude it in fu­ture drug tri­als.
Clene Nanomed­i­cine, a biotech de­vel­op­ing an ALS treat­ment made from gold nanocrys­tals, is try­ing to sup­ple­ment po­ten­tial­ly reg­is­tra­tional da­ta from the HEALEY plat­form study with an­oth­er tri­al in Aus­tralia us­ing an ap­proach called MU­NIX(4). Here, re­searchers place elec­trodes on pa­tients' mus­cles and com­pare how they con­tract with elec­tric stim­u­la­tion to how pa­tients can move them on their own.
Clene not­ed that most US com­pa­nies don't use MU­NIX any­more be­cause it's much more time-con­sum­ing and ex­pen­sive to ad­min­is­ter com­pared to some­thing like the ALS­FRS-R, which is rel­a­tive­ly cheap and on­ly takes about 10 to 15 min­utes.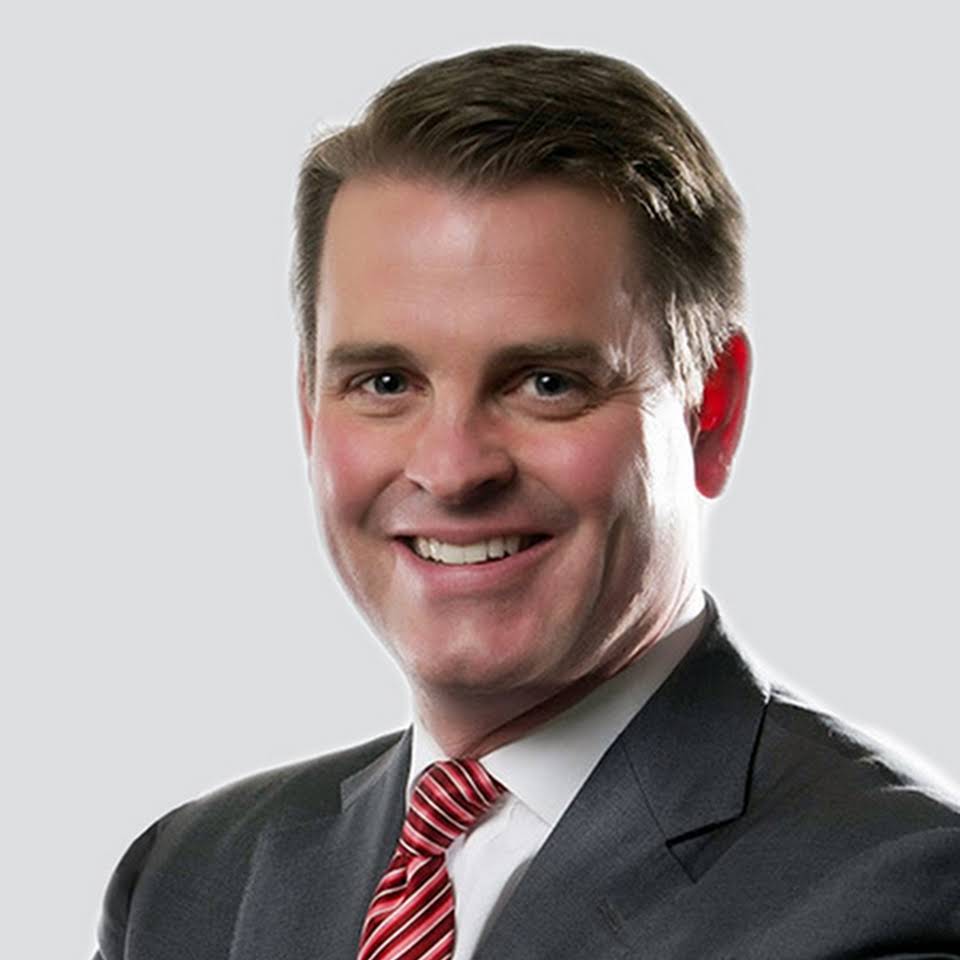 Rob Ether­ing­ton
"In a way, if you think about HEALEY like this, HEALEY's look­ing at their sec­ondary [end­point] as lung func­tion and hand­held diom­e­try," Clene CEO Rob Ether­ing­ton said. "And that's ef­fec­tive­ly akin in a US mod­el to what MU­NIX is. So we see some in­ter­est­ing in­verse cor­re­la­tions be­tween these two da­ta."
One po­ten­tial bio­mark­er that's piqued Cedar­baum's in­ter­est is MRIs of pa­tients' brains and spinal cords, be­cause it could give re­searchers a bet­ter idea of when neu­rons start be­com­ing dam­aged or dy­ing off. It's a method that's gained promi­nence in stud­ies of Alzheimer's dis­ease, and such cell loss would re­sult in a quan­tifi­able shrink­ing of the brain in ALS pa­tients, he said.
But the ALS­FRS-R like­ly isn't go­ing away any­time soon. Cedar­baum feels sim­i­lar­ly to Amy­lyx, say­ing that he doesn't be­lieve some­thing like neu­ro­fil­a­ment or an­oth­er bio­mark­er will ever ful­ly re­place the scale, ei­ther in its cur­rent form or an up­dat­ed ver­sion. There is too lit­tle known about how neu­ro­fil­a­ment di­rect­ly cor­re­lates with how pa­tients feel, which Cedar­baum puts atop his per­son­al list of pri­or­i­ties.
Though a drug may keep neu­ro­fil­a­ment down for an ex­tend­ed pe­ri­od of time — Cedar­baum of­fered a year or two as an ex­am­ple — it's not yet clear whether the ALS­FRS-R scores will con­tin­ue go­ing down. And when all is said and done, the best way Cedar­baum feels a drug or ther­a­py can help pa­tients is by ask­ing them.
"The bot­tom line is the ALS­FRS-R is a good scale, it's clear­ly good enough be­cause now we see it can show treat­ment dif­fer­ences," Cedar­baum said. "But a lot has hap­pened in 25 years that a new ver­sion of the scale could im­prove on."