Every two seconds a person is affected by thrombosis. Blood clots forming and blocking the circulation in veins and arteries is the number one cause of death globally, with complications such as myocardial infarction and stroke accounting for the majority of fatalities. Patients at risk of developing blood clots receive preventive treatment with antithrombotic agents often called blood-thinning medicines such as Warfarin, aspirin and the later introduced NOACs. These drugs have been the standard of care for decades, but they all come with a high price to pay: the risk of uncontrolled bleeding.
Available drugs on the market are essentially designed to weaken the body's coagulation system, the mechanism that stops the bleeding when we cut ourselves. But by inhibiting coagulation the risk of bleeding is significantly increased. Up to 25% of patients on current antithrombotics experience bleeds, out of which 3% are characterized as severe.
Due to the risk of causing serious bleeds the dose levels of current antithrombotic drugs are generally low, which in turn reduces their clot-preventive efficacy. Thus, the medical need for efficient drugs that could avoid putting patients in a constant easy-to-bleed state is huge, as is the global market.
In the US alone, thrombosis prevention drugs make up for a 10Bn dollar market. And according to a recently published report from Zion Research the global thrombosis market value is estimated to generate revenue of up to 40.9Bn dollars by 2024, growing at a CAGR of 9.3% between 2018 and 2024.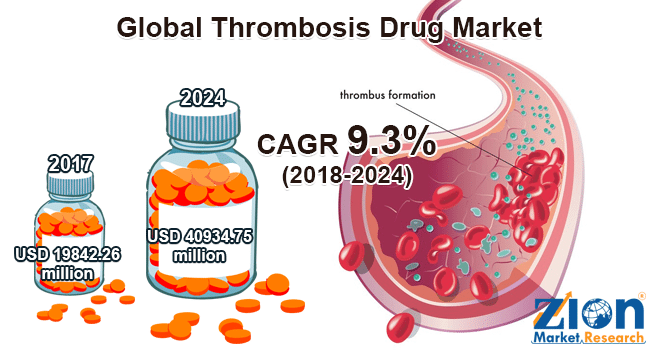 Focusing on this potential blockbuster market is Cereno Scientific, a micro-cap biotech operating out of Sweden's leading life science hub at AstraZeneca in Gothenburg.
Starting out in 2012 with a team of cardiovascular experts from Gothenburg's Sahlgrenska Hospital/Academy, ultimately recruiting former AstraZeneca veterans and with CEO Sten R. Sörensen at the helm, Cereno brings a brand new approach to preventing thrombosis. Rather than weakening the coagulation system and putting patients at risk of bleeding, its drug candidate CS1 is designed to boost the body's natural defense mechanism against blood clots, called the fibrinolytic system.

Cereno's concept is based on a new advanced controlled release formulation of valproic acid, a well-known substance which has been used in health care for treating epilepsy for decades. By stimulating the production of t-PA, a substance the body uses to dissolve blood clots and, simultaneously decreasing the level of PAI-1, which is the main t-PA inhibitor, CS1 would indeed deliver a dual impact on the clotting process.
Having secured financing through a couple of share issues followed by an IPO in 2016, the company has operated on an impressively tight budget and yet completed a phase I study on CS1. Positive results regarding safety, pharmacokinetic properties and side effects were reported in June this year.
In addition to showing that the substance is well tolerated by patients, one of the study's key conclusions was the effect CS1 had on PAI-1, the biomarker for risk of thrombosis. The study clearly demonstrated that CS1 significantly lowers the levels of PAI-1 when at its highest level in the morning. According to Cereno Scientific, this confirms that there is a very real possibility of developing a new, safe and efficacious drug with a double mechanism for fighting blood clots.
In mid-September Cereno Scientific received a Notice of Allowance from the US Patent Office regarding intellectual property rights for the treatment concept and use of CS1 in the US.
The approved patent provides us with a platform for a significant market potential in the US, the world's largest drug market – a market that, for drug-related treatment of thrombosis alone, has estimated sales of approximately USD 10 billion annually and continues to grow. We continue to strengthen the protection for our treatment concept in line with the progress we make. For each milestone we achieve, the risk of our development reduces while our technology and pipeline value increase.

– Cereno Scientific CEO Sten R. Sörensen
As of today, Cereno Scientific is set to advance its lead candidate into next phase and to this end has signed an agreement with OCT Group. Cereno Scientific and OCT will collaborate in carrying out a phase II study investigating the antithrombotic effects of CS1 in patients undergoing orthopedic surgery. A framework is in place for the study and Cereno expect to submit all necessary applications during the fourth quarter of 2018.
With regards to financing, Cereno Scientific has chosen to utilize convertible loans from the European High Growth Opportunities Securitization Fund. Under the agreement Cereno Scientific can receive up to 82 million SEK over a two-year period, with the possibility to receive another 24.6 million SEK if warrants are exercised. Although the arrangement has put pressure on the company's stock price, management's rationale for choosing this route has been to lock down a stable source of capital, thus securing the resources to take CS1 through phase II.
Following completion of the phase II study, Cereno Scientific's strategy is to outlicense CS1 to a larger pharmaceutical partner with the necessary resources to scale up the development process and bringing a safe an efficient blood clot therapy towards market launch – and to the millions of patients whom are still at risk of developing life-threatening blood clots and serious bleeds.
Cereno Scientific is listed on Spotlight Stock Market
A presentation on CS1 from Cereno Scientific can be viewed here.
For more information about the company, visit www.cerenoscientific.se/en/