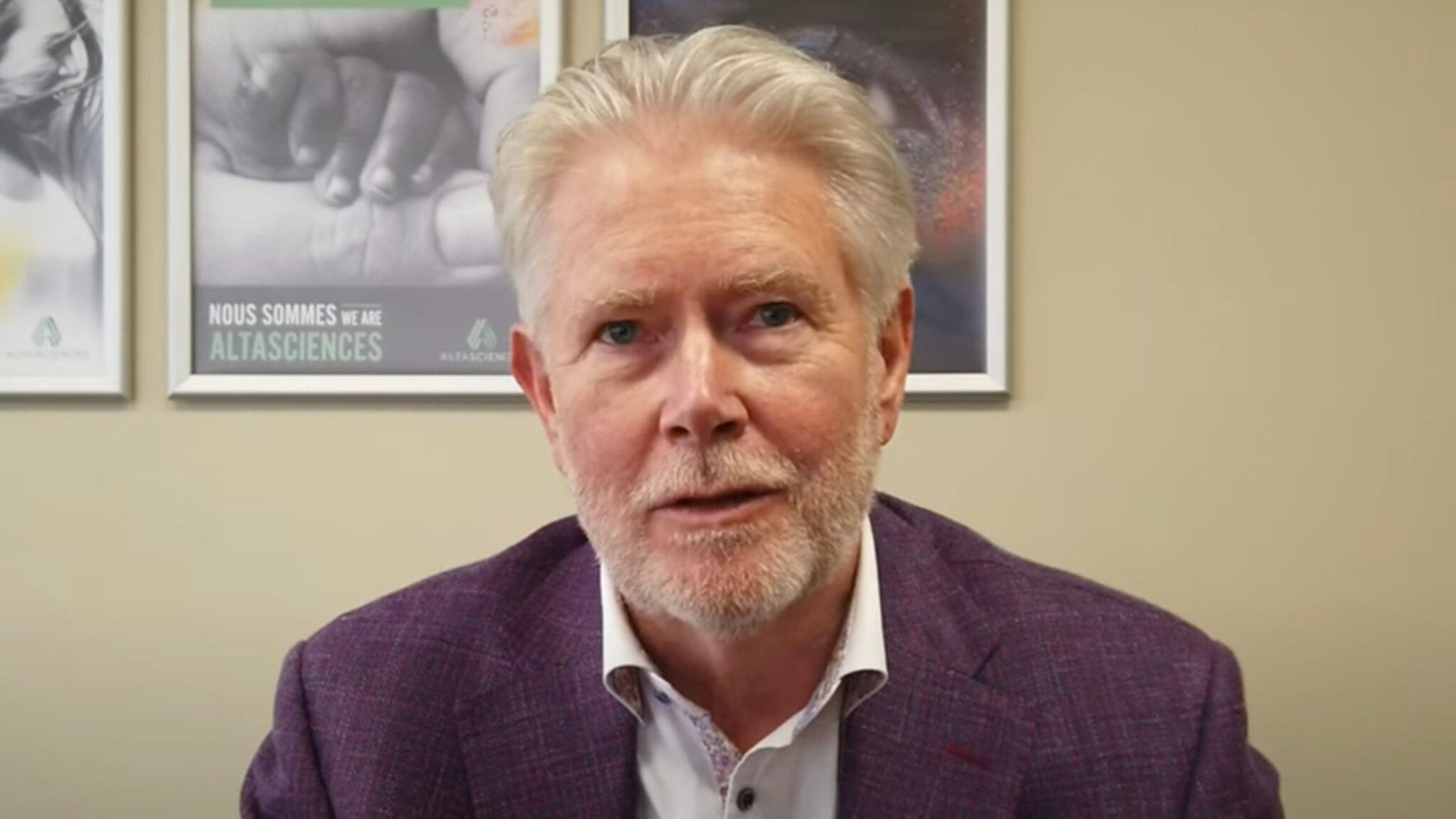 Chris Perkin, Altasciences via Youtube
A year af­ter ex­pan­sion in Penn­syl­va­nia, Al­ta­sciences scoops up CRO to spread to Mid­west
Al­ta­sciences CEO Chris Perkin has gone through sev­er­al ac­qui­si­tions in his 45-year ca­reer. And if there's one thing he learned, it's how not to go through an ac­qui­si­tion.
His com­pa­ny put that knowl­edge to use on Tues­day when it an­nounced that it had ac­quired com­peti­tor Sin­clair re­search, a pre­clin­i­cal con­tract re­search or­ga­ni­za­tion in Mis­souri. With the pick­up, Al­ta­sciences gains 80 an­i­mal rooms, and full-ser­vice IND and NDA-en­abling tox­i­col­o­gy and safe­ty phar­ma­col­o­gy ser­vices.
The com­pa­ny has been around for more than 50 years, and Perkin said that the move has felt more like meet­ing up with fel­low col­leagues than ac­quir­ing a new as­set. Sin­clair's reg­u­la­to­ry his­to­ry is sol­id, he said, and it gives Al­ta­sciences more op­por­tu­ni­ties in the small mol­e­cule mar­ket, which can be of­ten over­looked. That will al­low for a range of dif­fer­ent drug class­es, and broad­en the over­all pre­clin­i­cal of­fer­ings.
"We've al­ways been aware of Sin­clair, I mean, that's a com­peti­tor," Perkin said. "When it came up for sale…we start­ed talk­ing with the own­ers, and we con­nect­ed along a lot of lev­els. Sim­i­lar cul­ture, sim­i­lar ap­proach to cus­tomer ser­vice. It just gave us so much of a com­fort lev­el that they had al­ready heard of us, it was just more like col­leagues com­ing to­geth­er than form­ing a new com­pa­ny."
Perkin said that cul­ture was the biggest pri­or­i­ty for the team. If you meet the cur­rent em­ploy­ees where they al­ready are, you can iden­ti­fy strate­gies and meth­ods the team have in place. When you don't have to change much, morale is kept high.
The lo­ca­tion in Mis­souri al­so stood out to Al­ta­sciences, as it al­ready boasts Wash­ing­ton state and Penn­syl­va­nia sites on ei­ther coast.
"It's per­fect be­cause it fills a gap, but it's on­ly a cou­ple of hours, at most from our cam­pus with a clin­i­cal site, which al­ways brings a lot of op­por­tu­ni­ties as we pro­vide this in­te­grat­ed so­lu­tion for drug de­vel­op­ment," Perkin said.
The ac­qui­si­tion marks the eighth site un­der the Al­ta­sciences um­brel­la. Six of those have come through ac­qui­si­tions, and three of those deals were made in 2021 alone. The com­pa­ny isn't done ei­ther. The deal fits in­to its long-term growth plan, which is fo­cused on ex­pand­ing both or­gan­i­cal­ly and through ac­qui­si­tions, and stretch­ing its reach ge­o­graph­i­cal­ly. Most press­ing is the com­pa­ny's move to Eu­rope, which is cur­rent­ly in the works. More con­crete news on that front is ex­pect­ed to be re­leased in the next five to six months, Perkin said.
Ed­i­tor's Note: For more news and ex­clu­sive cov­er­age from the man­u­fac­tur­ing beat, sub­scribe to the End­points Man­u­fac­tur­ing week­ly re­port in your read­er pro­file.