Ab­b­Vie hatch­es plans for a ma­jor new R&D hub close to its part­ners in Bay Area's buzzy Oys­ter Point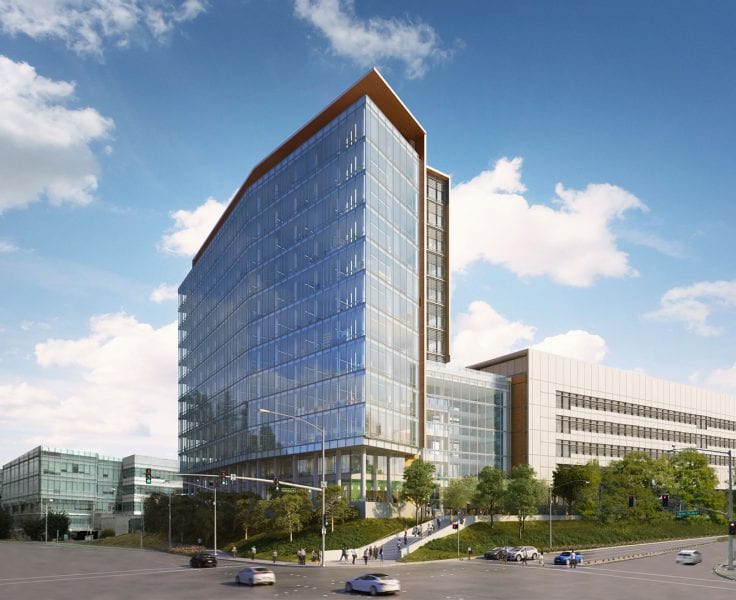 Ab­b­Vie has signed on to be the first ten­ant of a mas­sive new re­search cen­ter in Oys­ter Point, join­ing a flock of bio­phar­ma peers that's set up shop in the in­creas­ing­ly pop­u­lar South San Fran­cis­co neigh­bor­hood.
The North Chica­go, IL-based drug­mak­er — whose Stem­cen­tryx sub­sidiary has an op­er­a­tion in the area — is leas­ing al­most 480,000 square feet in the Gate­way of Pa­cif­ic, a 1.4 mil­lion square foot cam­pus un­der con­struc­tion by Bio­Med Re­al­ty. Ink­ing a deal for 10 years, Ab­b­Vie will oc­cu­py a 12-sto­ry tow­er in a space that could even­tu­al­ly hold 1,500 work­ers, the San Fran­cis­co Busi­ness Times re­port­ed.
The new fa­cil­i­ty will "rep­re­sent a Bay Area hub for Ab­b­Vie's on­col­o­gy busi­ness," which is cur­rent­ly spread be­tween three dis­tinct lo­ca­tions in the re­gion, Ab­b­Vie spokesper­son Ilke Limon­cu tells End­points News.
"This fu­ture fa­cil­i­ty will al­so fur­ther strength­en our pres­ence in the Bay Area and bring to­geth­er our cur­rent three sites to im­prove col­lab­o­ra­tion and help us grow Ab­b­Vie's on­col­o­gy sci­ence, re­search, in­no­va­tion and pa­tient care am­bi­tions," he writes in an email.
The new lo­ca­tion would make Ab­b­Vie a neigh­bor of Genen­tech's Gate­way cam­pus, while plac­ing it just 10 min­utes away from mul­ti­ple part­ners at Cal­i­co, Cy­tomX and Alec­tor.
When Ab­b­Vie and Cal­i­co re­newed their mon­ster dis­cov­ery deal in June, each com­mit­ting $500 mil­lion more to their al­liance, the Google-backed an­ti-ag­ing biotech made the un­usu­al move to an­nounce that it's built a team of 150-plus around an HQ base in South San Fran­cis­co, with plans to add more.
Big names and fledg­ling biotechs alike have tak­en a lik­ing to the R&D hub in San Fran­cis­co, with Oys­ter Point in par­tic­u­lar buzzing with new oc­cu­pants. Sang­amo un­veiled plans to build a new HQ right on a ma­ri­na late last year, while As­traZeneca is bring­ing staffers from var­i­ous biotechs it ac­quired to­geth­er at its Cove at Oys­ter Point site.
"The core of Ab­b­Vie's ini­tia­tive is fo­cused on the tal­ent, in­no­va­tion and cul­ture in the Bay Area," Di­no Per­az­zo, a rep­re­sen­ta­tive of Ab­b­vie from re­al es­tate bro­ker­age CBRE's life sci­ence prac­tice, told the San Fran­cis­co Busi­ness Times. "Theirs is the first of what will like­ly be many phar­ma ini­tia­tives com­ing to the Bay Area in the near fu­ture."
While the the first phase of Gate­way of Pa­cif­ic is ex­pect­ed to com­plete in 2019 — with 431,000 square feet in phase II space to come lat­er — Ab­b­Vie won't be­gin to move in un­til 2021, when its cur­rent Cal­i­for­nia leas­es ex­pire, Limon­cu con­firms.
---
Im­age: GATE­WAY OF PA­CIF­IC