Ab­b­Vie preps a chal­lenge to a ri­val mi­graine drug from Bio­haven, spelling out an up­beat set of PhI­II da­ta
Phase III ad­vance tri­al da­ta for Ab­b­Vie's mi­graine pre­ven­tion drug ato­gepant look good — but are the re­sults good enough to ri­val Bio­haven's two-in-one treat­ment and pre­ven­tion drug, rimegepant, sold as Nurtec?
Ab­b­Vie picked up ato­gepant from Al­ler­gan in a $63 bil­lion buy­out last year. It al­so claimed the Botox fran­chise and $16 bil­lion in an­nu­al rev­enue.
Vamil Di­van, an eq­ui­ty re­search an­a­lyst with Mizuho Fi­nan­cial Group, said ato­gepant and rimegepant are "nat­ur­al com­peti­tors": two oral drugs that could hit the mar­ket around the same time. Nurtec took the lead with FDA ap­proval in Feb­ru­ary. Ato­gepant met pri­ma­ry and sec­ondary end­points in piv­otal Phase III test­ing, and Illi­nois-based Ab­b­Vie is push­ing for reg­u­la­to­ry sub­mis­sions in the US and abroad.
"We do think the Nurtec prod­uct will be big­ger over­all, but a lot of that is be­cause the rev­enue is com­ing from the treat­ment side, not just from pre­ven­tion," Di­van said.
Ab­b­Vie has a sep­a­rate FDA-ap­proved drug, ubro­gepant, to treat adults who ex­pe­ri­ence mi­graines with­out au­ra.
"The main thing that Ab­b­Vie seems to have is the drug looks a lot more ef­fec­tive than Nurtec does," Di­van said.
Though he fol­lowed up with a dis­claimer that "these com­par­isons are al­ways chal­leng­ing to do when you're com­par­ing across tri­als." And ato­gepant may come with high­er rates of in­creased con­sti­pa­tion and nau­sea, ac­cord­ing to Mizuho's analy­sis.
The in­dus­try has come a long way since the first drugs spe­cif­ic to mi­graine pre­ven­tion — erenum­ab, fre­manezum­ab and gal­canezum­ab — were ap­proved by the FDA in 2018. Gal­canezum­ab (or Em­gal­i­ty), for ex­am­ple, re­quires pa­tients to self-in­ject one dose per month. But in­jectable drugs may soon be nee­dled out by oral can­di­dates like ato­gepant and rimegepant. Both Ab­b­Vie and Bio­haven tout their oral drugs as first of a kind.
With mi­graine af­fect­ing near­ly one in four US house­holds, the ill­ness is the third most preva­lent world­wide, ac­cord­ing to the Mi­graine Re­search Foun­da­tion. Mi­graine-in­duced health­care and lost pro­duc­tiv­i­ty costs could be as high as $36 bil­lion an­nu­al­ly in the US.
In its Phase III tri­al, Ab­b­Vie test­ed 910 pa­tients who suf­fer four to 14 mi­graine days per month with its oral­ly ad­min­is­tered cal­ci­tonin gene-re­lat­ed pep­tide (CGRP) re­cep­tor an­tag­o­nist. The pa­tients re­ceived ei­ther 10 mg, 30 mg, or 60 mg of ato­gepant once per day, or a place­bo.
Re­sults showed that those who took vary­ing amounts of ato­gepant over the course of 12 weeks ex­pe­ri­enced be­tween 3.69 and 4.2 few­er mi­graine days com­pared to the ini­tial month­ly mean. Those on the place­bo said they had 2.48 few­er mi­graine days. To put that in per­spec­tive, just over half of pa­tients on ato­gepant ex­pe­ri­enced at least a 50% re­duc­tion in mean month­ly mi­graine days, com­pared to 29% of place­bo pa­tients.
Pa­tients who re­ceived 30 or 60 mg of atope­gant al­so passed all of Ab­b­Vie's sec­ondary end­points, in­clud­ing change from the base­line in mean headache days, mean month­ly days in which acute med­ica­tion was used, mean per­for­mance of dai­ly ac­tiv­i­ties and phys­i­cal im­pair­ment do­main scores, and Mi­graine-Spe­cif­ic Qual­i­ty of Life Ques­tion­naire (MSQ) Role Func­tion-Re­stric­tive do­main scores. Those who on­ly took 10 mg passed just four of the six sec­ondary end­points.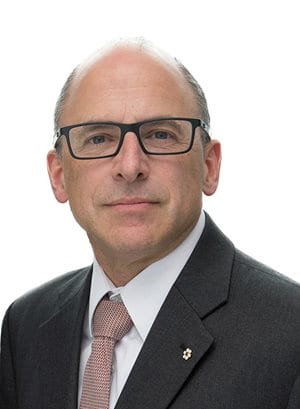 Tom Hud­son
"Mi­graine at­tacks can be de­bil­i­tat­ing, but mi­graine is a treat­able dis­ease, and peo­ple liv­ing with it are not alone in their bat­tle to con­trol it," Tom Hud­son, SVP of R&D and CSO at Ab­b­Vie, said in a state­ment. "With the re­sults from these tri­als, we aim to pro­vide a safe and ef­fec­tive pre­ven­tive treat­ment that of­fers pa­tients and health­care providers a sim­ple, once dai­ly oral treat­ment that works specif­i­cal­ly by block­ing CGRP re­cep­tors and pre­vent­ing mi­graine."