Ab­b­Vie re­treats as Gala­pa­gos of­fers mixed PhII CF da­ta, leav­ing a ma­jor al­liance in per­il — Ver­tex shares surge
Gala­pa­gos $GLPG out­lined some dis­tinct­ly mixed re­sults from its Phase II study of its C2 cor­rec­tor GLPG2737 for cys­tic fi­bro­sis Thurs­day af­ter­noon, man­ag­ing to boost the prospects of ri­val Ver­tex in the process.
While Gala­pa­gos said that the drug — com­bined with a sta­ble dose of Ver­tex's Orkam­bi — had hit a sig­nif­i­cant de­crease of 19.6 mmol/L (p=0.02) on sweat chlo­ride from base­line, there was on­ly a pos­i­tive trend in ppFEV1. "The mean ab­solute change from base­line in ppFEV1 for the GLPG2737 treat­ment arm ver­sus place­bo through day 28 was 3.4% (p=0.08)."
That's not good. Just lis­ten to Baird's Bri­an Sko­r­ney:
The lack­lus­ter FEV1 per­for­mance re­al­ly makes it tough to imag­ine Gala­pa­gos mount­ing a rel­e­vant com­pet­i­tive cam­paign against Ver­tex's triple com­bi­na­tion. Re­call, each of Ver­tex's third agents showed about a 10% im­prove­ment in FEV1 when added to Symdeko. We think Gala­pa­gos need­ed to cross 5% to even have a hope of an ar­gu­ment here but re­al­is­ti­cal­ly would need to get a ~10% ben­e­fit to re­al­ly be con­sid­ered a com­pet­i­tive threat. We think the door is clos­ing on Gala­pa­gos, which is look­ing less and less like­ly to be able to pull out a triple com­bo that could even hope to match Ver­tex's, much less beat it.
And while Gala­pa­gos is pro­ceed­ing with a study of its triple ther­a­py (da­ta due in the next quar­ter), its big part­ner Ab­b­Vie $AB­BV has opt­ed out of a sec­ond triple study that had been con­tem­plat­ed, leav­ing Gala­pa­gos "re­view­ing the fu­ture of its CF col­lab­o­ra­tion with Ab­b­Vie."
Ab­b­Vie al­ready pulled out of one al­liance with Gala­pa­gos, sur­ren­der­ing its in­ter­est in fil­go­tinib, which Gilead picked up. The bond can't be too strong now. Ab­b­Vie paid Gala­pagis $40 mil­lion up­front to part­ner on CF, with more than $300 mil­lion in mile­stones on the ta­ble. And Ab­b­Vie has walked away from much more than that with­out a sec­ond thought.
An­a­lysts — par­tic­u­lar­ly some of the heavy­weights that have long been lined up on Ver­tex's side — are like­ly to see this as an­oth­er vin­di­ca­tion of their star play­er as the un­chal­lenged leader in CF. Just a few weeks ago Pro­teosta­sis was brushed aside as it tried to of­fer some com­pe­ti­tion.
But the mar­ket wasn't hav­ing it — then or now.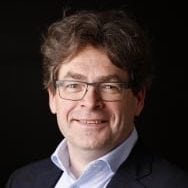 Piet Wiger­inck
Thurs­day af­ter­noon Ver­tex shares shot up 9% in af­ter-mar­ket trad­ing as in­vestors sa­vored the idea that the big biotech had been left well out in front, with an undis­put­ed lead as it pur­sues its own triplets. Gala­pa­gos, mean­while, plunged 17% on the news.
But they're forg­ing ahead, in a fash­ion.
"The PEL­I­CAN tri­al is the first to eval­u­ate GLPG2737 as a C2 cor­rec­tor in CF pa­tients on top of Orkam­bi and showed CFTR on-tar­get ac­tiv­i­ty with GLPG2737 in com­bi­na­tion with Orkam­bi," said Dr. Piet Wiger­inck, chief sci­en­tif­ic of­fi­cer of Gala­pa­gos. "We have ini­ti­at­ed dos­ing in the FAL­CON tri­al, in which we aim to eval­u­ate high­er ex­po­sures of GLPG2737 in CF pa­tients and fur­ther un­der­stand the po­ten­tial syn­er­gis­tic ef­fect of GLPG2737 on top of our own dual com­bi­na­tion com­pounds."