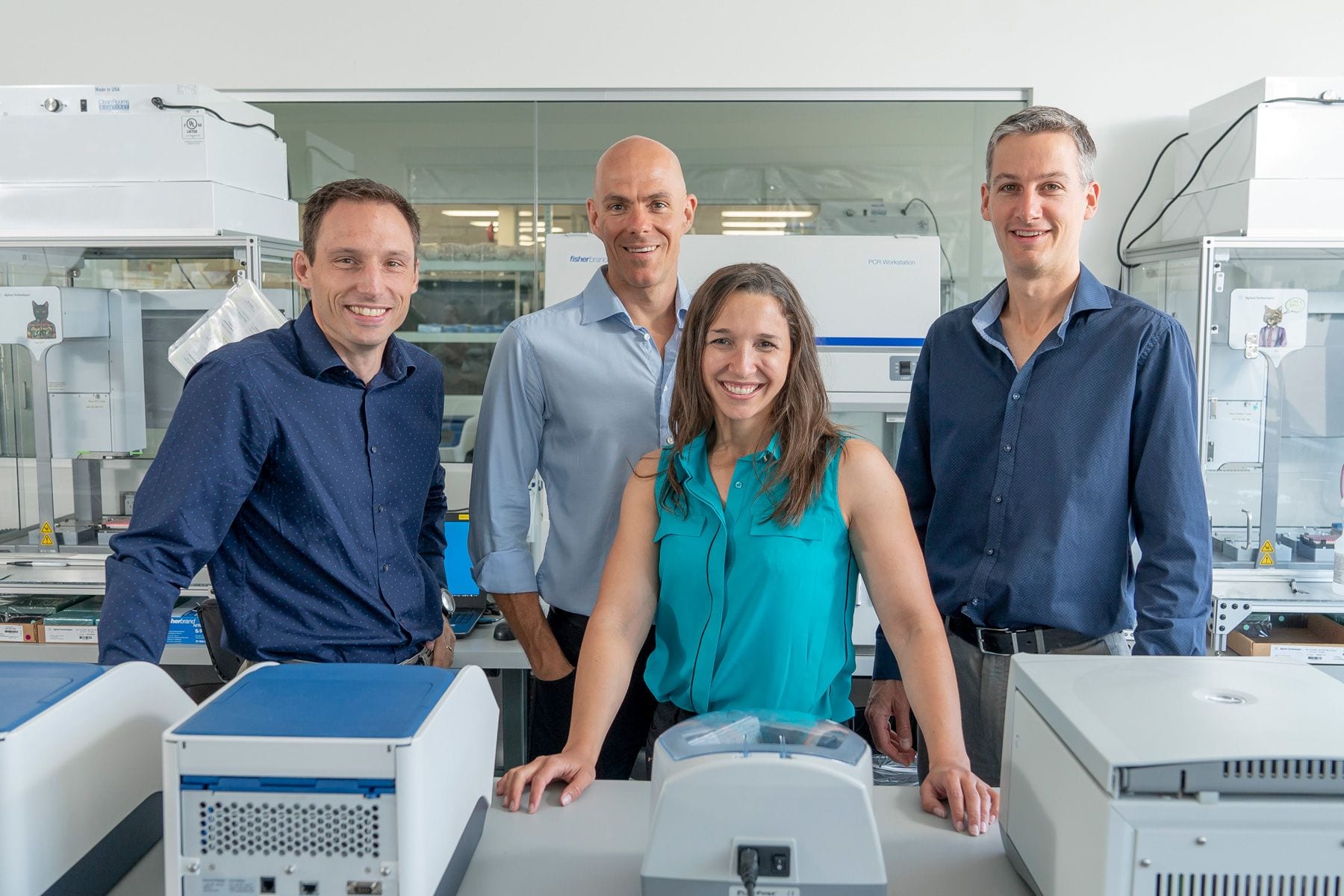 Left to right: AbCellera head of BD Kevin Heyries, CEO Carl Hansen, COO Véronique Lecault, head of corporate development Murray McCutcheon
Ab­Cellera rais­es $105M in first ma­jor ven­ture round as Covid-19 an­ti­body nears clin­ic
Over its first decade of ex­is­tence, Ab­Cellera had many things: A new tech­nol­o­gy with sci-fi vibes, fund­ing from the Bill & Melin­da Gates Foun­da­tion, gov­ern­ment con­tracts, part­ner­ships with large phar­ma com­pa­nies and biotechs, a re­search fa­cil­i­ty in Van­cou­ver with dozens and then even­tu­al­ly over a hun­dred em­ploy­ees. Even, most re­cent­ly, a lead­ing ex­per­i­men­tal Covid-19 treat­ment.
They just didn't have what al­most every biotech did: streams of ven­ture cash.
That's chang­ing to­day. Ab­Cellera has an­nounced a $105 mil­lion Se­ries B round, led by Or­biMed and DCVC. The in­flux is more than 10 times the com­pa­ny's 2018 Se­ries A: a $10 mil­lion round that came af­ter years of self-fund­ing through part­ner­ships. It will go to­ward adding more than 100 em­ploy­ees to the cur­rent 140-per­son staff, the com­ple­tion of a sprawl­ing new R&D fa­cil­i­ty next year and, even­tu­al­ly, its own man­u­fac­tur­ing fa­cil­i­ty.
"It's been quite a re­mark­able path to get here," CEO Carl Hansen told End­points News. It "is quite a shift in strat­e­gy now in think­ing of a large fi­nanc­ing, which is re­flec­tive of our be­lief that there's a huge op­por­tu­ni­ty and that cap­i­tal be­ing de­ployed in build­ing and in­te­grat­ing tech­nolo­gies, in build­ing ca­pac­i­ty, should be com­men­su­rate with that op­por­tu­ni­ty.
"We're sort of chang­ing our pos­ture," he added. "It's now a pos­ture of ag­gres­sive growth."
The fi­nanc­ing round comes af­ter Ab­Cellera has emerged from rel­a­tive anonymi­ty to be­come one of the most-watched de­vel­op­ers of Covid-19 treat­ments, writ­ten up in Busi­ness­week and MIT Tech­nol­o­gy Re­view. Their lab-on-a-chip de­vice, based on work Hansen had done at the Uni­ver­si­ty of British Co­lum­bia, iso­lates an­ti­body-pro­duc­ing cells from blood sam­ples and us­es ma­chine learn­ing to iso­late the best ones. They ob­tained a blood sam­ple from a Covid-19 sur­vivor in Feb­ru­ary, be­gan a part­ner­ship with Eli Lil­ly the next month, and the phar­ma gi­ant is plan­ning to file an IND for their lead an­ti­body by the end of the month — one of three com­pa­nies, along­side Vir and Re­gen­eron, on sim­i­lar clin­i­cal paths. Al­though not a vac­cine, an­ti­bod­ies have been used to ef­fec­tive­ly treat or, for a short pe­ri­od, pre­vent oth­er in­fec­tious dis­eases such as Ebo­la and RSV.
Ab­Cellera, though, had al­ready pro­vid­ed that "lab-on-a-chip" tech­nol­o­gy to nu­mer­ous oth­er com­pa­nies who had sci­en­tif­i­cal­ly de­fined tar­gets but want­ed Ab­Cellera's ex­per­tise in se­lect­ing an­ti­bod­ies — they cite 55 dif­fer­ent "com­plet­ed pro­grams," and have worked with Gilead, Pfiz­er, Glax­o­SmithK­line, Mer­ck, No­var­tis and the US De­part­ment of De­fense — and Hansen said the fi­nanc­ing had been un­der dis­cus­sions since the fall. Covid-19 changed lit­tle, ex­cept to pro­vide the same head­winds that have buf­fet­ed biotech: They've shuf­fled shifts and hours, even as they de­vot­ed much of their staff to an all-out ef­fort to de­vel­op a treat­ment.
"If any­thing Covid-19 is a time-com­pressed ex­am­ple of what we've built the com­pa­ny to do," Hansen said. "To look at a sit­u­a­tion where there's an ur­gent need for a ther­a­peu­tic and bring a tech­nol­o­gy to ac­cel­er­ate that."
The Se­ries B (which al­so fea­tured Viking Glob­al In­vestors, Pe­ter Thiel, Founders Fund, Eli Lil­ly, Uni­ver­si­ty of Min­neso­ta, and Pre­sight Cap­i­tal) will ex­pand their re­search ca­pac­i­ty to reach what Hansen said has been a long-run­ning rise in in­ter­est from oth­er com­pa­nies who want to part­ner with them. On top of tack­ling more pre­clin­i­cal projects, they'll even­tu­al­ly be able to man­u­fac­ture an­ti­bod­ies through Phase II.
There are no plans, though, to bring their own drugs to mar­ket. Hansen is stick­ing with his bread and but­ter.
"The whole the­sis of the com­pa­ny is that we're a tech­nol­o­gy and not a biotech," he said. "We are not go­ing to change."