Adap­ti­m­mune looks to sal­vage ovar­i­an can­cer study by adding flu­dara­bine to prep pa­tients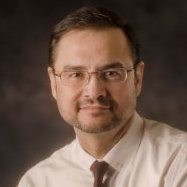 CMO Rafael Ama­do
The use of flu­dara­bine was fin­gered as a key cul­prit in the deaths of sev­er­al pa­tients tak­ing Juno's lead CAR-T ther­a­py, but it's an ab­solute­ly vi­tal part of the pre­con­di­tion­ing reg­i­men be­ing used to pre­pare pa­tients for the wave of new cell ther­a­pies now in the clin­ic for can­cer. And Adap­ti­m­mune $ADAP helped un­der­score just how crit­i­cal it is to­day, say­ing that it's read­just­ing its tri­al pro­to­col for its T-cell ther­a­py for ovar­i­an can­cer, adding flu­dara­bine to the com­bi­na­tion af­ter fail­ing to get any ini­tial re­spons­es in pa­tients with­out it.
Chief Med­ical Of­fi­cer Rafael Ama­do put it this way:
"We hope that, as pre­vi­ous­ly ob­served in syn­ovial sar­co­ma, this lym­phode­plet­ing reg­i­men will en­able an­ti-tu­mor im­mune re­spons­es me­di­at­ed by NY-ESO SPEAR T-cell ther­a­py in these pa­tients with ad­vanced chemother­a­py re­lapsed or re­frac­to­ry ovar­i­an can­cer."
Shares of Adap­ti­m­mune dropped 12% Wednes­day morn­ing.
This flu/cy com­bo has emerged as a cen­tral fea­ture in cell ther­a­pies. By us­ing the com­bo on pa­tients, in­ves­ti­ga­tors have seen clear signs that their cell ther­a­pies are bet­ter able to pop­u­late and durably at­tack can­cer cells. But you have to get the mix of flu/cy plus the right dosage of your cell ther­a­py bal­anced prop­er­ly to avoid killing pa­tients.
When Juno $JUNO tried it, their recipe of flu/cy com­bined with JCAR015 killed three pa­tients by spurring cere­bral ede­ma. An­oth­er pa­tient in a sep­a­rate study al­so was killed by se­vere neu­ro­tox­i­c­i­ty, bring­ing the death count to 4. The FDA re­spond­ed by plac­ing the lead pro­gram on com­plete hold, then lift­ed the hold af­ter Juno pro­posed pulling flu­dara­bine from the mix.
That quick fix to get the hold lift­ed may have sig­nif­i­cant­ly re­duced the threat of lethal tox­i­c­i­ty, but Juno's ri­val Kite $KITE has man­aged to forge ahead with its own bal­anc­ing act of flu/cy com­bined with their lead CAR-T. And it seems clear that any ther­a­pies that don't use flu/cy may be at a com­pet­i­tive dis­ad­van­tage. At the time, Jef­feries' Biren Amin not­ed:
"Crit­i­cal­ly, we al­so know that a flu/cy reg­i­men much high­er than what Kite us­es in their tri­als (rough­ly four times more cy for ALL pa­tients) was in­volved in all four cere­bral ede­ma cas­es (at Juno)."
Adap­ti­m­mune now plans to add 10 more pa­tients to its small Phase I/II study to see how they will re­spond to the new ther­a­peu­tic reg­i­men. The UK biotech – with R&D ops in Philadel­phia – had to put one tri­al for myx­oid round cell li­posar­co­ma on par­tial hold on or­ders from the FDA in Au­gust, af­ter reg­u­la­tors said they had some tri­al de­sign ques­tions to clear up be­fore pa­tients could be treat­ed.