ADC Ther­a­peu­tics beefs up mon­ster $200M round with fresh $76M haul
Days af­ter Roche se­cured ac­cel­er­at­ed ap­proval for its an­ti­body-drug con­ju­gate, Lau­sanne, Switzer­land-based ADC Ther­a­peu­tics has clinched an­oth­er $76 mil­lion to its al­ready hefty $200 mil­lion round of fi­nanc­ing un­veiled in 2017.
The fresh in­jec­tion brings ADC's ven­ture haul to $531 mil­lion.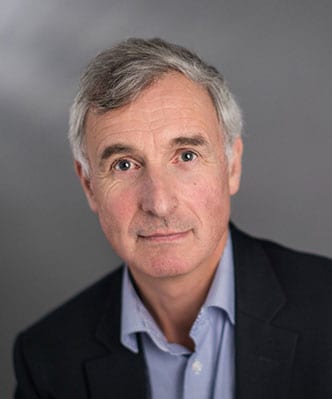 Chris Mar­tin ADC
The funds will set the on­col­o­gy com­pa­ny up with "a strong bal­ance sheet to fund prepa­ra­tions for a po­ten­tial Bi­o­log­ic Li­cense Ap­pli­ca­tion (BLA) for AD­CT-402 (lon­cas­tux­imab tesirine) in re­lapsed or re­frac­to­ry dif­fuse large B-cell lym­phoma (DL­B­CL) in the sec­ond half of 2020, as well as prepa­ra­tions for a piv­otal Phase II tri­al of AD­CT-301 (cami­dan­lum­ab tesirine) in Hodgkin lym­phoma based on our re­cent end of Phase I meet­ing with the U.S. Food and Drug Ad­min­is­tra­tion," said ADC chief Chris Mar­tin, in a state­ment on Wednes­day.
An­ti­body-drug con­ju­gates are a class of ther­a­peu­tics in which a can­cer-killing tox­in is at­tached to a spe­cif­ic an­ti­body us­ing a biodegrad­able link­er. They are de­signed to min­i­mize the ef­fects of the chemother­a­py on healthy cells while max­i­miz­ing tu­mor cell death, which is why the tech­nol­o­gy is some­times likened to a tro­jan horse as it is en­gi­neered to go un­no­ticed, de­liv­er­ing chemother­a­pies to cells ex­press­ing the anti­gen tar­get.
Un­like the first gen­er­a­tion of an­ti­body-drug con­ju­gates that were steered to the mar­ket by Seat­tle Ge­net­ics and oth­ers, ADC Ther­a­peu­tics is us­ing pyrroloben­zo­di­azepine-based war­heads that it sus­pects will be more po­tent and mit­i­gate drug re­sis­tance, even in hard-to-treat tu­mors.
Mar­tin served as one of the orig­i­nal board mem­bers at ADC back in 2011 when the biotech was launched. In 2013, he en­gi­neered the sale of UK's Spirogen — where he was CEO — to As­traZeneca in a $440 mil­lion deal, which the British drug­mak­er paired with a $20 mil­lion in­vest­ment in ADC. ADC and Spirogen al­so share the pyrroloben­zo­di­azepine-based war­head tech­nol­o­gy.
ADC's two lead pro­grams (402 and 301) first re­port­ed pos­i­tive ear­ly-stage da­ta in 2016, and the com­pa­ny has since up­dat­ed its da­ta. The com­pa­ny's re­searchers, led by CMO Jay Fein­gold — for­mer VP of can­cer re­search at Wyeth — pre­sent­ed up­dat­ed Phase I da­ta at Amer­i­can So­ci­ety of Hema­tol­ogy (ASH) meet­ing on the 402 pro­gram, which takes aim at a tar­get fa­vored by the CAR-T crowd: CD19. In 139 evalu­able pa­tients with re­lapsed or re­frac­to­ry DL­B­CL, the sci­en­tists reg­is­tered an over­all re­sponse rate (ORR) was 43.3% — com­pris­ing 23.6% com­plete re­spons­es and 19.7% par­tial re­spons­es.
ADC al­so pub­lished fresh phase I da­ta on its ex­per­i­men­tal 301 drug at ASH. In 113 pa­tients with Hodgkin's lym­phoma, who have failed mul­ti­ple lines of ther­a­py, re­searchers doc­u­ment­ed an ORR of 86.5%, in­clud­ing a lofty 43% com­plete re­sponse rate.
The piv­otal (Phase II) 402 DL­B­CL tri­al is ex­pect­ed to read­out in the third quar­ter of 2019 — and a piv­otal (Phase II) 301 study in Hodgkin lym­phoma pa­tients is ex­pect­ed to kick off in the com­ing months. Last year, the com­pa­ny aban­doned an ear­ly-stage study in pa­tients with HER2-pos­i­tive can­cers eval­u­at­ing its drug, AD­CT-502, af­ter it failed to im­press.
The com­pa­ny — which has a work­force of 120 and op­er­a­tions in Lon­don, New Jer­sey and San Fran­cis­co — an IPO is al­so on the cards, Mar­tin told End­points News.