Aerie shares shoot up as in­ves­ti­ga­tors take an­oth­er big step to an NDA with 2nd pos­i­tive glau­co­ma PhI­II
Aerie Phar­ma­ceu­ti­cals is now two for two on its piv­otal Phase III stud­ies for Ro­cla­tan, a com­bo drug that com­bines the gener­ic la­tanoprost to its in-house drug Rho­pres­sa.
In­ves­ti­ga­tors re­port­ed top line da­ta to­day, say­ing that the com­bo beat each of the two drugs sep­a­rate­ly in low­er­ing in­traoc­u­lar pres­sure, the key gauge for suc­cess here.
Once again, Aerie shares $AERI took off on the news, spik­ing more than 30% Thurs­day as in­vestors pon­dered the im­pli­ca­tions. The biotech promised to file for an ap­proval in the first half of 2018, pro­vid­ed an on­go­ing safe­ty study ends suc­cess­ful­ly.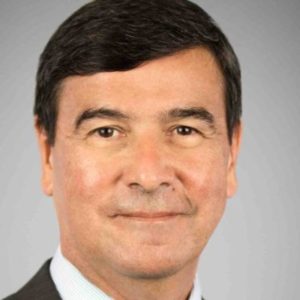 Aerie CEO Vi­cente Anido
The IOP-low­er­ing ef­fect of Ro­cla­tan, says Aerie, was 1 to 3 mmHg (mil­lime­ters of mer­cury) greater than monother­a­py with ei­ther la­tanoprost or Rho­pres­sa — which is up for an FDA re­view with a Feb­ru­ary 28, 2018 PDU­FA date — in the study. The study eval­u­at­ed pa­tients with max­i­mum base­line in­traoc­u­lar pres­sures rang­ing from above 20 to be­low 36 mmHg. The com­bo al­so re­duced mean di­ur­nal IOPs to 16 mmHg or low­er for 56% of the pa­tients tak­ing it, bet­ter than both of the oth­er drug arms. In the first Phase III the com­bo ex­ceed­ed that of la­tanoprost by an av­er­age across the study du­ra­tion of 1.9 mmHg and ex­ceed­ed Rho­pres­sa by 2.6 mmHg."
Once again, though, the com­bo was al­so linked with a high rate of eye red­ness among pa­tients, a trait al­so tied to Rho­pres­sa. There was a 10% dis­con­tin­u­a­tion rate in the study, and to be fair to com­pa­ny crit­ics, this drug will get some very close scruti­ny from reg­u­la­tors be­fore it gets to the mar­ket.
A bull­ish Aerie CEO Vi­cente Anido has al­ready tout­ed Rho­pres­sa as a like­ly block­buster able to earn more than $1 bil­lion a year, even though the biotech had to get the FDA's per­mis­sion to change the end­point for its sec­ond late-stage study of Rho­pres­sa in or­der to avoid back-to-back fail­ures.
"With this pos­i­tive Mer­cury 2 da­ta, we now have two suc­cess­ful piv­otal tri­als for Ro­cla­tan. The topline ef­fi­ca­cy re­sults demon­strat­ed in Mer­cury 2 are con­sis­tent with Mer­cury 1, con­firm­ing the po­ten­tial for Ro­cla­tan to be­come the most ef­fi­ca­cious IOP-low­er­ing ther­a­py to en­ter the mar­ket, if ap­proved. Now that the ef­fi­ca­cy re­sults for both Mer­cury 1 and 2 have proven suc­cess­ful, and if the Mer­cury 1 12-month safe­ty re­sults are al­so suc­cess­ful, we ex­pect to sub­mit our Ro­cla­tan NDA (new drug ap­pli­ca­tion) in the first half of 2018," said Aerie CEO Vi­cente Anido.