Af­ter a short stint at In­ter­cept, Rachel McMinn makes the leap from biotech an­a­lyst to biotech CEO
Over a 13-year ca­reer as a biotech an­a­lyst at Piper Jaf­fray, Cowen and Bank of Amer­i­ca Mer­rill Lynch, Rachel McMinn learned a lot about the in­dus­try. Enough to think that maybe she should be the one run­ning the com­pa­ny rather than just ask­ing ques­tions — and dis­cussing op­tions — re­lat­ed to its per­for­mance.
"Over time I felt I was giv­ing a lot of com­pa­nies free ad­vice," McMinn says. "I felt that maybe I could do it."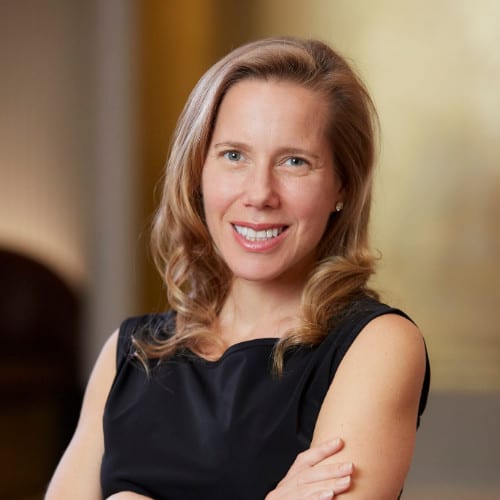 Rachel McMinn
But she didn't feel pre­pared to make the leap in one jump. In­stead, she com­plet­ed a 3.5-year stint as chief busi­ness and strat­e­gy of­fi­cer at In­ter­cept, where she was able to plunge di­rect­ly in­to the nit­ty grit­ty of biotech busi­ness. (Af­ter she once gave the com­pa­ny $ICPT an, er, bull­ish $872 price ob­jec­tive on the stock. But she al­so had plen­ty of suc­cess­es to boast about.) And to­day she's for­mal­ly launch­ing a new biotech of her own af­ter an im­pres­sive $68.5 mil­lion Se­ries A raise.
The broad out­lines of the com­pa­ny — Neu­ro­gene, tak­ing its place in the bur­geon­ing biotech hub of New York — will sound fa­mil­iar to any­one who's been ob­serv­ing the biotech scene over the past decade.
McMinn and the 20 staffers at the biotech are tack­ling rare neu­ro­log­i­cal con­di­tions with a pipeline of gene ther­a­pies us­ing AAV tech. Just a few days ago the com­pa­ny out­lined mouse da­ta from a pre­clin­i­cal study of a gene ther­a­py out of UT South­west­ern for AGU, or as­partyl­glu­cosamin­uria, a neu­rode­gen­er­a­tive dis­ease trig­gered by a rogue AGA gene. An­oth­er re­searcher from The Jack­son Lab out­lined re­sults from a mouse study of Neu­ro­gene's pro­gram for Char­cot-Marie-Tooth dis­ease, type 4J (CMT4J) syn­drome.
Those aren't the on­ly 2 gene ther­a­pies they're work­ing on, McMinn tells me. Oth­ers are in the works as well. And aside from an an­nounce­ment on her new chief sci­en­tif­ic of­fi­cer, the Uni­ver­si­ty of Ed­in­burgh's Stu­art Cobb, the new­ly mint­ed CEO starts to put the brakes on the specifics.
Not un­usu­al­ly, Neu­ro­gene wants to keep the unique as­pects of their work un­der wraps for awhile. The key to mak­ing the lat­est gene ther­a­py com­pa­ny to hit the scene a suc­cess, she adds, will re­volve around some of the new tech they're fo­cused on re­lat­ed to vec­tors and genes. Some of these healthy genes they're try­ing to load up for de­liv­ery aren't easy to get in­to the tiny ve­hi­cles. And get­ting the dose and de­liv­ery right will be es­sen­tial to tack­ling the rare con­di­tions on their radar.
But the de­tails will have to wait. So will time­lines. McMinn is not in­ter­est­ed at this time in broad­cast­ing sched­ules for mov­ing in­to the clin­ic. How long is their run­way? Time will tell.
Why rare neu­ro­log­i­cal con­di­tions?
McMinn traces her in­spi­ra­tion to Avex­is and the re­mark­able da­ta they put to­geth­er for SMA, be­fore No­var­tis bought them out. And there's a fam­i­ly tie as well.
"I re­al­ly want­ed to re­vis­it the idea of do­ing some­thing that was mean­ing­ful for me per­son­al­ly," says McMinn, cit­ing an old­er, autis­tic broth­er.
What's the goal? To build a gene ther­a­py com­pa­ny that can steer one new prod­uct to the mar­ket every year, McMinn replies.
She's set a high mark for Neu­ro­gene. Now they be­gin.