Af­ter bumpy 2017, Cel­gene CEO says tak­ing risk is the on­ly way for­ward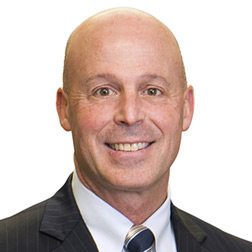 Mark Alles
SAN FRAN­CIS­CO — Cel­gene's CEO Mark Alles kicked off JPM this morn­ing re­as­sur­ing in­vestors that bets on new­ly-ac­quired as­sets will keep the com­pa­ny's mo­men­tum strong — de­spite a rocky 2017.
Still, the com­pa­ny's stock $CELG is down 2.9% fol­low­ing the pre­sen­ta­tion, like­ly due to the an­nu­al rev­enue fore­cast for 2018, which came in slight­ly un­der Wall Street's ex­pec­ta­tions at $14.4 bil­lion to $14.8 bil­lion. The av­er­age es­ti­mate from an­a­lysts was $14.83 bil­lion.
The com­pa­ny's big JPM news got spilled yes­ter­day by the Wall Street Jour­nal, which first re­port­ed Cel­gene's $7 bil­lion buy of San Diego start­up Im­pact Bio­med­i­cines (the deal was large­ly in biobucks, with $1.1 bil­lion up­front). The deal, WSJ's sources said, was sup­posed to be an­nounced this morn­ing.
Alles didn't men­tion the Phase III flop of mon­gersen, the biotech's most ad­vanced ex­per­i­men­tal drug in its in­flam­ma­tion and im­munol­o­gy pipeline (where the com­pa­ny had high hopes for block­buster break­outs). The drug failed its late-stage study in Crohn's back in Oc­to­ber, and now the com­pa­ny is fo­cus­ing hard on its pipeline of hope­fuls.
All eyes are on ozan­i­mod, ac­quired in the buy­out of Re­cep­tos back in 2015, and the new as­set Cel­gene is pick­ing up from Im­pact.
"The Re­cep­tos trans­ac­tion with ozan­i­mod is a very present event for us, and we rec­og­nize that the risk we have to take to build the com­pa­ny — by do­ing things like the Re­cep­tos trans­ac­tion in 2015 — plays out over time and now we have a multi­bil­lion block­buster on our hands," Alles said dur­ing the pre­sen­ta­tion.
As we re­port­ed yes­ter­day, Im­pact's JAK2 myelofi­bro­sis drug fe­dra­tinib was a Sanofi cast-off re­cent­ly res­ur­rect­ed by John Hood, the for­mer co-founder and CSO of San Diego's re­gen­er­a­tive med­i­cine com­pa­ny Sa­mumed. Hood was shoot­ing for a quick turn­around at the FDA, look­ing to lever­age the ex­ist­ing piv­otal da­ta with new safe­ty in­fo to set up a quick ap­proval. Cel­gene will now be hus­tling ahead with that plan in place.
But all the em­pha­sis on the pipeline may not ease in­vestors' con­cerns. Af­ter earn­ing a long­stand­ing rep­u­ta­tion as an in­dus­try dar­ling for its mas­sive growth over the years, Cel­gene's rough last half of 2017 spooked in­vestors. Af­ter mon­gersen's flop, Cel­gene al­so cut its guid­ance for 2020.
It's pos­si­ble that in­vestors aren't too as­sured with the Im­pact ac­qui­si­tion, as fe­dra­tinib is a me-too drug in a cat­e­go­ry where there's al­ready sol­id com­pe­ti­tion.