Af­ter be­ing spurned at the FDA, PTC buys a con­tro­ver­sial Duchenne MD ther­a­py from Marathon
Af­ter be­ing stung by a fierce back­lash over its plans to sell a cheap, old steroid for Duchenne mus­cu­lar dy­s­tro­phy for $89,000 a year, Marathon Phar­ma­ceu­ti­cals is get­ting out. The com­pa­ny an­nounced this morn­ing that it is sell­ing de­flaza­cort (Em­flaza) to Duchenne MD play­er PTC Ther­a­peu­tics $PTCT, which has been strug­gling to get the FDA to pro­vide a se­ri­ous re­view for its own failed drug.
Marathon is get­ting $140 mil­lion in cash and stock in the deal, along with a shot at a one-time $50 mil­lion sales bonus on the ta­ble and a roy­al­ty stream that will ac­count for a low-to-mid 20s per­cent­age of the rev­enue.

PTC Ther­a­peu­tics CEO Stu­art Peltz
PTC CEO Stu­art Peltz doesn't say in the re­lease how much he plans to charge for de­flaza­cort. The com­pa­ny's stock slid 13% af­ter the news hit.
Marathon trig­gered a storm of crit­i­cism with its plans, which is con­tin­u­ing un­abat­ed now with a new fo­cus on the FDA's role in the ap­proval. A large num­ber of Duchenne par­ents were able to buy gener­ic de­flaza­cort over­seas for around $1,000 a year, and crit­ics saw Marathon's move as an­oth­er in a se­ries of price goug­ing scan­dals.
That scan­dal is now PTC's to deal with.
"With our near­ly 20-year com­mit­ment to the Duchenne com­mu­ni­ty, it is deeply mean­ing­ful for us to bring this crit­i­cal ther­a­py to U.S. pa­tients," said Peltz in a state­ment. "We be­lieve Em­flaza is a dis­ease-mod­i­fy­ing ther­a­py that has been shown to slow dis­ease pro­gres­sion. In keep­ing with PTC's mis­sion, we are ex­cit­ed to work with the com­mu­ni­ty to raise the stan­dard of care for DMD pa­tients."
Claim­ing that de­flaza­cort is a dis­ease mod­i­fy­ing ther­a­py will sur­prise many in the Duchenne com­mu­ni­ty. Like any steroid, it strength­ens pa­tients at a cost. Many of the par­ents came to pre­fer de­flazafort over pred­nisone be­cause it is as­so­ci­at­ed with less weight gain.
In ac­quir­ing the old steroid to be sold as a brand­ed ther­a­py, PTC is al­so adopt­ing Marathon's claim that the ap­proval makes it pos­si­ble to ex­pand ac­cess — now "lim­it­ed to a small num­ber of pa­tients," Peltz said in a call with an­a­lysts to­day — to all pa­tients over the age of 5.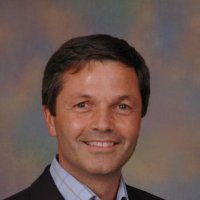 Mark Rather, PTC CCO
"We plan to re­ex­am­ine the price of Em­flaza," added Mark Rothera, PTC's chief com­mer­cial of­fi­cer. "This is a clas­sic or­phan drug launch that we're fac­ing in the Unit­ed States."
"It re­al­ly wasn't avail­able to pa­tients," Peltz told an­a­lysts, es­ti­mat­ing that few­er than 10% of the pa­tients had ac­cess to the steroid.
Ac­cord­ing to Duchenne ad­vo­cate Chris­tine Mc­Sh­er­ry, though, quite a few fam­i­lies had no prob­lem get­ting over­seas sup­plies of the steroid. Mc­Sh­er­ry ini­tial­ly es­ti­mat­ed that 40% to 50% of the DMD kids are al­ready on de­flaza­cort and will now be forced to switch to the high­er priced US sup­pli­er, then ad­just­ed that down to a con­ser­v­a­tive 25%.
Law­mak­ers, in­clud­ing Sen­a­tor Bernie Sanders, have blast­ed Marathon's claims that it need­ed to charge a high price to even­tu­al­ly re­gain the cost of de­vel­op­ment.
Peltz has tried and failed to prove that PTC's drug ataluren — which failed back-to-back stud­ies and re­cent­ly flopped for cys­tic fi­bro­sis — could ben­e­fit Duchenne par­ents. He con­tin­ues to in­sist that the "to­tal­i­ty" of the da­ta proves its worth, but the FDA re­fused to even file their ap­pli­ca­tion, say­ing they didn't have the da­ta need­ed for a re­view. PTC, though, re­cent­ly lever­aged the reg­u­la­tions to force a PDU­FA date for their drug. And ex­ecs styled this new deal as an open­ing to start US com­mer­cial­iza­tion ef­forts as it pre­pares to push ataluren in­to the mar­ket.
Eu­ro­pean reg­u­la­tors, mean­while, did give the drug a con­di­tion­al ap­proval, ex­tend­ing that with a new re­quire­ment to com­plete an ad­di­tion­al study in the next five years.