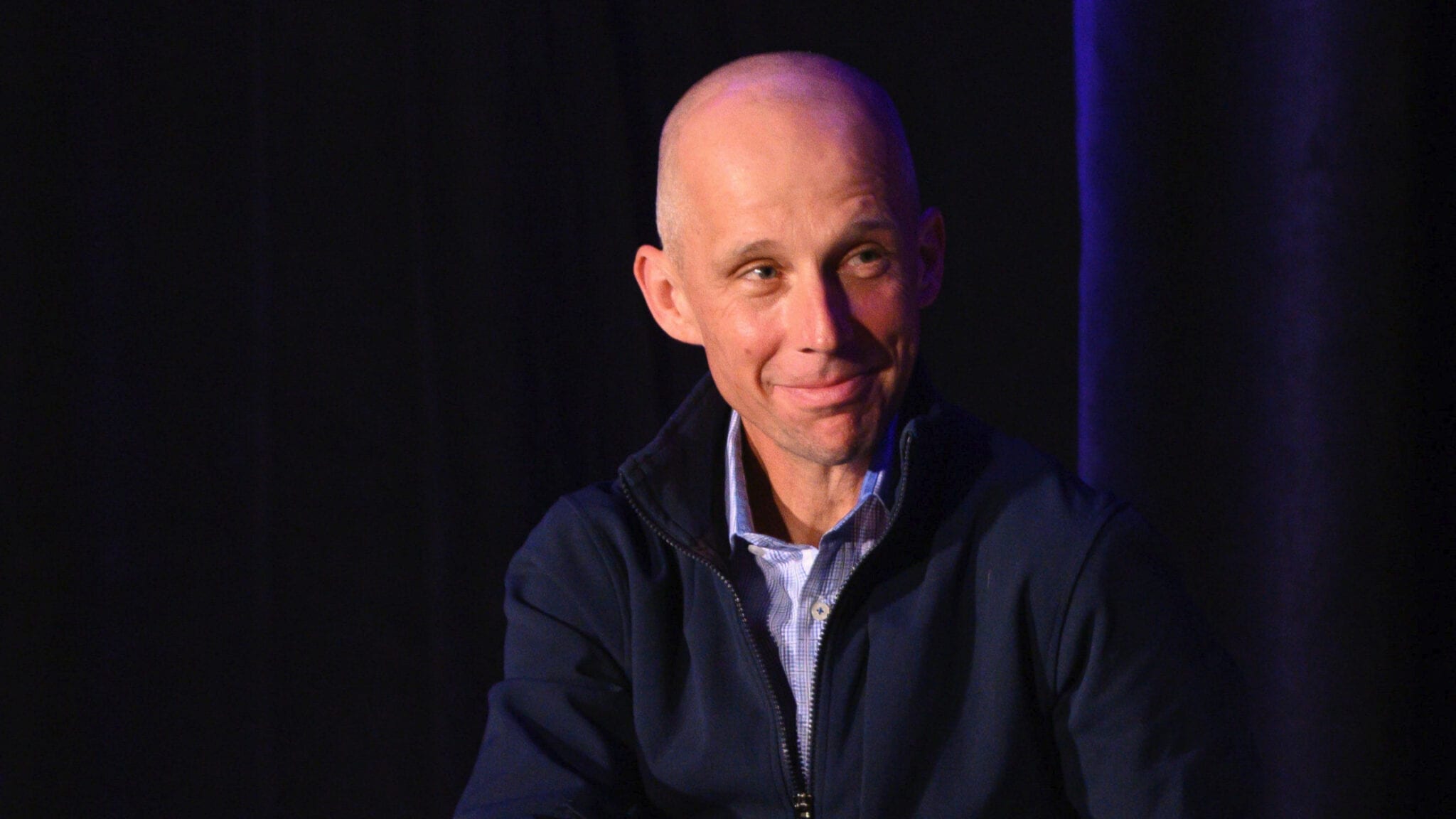 Nick Leschly, bluebird bio CEO (Jeff Rumans)
Af­ter good news in sick­le cell, blue­bird bio fol­lows up with pos­i­tive long-term da­ta in Loren­zo's Oil dis­ease
Less than a week af­ter blue­bird bio said their sick­le cell gene ther­a­py was "very un­like­ly" to have caused a case of acute myeloid leukemia, the com­pa­ny is pre­sent­ing some more good news for a dif­fer­ent pro­gram.
Re­veal­ing long-term da­ta in the rare ge­net­ic dis­or­der cere­bral adrenoleukody­s­tro­phy (CALD), blue­bird said Mon­day that 27 of 30 evalu­able pa­tients in a piv­otal Phase II/III study were alive and free of ma­jor func­tion­al dis­abil­i­ties at the two-year mark. And they're al­so high­light­ing da­ta from a fol­low-up study where 14 pa­tients re­main un­af­fect­ed by such dis­abil­i­ties through five years.
Blue­bird is hop­ing to pro­vide an al­ter­na­tive to al­lo­gene­ic stem cell trans­plants, which is the cur­rent stan­dard of care for CALD, al­so known as Loren­zo's Oil dis­ease, the com­pa­ny's head of rare ge­net­ic dis­ease R&D Richard Colvin said in a state­ment. The five-year da­ta have es­pe­cial­ly "en­cour­aged" the team that the ther­a­py, dubbed Lenti-D, can have a safe and pro­longed treat­ment ef­fect.
Da­ta come from a to­tal of 32 pa­tients, with a me­di­an fol­low-up of 38.6 months. The fol­low-ups ranged from 13.4 to 82.7 months, and in ad­di­tion to the 14 who reached five years since treat­ment, sev­en of those in­di­vid­u­als have hit the six-year mile­stone.
Two pa­tients dropped out at in­ves­ti­ga­tor dis­cre­tion, as blue­bird has pre­vi­ous­ly said. A third pa­tient al­so — blue­bird re­port­ed sev­er­al years ago — ex­pe­ri­enced rapid pro­gres­sion of the dis­ease ear­ly on in treat­ment and ul­ti­mate­ly died.
An­oth­er two ad­di­tion­al pa­tients have not yet reached the slat­ed two-year time­frame, and nei­ther have shown any ev­i­dence of ma­jor func­tion­al dis­abil­i­ties.
CALD is the most se­vere form of adrenoleukody­s­tro­phy; it's a rare, X-linked meta­bol­ic dis­or­der that af­fects about one in 21,000 male new­borns around the world, blue­bird says. Mu­ta­tions in the ABCD1 re­sult in tox­ic buildup of very long-chain fat­ty acids, usu­al­ly in the parts of the brain and spinal cord.
The dis­ease is as­so­ci­at­ed with six ma­jor func­tion­al dis­abil­i­ties that blue­bird is look­ing to stamp out with its treat­ment. These in­clude the loss of com­mu­ni­ca­tion, cor­ti­cal blind­ness, the need for tube feed­ing, in­con­ti­nence, wheel­chair de­pen­dence and the loss of all vol­un­tary move­ment.
Blue­bird is al­so eval­u­at­ing Lenti-D in a sep­a­rate Phase III tri­al, look­ing at CALD pa­tients af­ter they've re­ceived busul­fan and flu­dara­bine con­di­tion­ing. Re­searchers have treat­ed 19 pa­tients with a me­di­an fol­low-up of 8.6 months, and 17 of those 19 have achieved neu­trophil en­graft­ment. Fif­teen of 19 al­so had platelet en­graft­ment as of the No­vem­ber da­ta cut­off date.
Since this study doesn't yet have any pa­tients who have reached the 24-month mark, blue­bird's not re­leas­ing any ef­fi­ca­cy da­ta from this tri­al just yet. All re­port­ed da­ta from the Phase II/III and par­al­lel Phase III stud­ies are cur­rent as of Oc­to­ber 2020, blue­bird said.
The Cam­bridge, MA-based biotech has been plagued by set­backs and safe­ty is­sues over the last year, with two se­ri­ous ad­verse events pop­ping up in the sick­le cell pro­gram last month trig­ger­ing a fresh round of con­cerns over its lentivirus de­liv­ery plat­form. But last week's news proved a mo­men­tary sigh of re­lief as re­searchers con­tin­ue to look in­to a sec­ond event, thought to be myelodys­plas­tic syn­drome.
With the Lenti-D da­ta be­ing pre­sent­ed at a sci­en­tif­ic fo­rum Mon­day, blue­bird re­mains on track to sub­mit its BLA pitch to the FDA in "mid-2021."