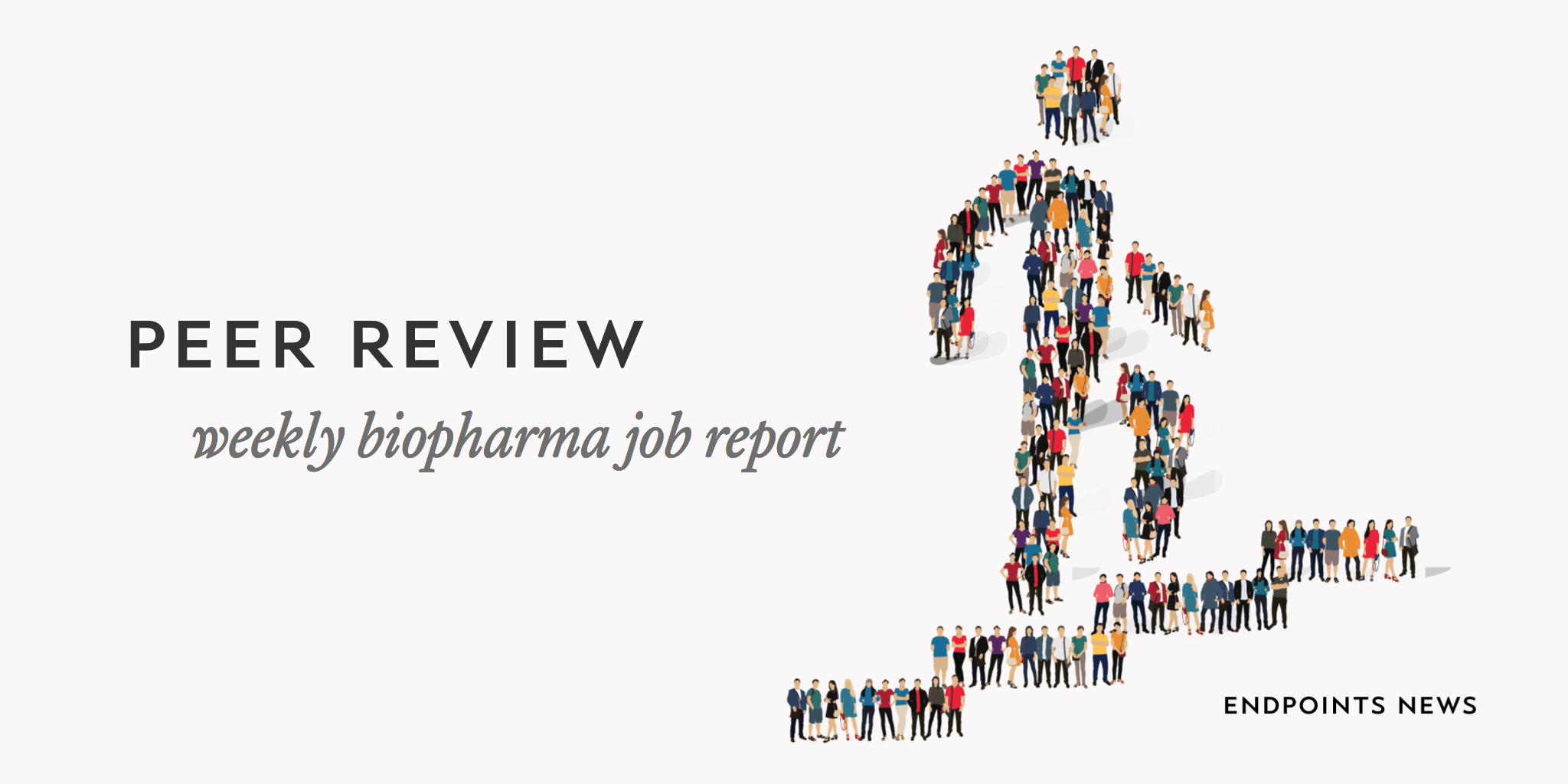 Af­ter huge mega-round, CStone poach­es Gold­man's Richard Yeh as CFO; Both Hoop­er and Harp­er ex­it Am­gen's re­volv­ing door
→ Weeks af­ter clos­ing its star-stud­ded $260 mil­lion Se­ries B round, CStone Phar­ma­ceu­ti­cals has poached Gold­man Sachs di­rec­tor Richard Yeh to man­age all of that mon­ey and more. As CFO, Yeh's du­ties will cov­er cor­po­rate fi­nan­cial strate­gies, fi­nan­cial re­port­ing, risk man­age­ment, fund­ing, and IPO. Giv­en CStone's am­bi­tious plan to go af­ter fron­trun­ners in the PD-L1 field (like Bris­tol-My­ers Squibb's Yer­voy, Mer­ck's Keytru­da and No­var­tis' Mekin­ist) with its own Phase I drug can­di­date, Yeh is ex­pect­ed to con­tribute in­sight gleaned from his years lead­ing re­search on both Chi­nese and US biotech in­dus­tries. The im­muno-on­col­o­gy play­er has inked a cou­ple of li­cens­ing pacts with US biotechs, in­clud­ing with Agios on ivosi­denib, its new­ly ap­proved treat­ment for ad­vanced acute myeloid leukemia.
→ Sean Harp­er is join­ing the mi­gra­tion out of big bio­phar­ma and in­to the world of emerg­ing biotechs. The head of R&D at Am­gen has turned in his no­tice, 6 years af­ter tak­ing the se­nior R&D po­si­tion va­cat­ed by Roger Perl­mut­ter. We don't know right now where he's head­ed, but in a state­ment Am­gen said the 55-year-old is leav­ing Am­gen and "plans to pur­sue op­por­tu­ni­ties in the ear­ly-stage biotech­nol­o­gy com­mu­ni­ty." The move opens the door for David Reese, cur­rent­ly se­nior vice pres­i­dent of trans­la­tion­al sci­ences and on­col­o­gy at Am­gen, to move up the lad­der to Harp­er's spot. He'll now be in a po­si­tion to run a group that spends about $3.5 bil­lion on drug re­search, fit­ting in­to the world's top 15 play­ers.
→ The re­volv­ing door at Am­gen is al­so lead­ing to the re­tire­ment of the glob­al op­er­a­tions chief, An­tho­ny Hoop­er, who is be­ing re­placed by Bris­tol-My­ers Squibb vet Mur­do Gor­don. Bris­tol-My­ers is still search­ing for a new chief com­mer­cial of­fi­cer.
→ Gilead $GILD CEO John Mil­li­gan is out. In a com­plete­ly un­ex­pect­ed an­nounce­ment, the big biotech com­pa­ny re­port­ed right af­ter the mar­ket close Wednes­day evening that Mil­li­gan will re­main in his po­si­tion un­til the end of the year, as the board looks for his suc­ces­sor. He's step­ping down, but Mil­li­gan clear­ly has an­oth­er ca­reer chap­ter in mind. "It has been an hon­or to work at Gilead for my en­tire pro­fes­sion­al ca­reer and, now that the com­pa­ny is on sol­id foot­ing for the fu­ture, the Board and I have agreed it is a good time to turn the reins over to a new leader," said Mil­li­gan in a state­ment. "I'm look­ing for­ward to a well-de­served break and will then move on to new and dif­fer­ent op­por­tu­ni­ties." Al­so out is Chair­man John Mar­tin, who pre­ced­ed Mil­li­gan at the helm. He plans to leave once the new CEO ar­rives.
→ NanoVi­ri­cides' search for CEO Emer­i­tus Eu­gene Sey­mour's suc­ces­sor has led them to Irach Tara­pore­wala, whose com­bined ex­pe­ri­ence in fundrais­ing, reg­u­la­to­ry af­fairs and qual­i­ty con­trol has proven par­tic­u­lar­ly ap­peal­ing to a com­pa­ny jug­gling half a dozen pre­clin­i­cal an­tivi­ral ther­a­pies. Like Sey­mour, Tara­pore­wala has pre­vi­ous­ly run a com­pa­ny that he found­ed: That would be Ohr Phar­ma, a tiny biotech de­vel­op­ing a wet age-re­lat­ed mac­u­lar de­gen­er­a­tion drug meant to ri­val Lu­cen­tis. Be­fore that, he worked in reg­u­la­to­ry af­fairs at Mys­tic Phar­ma and did drug de­vel­op­ment con­sult­ing for CRO Parex­el.
→ Cana­da's Wa­ver­ley Phar­ma has tapped Theron Od­laug to re­place out­go­ing CEO George Thomas. Through­out his ca­reer, which start­ed at Bax­ter, Od­laud has trav­eled around the US for roles at Bay­er and Astel­las as well as sev­er­al CEO posts in spe­cial­ty phar­ma com­pa­nies. Most re­cent­ly, he was ex­ec­u­tive chair­man at Toron­to-based Im­pophar­ma. Now, in­stead of nasal and pul­monary drug prod­ucts, he is tasked with steer­ing Wa­ver­ley's pe­tit pipeline of gener­ic can­cer drugs to the mar­ket.
→ Mark­ing its first pub­lic ap­pear­ance as Lin­i­cal Ac­celo­vance Group, the CRO an­nounced that Vi­ta Lanoce — for­mer­ly COO at Ac­celo­vance — will helm the merged busi­ness. Pri­or to join­ing the com­pa­ny, Lanoce had held stints at Co­v­ance, Synexus and Bris­tol-My­ers Squibb.
→ Back in the spring of 2017, Za­vante CEO Ted Schroed­er was steer­ing his an­tibi­ot­ic Zolyd (fos­fomycin for in­jec­tion, or ZTI-01), plan­ning to squeak past the goal lines at the FDA with­out a pen­ny to spare of his $45 mil­lion in in­vestor back­ing. The an­tibi­ot­ic is an old one, out­side the US, and he had grabbed coun­try rights in ex­pec­ta­tions that it would work as ex­pect­ed. Now, about 15 qui­et months af­ter, we heard that Nabri­va $NBRV is step­ping in to buy the an­tibi­ot­ic and hus­tle it to reg­u­la­tors — in­di­cat­ing that Schroed­er's old time­line and bud­get may have gone a lit­tle south some­how. The an­tibi­ot­ic is now called Con­tepo, and Schroed­er is still in charge of get­ting it to the FDA. In fact, he's tak­ing the CEO's job in the deal, tak­ing the place of Col­in Broom.
→ As part of his plan to put Jerusalem-based Gami­da Cell on the US biotech map, CEO Ju­lian Adams has re­cruit­ed two bio­phar­ma vets to his lead­er­ship team. Tzvi Palash is tak­ing up the COO po­si­tion — ex­act­ly what he's been do­ing at Pro­tal­ix — bring­ing along some man­u­fac­tur­ing back­ground he earned dur­ing a stint at Is­rael's Col­Bar Life­Science. He will be joined by VP of mar­ket ac­cess John Schick, an Al­ler­gan vet who's jump­ing from Kite Phar­ma. Schick is tasked with plan­ning re­im­burse­ment for the com­pa­ny's cell ther­a­pies, in­clud­ing its cell graft NiCord, a "break­through ther­a­py" cur­rent­ly in Phase III.
→ Or­phan pe­di­atric liv­er dis­ease com­pa­ny Al­bireo $AL­BO has ap­point­ed Tetraphase vet Patrick Horn to over­see the start of its first in-house Phase III tri­al — one put in place by his pre­de­ces­sor Paresh Soni. As CMO, Horn will work with Soni (who re­mains as a con­sul­tant to the com­pa­ny) to push both the lead pro­gram in pro­gres­sive fa­mil­ial in­tra­hep­at­ic cholesta­sis and oth­er ear­ly-stage bile acid mod­u­la­tor as­sets for­ward. A pe­di­a­tri­cian by train­ing, Horn has pre­vi­ous­ly helped Dyax nab an ap­proval for a hered­i­tary an­gioede­ma treat­ment.
→ Sanofi's head of hu­man re­sources Rober­to Puc­ci is re­tir­ing af­ter a 9-year run. The French drug­mak­er has brought in Car­o­line Lus­combe from build­ing ma­te­ri­als com­pa­ny La­farge­Hol­cim to take over.
→ Po­si­tion­ing it­self for the com­mer­cial roll­out of its first drug — a sick­le cell dis­ease treat­ment called En­dari — Em­maus Life Sci­ences has ap­point­ed two new ex­ecs to watch its num­bers. Sea­soned life sci­ences in­vest­ment banker Kurt Kruger joins as CFO, tak­ing over from Willis Lee, who can now fo­cus on his job in op­er­a­tions. Daniel Frey has been hired as con­troller.
→ Alex­ion vet Re­bec­ca Frey is now COO at Car­du­ri­on Phar­ma­ceu­ti­cals, a Boston-based up­start look­ing to tack­le car­dio­vas­cu­lar dis­eases that's sealed a pre­clin­i­cal part­ner­ship with Take­da and a li­cens­ing deal with Astel­las.
→ Af­ter a stint at SQZ Biotech, She­fali Agar­w­al is putting her fresh CMO ex­pe­ri­ence to use at Epizyme $EPZM, where she will be in charge of lead­ing the com­pa­ny's EZH2 in­hibitor tazeme­to­stat out of trou­bled wa­ters. Weeks ago, the Cam­bridge, MA-based biotech was forced to slam the brakes on any en­roll­ment for its clin­i­cal tri­als of the drug for now as in­ves­ti­ga­tors sort out a pe­di­atric case of sec­ondary T-cell lym­phoma. Agar­w­al, who honed her clin­i­cal de­vel­op­ment skills through­out a ca­reer span­ning Aveo On­col­o­gy, Tesaro and Curis, will al­so spear­head de­vel­op­ment of Epizyme's oth­er as­sets, such as EZM8266 for sick­le cell dis­ease.
→ Less than three months in­to his CEO ap­point­ment at Abeona Ther­a­peu­tics $ABEO, Carsten Thiel has poached a for­mer col­league from Alex­ion to run its com­mer­cial ops. As chief com­mer­cial of­fi­cer, Max Co­lao will build a team from scratch to pro­mote Abeona's cell and gene ther­a­pies for rare ge­net­ic dis­eases. Mean­while, COO Jeff Davis will be step­ping down af­ter 10 years at the biotech. Keep­ing track of all the per­son­nel changes will be Kristi­na Maxi­menko, who's re­cent­ly as­sumed the glob­al head of hu­man re­sources role.