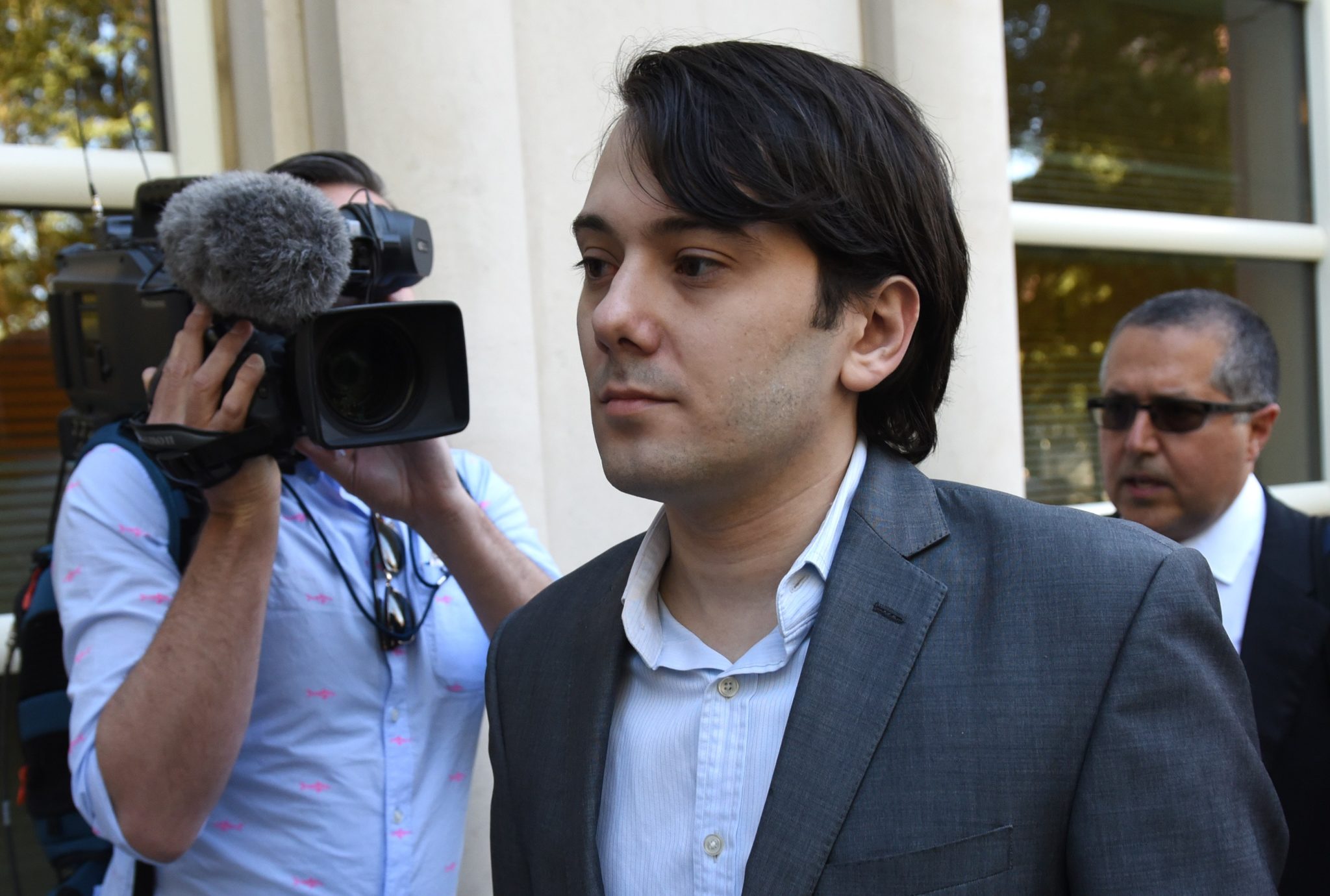 Af­ter months of taunts and tantrums, Mar­tin Shkre­li's fraud tri­al gets un­der­way
Mar­tin Shkre­li ar­rives for the first day of ju­ry se­lec­tion in his fed­er­al se­cu­ri­ties fraud tri­al ear­li­er this morn­ing in Brook­lyn TIM­O­THY A. CLARY/AFP/Get­ty Im­ages
Mar­tin Shkre­li's day in court has ar­rived.
His own at­tor­ney la­bels some of the no­to­ri­ous phar­ma bro's state­ments as pre­pos­ter­ous. Banned from Twit­ter for ha­rass­ing a fe­male writer, he switched to oth­er so­cial me­dia chan­nels to talk in­vest­ment strate­gies, boast about his pur­chas­es and wealth and cas­ti­gate his crit­ics.
Shkre­li's record as an in­vestor and biotech ex­ec is a stew of con­tra­dic­tions sea­soned by overblown claims. He bagged an orig­i­nal al­bum and an Enig­ma code-break­ing ma­chine of World War II fame — tro­phies that pros­e­cu­tors used against him as Shkre­li at­tempt­ed to free up some of his bond mon­ey to pay debts. And his de­fense that he loot­ed Retrophin in part to pay back the peo­ple whose mon­ey he lost at his hedge funds comes with the boast that his stock swap paid off big-time for his an­gry in­vestors.
That's the messy pic­ture that his de­fense team will be both pre­sent­ing and de­fend­ing against as Shkre­li's long-await­ed fraud tri­al gets un­der­way.
"I'm ex­cit­ed," Shkre­li told the AP last week about his tri­al, with ju­ry se­lec­tion get­ting un­der­way to­day. "I can't wait."
"I have this fringe the­o­ry that I've sort of stress-test­ed a lit­tle bit — the more po­lar­iz­ing and pop­u­lar a case is, the more like­ly an ac­quit­tal," he told the Fi­nan­cial Times.
Shkre­li didn't be­come in­fa­mous in biotech for start­ing or buy­ing Retrophin or Kalo­Bios, both now free of any en­tan­gle­ments. He owes his no­to­ri­ety to Tur­ing, a com­pa­ny which he start­ed, bag­ging a cheap, old gener­ic for $50 mil­lion and then hik­ing the price more than 5000%. In the process, he be­came a light­ning rod for pub­lic crit­i­cism of price goug­ing on drugs.
Shkre­li has de­fi­ant­ly — what else? — de­fend­ed his pric­ing strat­e­gy, blam­ing Big Phar­ma for much worse. But it's no­table that none of the charges he faces in a Brook­lyn court­room have any­thing to do with drug prices. There are no laws that re­strict pric­ing in the US. But he did help make it an is­sue that law­mak­ers con­tin­ue to grap­ple with, even though noth­ing sub­stan­tive has yet to be done about it.