Af­ter putting aside a bit­ter le­gal feud, Al­ny­lam and Dicer­na chiefs make nice with an RNAi col­lab­o­ra­tion
John Maraganore and Dou­glas Fam­brough used to be at each oth­er's throats as Al­ny­lam pur­sued claims that its RNAi ri­vals at Dicer­na had im­prop­er­ly pur­loined the IP it had picked up from Mer­ck in a bar­gain base­ment fire sale.
Dou­glas Fam­brough
But that was all set­tled up close to 2 years ago with a set­tle­ment from Dicer­na's Fam­brough. And now the two are mov­ing ahead in a close R&D part­ner­ship that makes them col­lab­o­ra­tors on a cou­ple of key dis­ease tar­gets.
In the pact an­nounced this morn­ing, the 2 new al­lies will pool their re­spec­tive RNAi drugs for al­pha-1 liv­er dis­ease, let­ting Dicer­na move ahead on the de­vel­op­ment front to see whether 1, or both, should be ad­vanced through a piv­otal pro­gram. Dicer­na will foot the bill on that ef­fort while Al­ny­lam gains ex-US com­mer­cial rights to what­ev­er comes out the reg­u­la­to­ry side with a win.
Both of these drugs — ALN-AAT02 and DCR-A1AT — are in Phase I/II at the mo­ment.
That puts them be­hind Ar­row­head, which is in a Phase II/III piv­otal with their ri­val and start­ed dos­ing pa­tients in a small mid-stage study late last year fo­cused on pa­tient re­spons­es.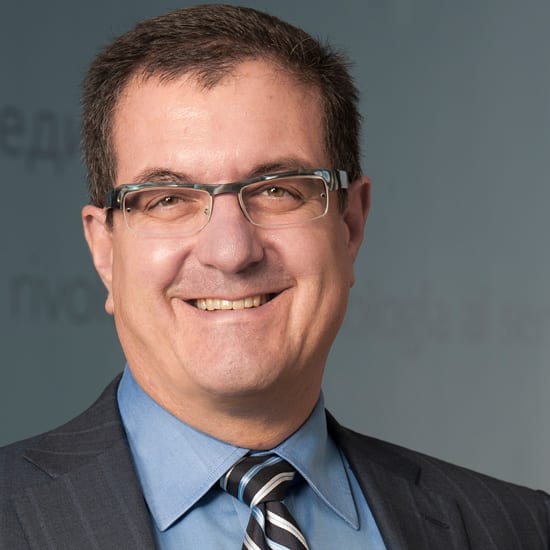 John Maraganore
Then Al­ny­lam and Dicer­na are cross-li­cens­ing drugs for pri­ma­ry hy­per­ox­aluria. That cov­ers Al­ny­lam's lumasir­an tar­get­ing gly­co­late ox­i­dase for the treat­ment of PH type 1 and Dicer­na's ne­dosir­an tar­get­ing lac­tate de­hy­dro­ge­nase A for the treat­ment of PH types 1, 2, and 3.
They each are of­fer­ing the oth­er a roy­al­ty stream on glob­al sales.
The al­liance shoves the old dis­pute in­to the his­to­ry books, rel­e­gat­ed now to a chap­ter on IP law­suits. Al­ny­lam had been up­set af­ter watch­ing Mer­ck staffers al­leged­ly make off with the IP they were buy­ing from the phar­ma gi­ant, on­ly to wind up at their ri­val. Dicer­na's counter-claims spot­light­ed some com­pelling anec­dotes about how eas­i­ly re­search leaked out of Mer­ck af­ter the com­pa­ny de­cid­ed to punt their R&D flop.
Dicer­na claimed that Mer­ck ex­ec­u­tives prac­ti­cal­ly did every­thing but help car­ry suit­cas­es loaded with re­search out the door as they helped line up new jobs for the de­part­ing staffers. And their case de­tailed nu­mer­ous in­stances of just how help­ful they could be.