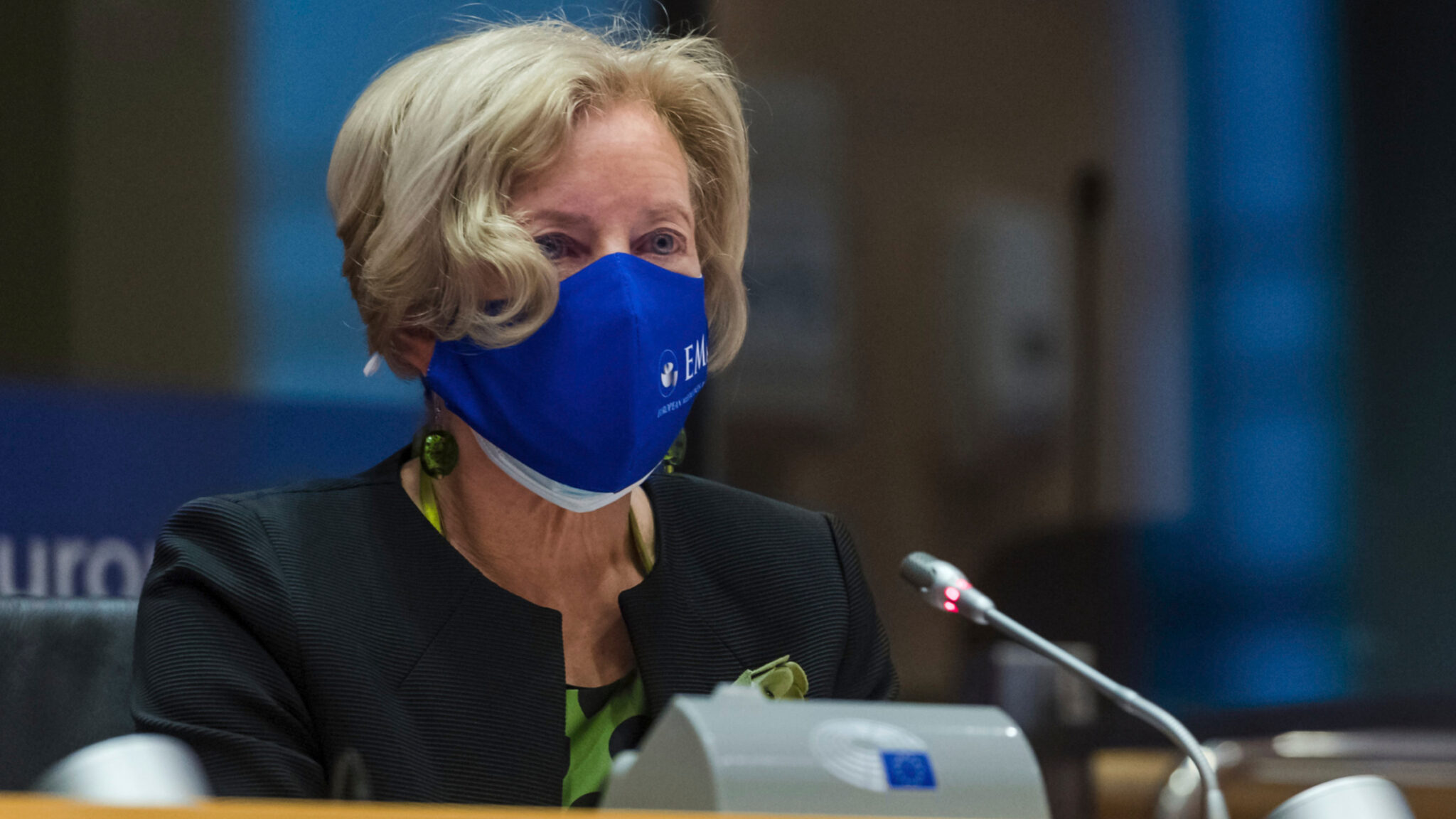 Emer Cooke, EMA director (AP Photo/Geert Vanden Wijngaert)
Ahead of FDA, EMA rec­om­mends au­tho­riz­ing new gene ther­a­py treat­ment for ul­tra-rare dis­ease
Aro­mat­ic amino acid de­car­boxy­lase (AADC) de­fi­cien­cy is an ul­tra-rare ge­net­ic dis­ease that leaves pa­tients un­able to pro­duce cer­tain hor­mones in the brain, such as dopamine and sero­tonin, usu­al­ly lead­ing to de­vel­op­men­tal de­lays, weak mus­cle tone and in­abil­i­ty to con­trol the move­ment of the limbs. It can al­so lead to mul­ti­ple or­gan fail­ure.
To date, there have been no treat­ments ap­proved for AADC de­fi­cien­cy, which has been iden­ti­fied in less than 150 pa­tients.
But now, New Jer­sey biotech PTC Ther­a­peu­tics is one step clos­er to get­ting its gene ther­a­py ap­proved in the EU. The Eu­ro­pean Med­i­cines Agency an­nounced ear­li­er to­day that it would rec­om­mend grant­i­ng a mar­ket­ing au­tho­riza­tion for the one-time gene ther­a­py Up­staza, giv­ing it the "ex­cep­tion­al cir­cum­stances" moniker.
That moniker is giv­en to a type of mar­ket­ing au­tho­riza­tion grant­ed to med­i­cines where the ap­pli­cant is "un­able to pro­vide com­pre­hen­sive da­ta on the ef­fi­ca­cy and safe­ty un­der nor­mal con­di­tions of use, be­cause the con­di­tion to be treat­ed is rare or be­cause col­lec­tion of full in­for­ma­tion is not pos­si­ble or is un­eth­i­cal," ac­cord­ing to the EMA.
Da­ta come from three tri­als that had en­rolled a com­bined 28 chil­dren. The main fa­vor­able ef­fects at­tained by the par­tic­i­pants in the study were head con­trol and the abil­i­ty to sit unas­sist­ed, the EMA said, adding that con­sul­tants agreed that mean­ing­ful ef­fi­ca­cy was demon­strat­ed in the tri­als
The agency's CHMP com­mit­tee al­so has asked PTC to sub­mit da­ta show­ing both long-term ef­fi­ca­cy and safe­ty in pa­tients en­rolled in clin­i­cal tri­als based on a 10-year fol­low up and a glob­al reg­istry-based safe­ty study. In the mean­time, an­oth­er EMA com­mit­tee, the Com­mit­tee for Ad­vanced Ther­a­pies, said that the ben­e­fits of Up­staza out­weigh the pos­si­ble risks in pa­tients with AADC de­fi­cien­cy. The most com­mon side ef­fects were el­e­vat­ed body tem­per­a­ture and in­vol­un­tary, er­rat­ic move­ments, known as dysk­i­ne­sia.
Af­ter an au­tho­riza­tion is grant­ed — PTC said in a state­ment it was ex­pect­ing a de­ci­sion in ap­prox­i­mate­ly two months — the next big ques­tion that EU mem­ber states and PTC will face is the price. Gene ther­a­pies, es­pe­cial­ly ones pro­mot­ed to be a one-treat­ment cure, have shown to be ex­treme­ly cost­ly. No­var­tis's Zol­gens­ma, a gene ther­a­py for a spe­cif­ic type of spinal mus­cu­lar at­ro­phy, owns the du­bi­ous dis­tinc­tion of most ex­pen­sive drug in the world, cost­ing be­tween $1.8 mil­lion and $2.1 mil­lion per pa­tient.