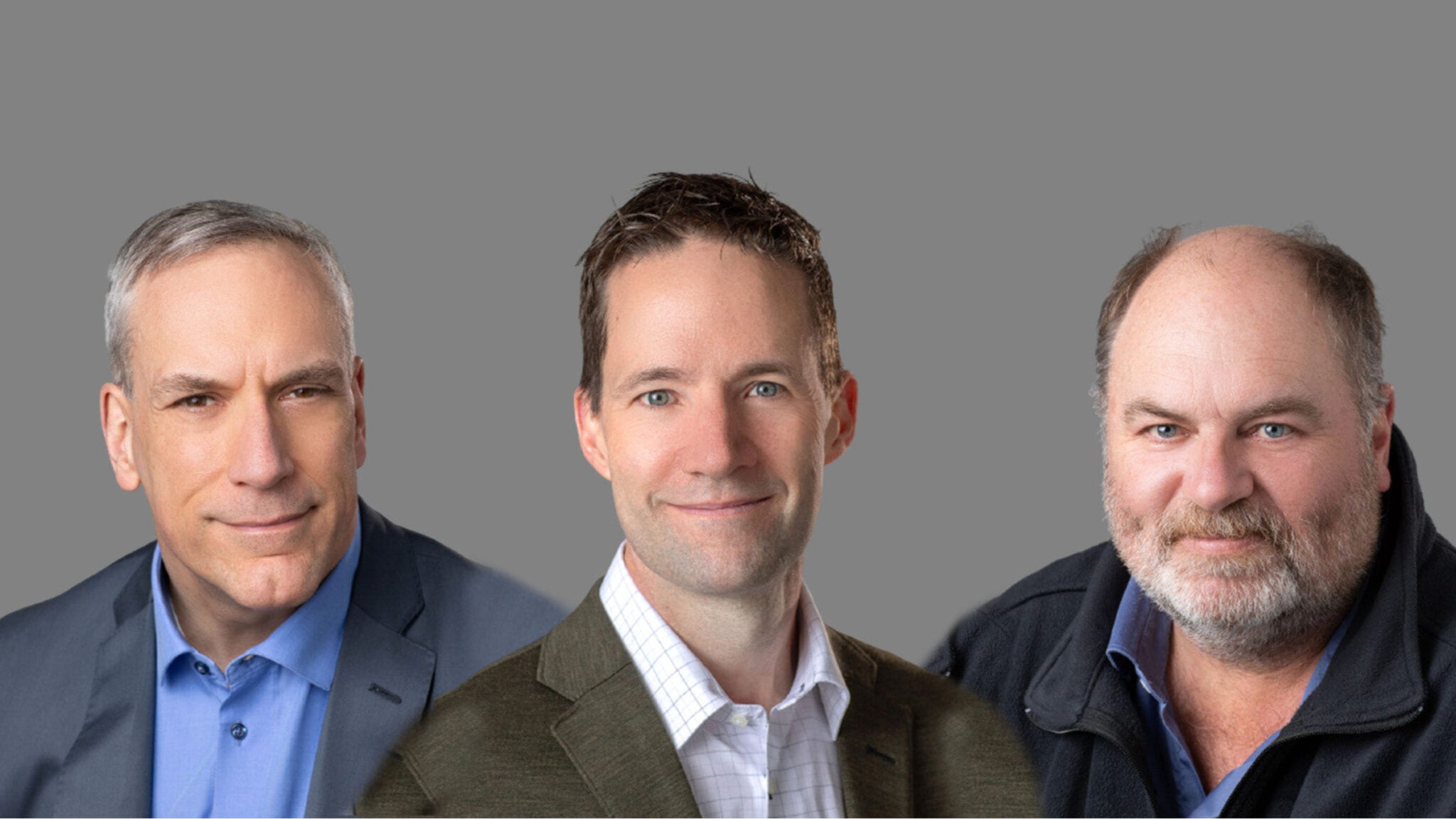 From left: James Brown, Michael Chambers, John Ballantyne
Alde­vron founders back a biotech start­up that's look­ing to end the moral de­bate over cell lines once and for all
For mil­lions of Catholics around the world, the de­vel­op­ment of new vac­cines to com­bat Covid-19 has sparked a moral dilem­ma. All the ap­proved vac­cines in use re­lied — in some fash­ion — on cell lines that were de­rived from abort­ed fe­tal tis­sue.
While church lead­ers ac­cept­ed the vac­cines and rec­om­mend­ed their use to end the pan­dem­ic, a num­ber al­so high­light­ed their pref­er­ence for the mR­NA vac­cines from Pfiz­er/BioN­Tech and Mod­er­na over the J&J and As­traZeneca shots, which they not­ed were more heav­i­ly de­pen­dent on cell lines that they found moral­ly ob­jec­tion­able.
That in­tense de­bate over cell lines that large num­bers of peo­ple ob­ject to on moral grounds, wide­ly used in ther­a­peu­tic de­vel­op­ment pro­grams, has now spawned a new­ly cre­at­ed up­start biotech which is ab­solute­ly de­ter­mined to re­place cell lines like the com­mon­ly used HEK293 — used to man­u­fac­ture the As­traZeneca Covid-19 vac­cine — and PER.C6, a cell line based on hu­man em­bry­on­ic reti­na tis­sue used to man­u­fac­ture the J&J jab. And they plan to use new gene edit­ing tools to do an even bet­ter job at cre­at­ing cell lines that no one could ob­ject to.
The com­pa­ny — Agath­os — is tiny right now as it steps out on the biotech stage, but it's be­ing found­ed by a trio of ex­pe­ri­enced ex­ecs who have built up Alde­vron, one of the world's top man­u­fac­tur­ers of plas­mid DNA, mR­NA, CRISPR/Cas9, vec­tors and more, serv­ing the bur­geon­ing world of gene ther­a­py de­vel­op­ers around the world.
The 3 are James Brown, Michael Cham­bers and John Bal­lan­tyne. Brown re­cent­ly left Alde­vron in Far­go, ND to join a small band of biotech en­tre­pre­neurs that have been qui­et­ly build­ing a thriv­ing lit­tle hub of their own in the en­vi­rons around the CMO, which has spe­cial­ized in cell and gene ther­a­py. And he's in­vest­ed in the com­pa­ny along­side Cham­bers and Bal­lan­tyne, the two men who found­ed the com­pa­ny in the late '90s and now find them­selves in the midst of one of the biggest booms in biotech.
Their new com­pa­ny has 3 main fo­cus­es, says Brown:
Bio­man­u­fac­tur­ing and cell line de­vel­op­ment.
Pay­load de­liv­ery, whether it's pro­teins or nu­cle­ic acids how they're de­liv­ered.
And then the in-house de­vel­op­ment of cell and gene ther­a­pies.
"We're just get­ting start­ed," Brown tells me in a Zoom in­ter­view from new­ly leased space. He's build­ing the ini­tial team now that will cre­ate a plat­form they plan to use them­selves, and make avail­able to oth­ers.
"This isn't the case where we have a tech­nol­o­gy that's look­ing to solve a prob­lem," Brown says. "We have a prob­lem and we're look­ing to solve it with tech­nol­o­gy."
They're not look­ing for a de­bate and have vowed to re­main po­lit­i­cal­ly ag­nos­tic. But they think they can do a bet­ter job and of­fer new cell lines that would be prefer­able — if on­ly be­cause mass num­bers of peo­ple shun phar­ma prod­ucts that don't square with their con­science.
"Our goals are to take ad­van­tage of the ad­vances in cell and gene ther­a­py, bio­man­u­fac­tur­ing and ge­net­ic pay­load de­liv­ery. We look at how drugs are man­u­fac­tured, es­pe­cial­ly in cell and gene ther­a­py, and think there are op­por­tu­ni­ties to do bet­ter," says Brown.
"In par­tic­u­lar one of the chal­lenges that I think the field faces with some of these man­u­fac­tur­ing process­es and the ma­te­ri­als that are used is that they are very good at what they do but they come from eth­i­cal­ly prob­lem­at­ic sources," he adds. "We can use the tools that are avail­able to de­vel­op these drugs and man­u­fac­ture them with­out us­ing moral­ly com­pro­mised cell lines and avoid that choice that peo­ple have to make in fol­low­ing their con­science.
"If we had some­thing that was just as good and a com­pa­ny looked at it and said: 'I have some­thing just as good, so why wouldn't I choose that one be­cause more peo­ple are go­ing to buy my prod­uct?'"
I asked Michael Cham­bers via email why he was co-found­ing the biotech. His re­ply:
There are a few rea­sons we are in­vest­ing in Agath­os. James is a tal­ent­ed sci­en­tist and CEO, and he is putting a world-class team to­geth­er. We are pri­mar­i­ly in­ter­est­ed be­cause Agath­os meets an un­met need for mil­lions of peo­ple from dif­fer­ent faiths and back­grounds — the de­sire for tech­no­log­i­cal­ly su­pe­ri­or bio­man­u­fac­tur­ing cell lines and prod­ucts with­out eth­i­cal con­cerns
Just start­ing out, they're fo­cused on var­i­ous mam­malian cell lines that could of­fer a bet­ter al­ter­na­tive. Or, they might de­vel­op cell lines from scratch.
"Michael jokes, he's like, 'Go out and kill a jackrab­bit and put it in a blender and cre­ate cell lines from scratch and de­vel­op them," Brown says. "Be­cause we have so many more tools with CRISPR and gene edit­ing and what­not, that we can ma­nip­u­late these things. We want to use these tools to do new and in­no­v­a­tive things and ad­dress some of the short­com­ings."
By the end of this year, says Brown, he ex­pects the team will grow to 5 to 10 peo­ple. Af­ter that, he says, "the sky's the lim­it."