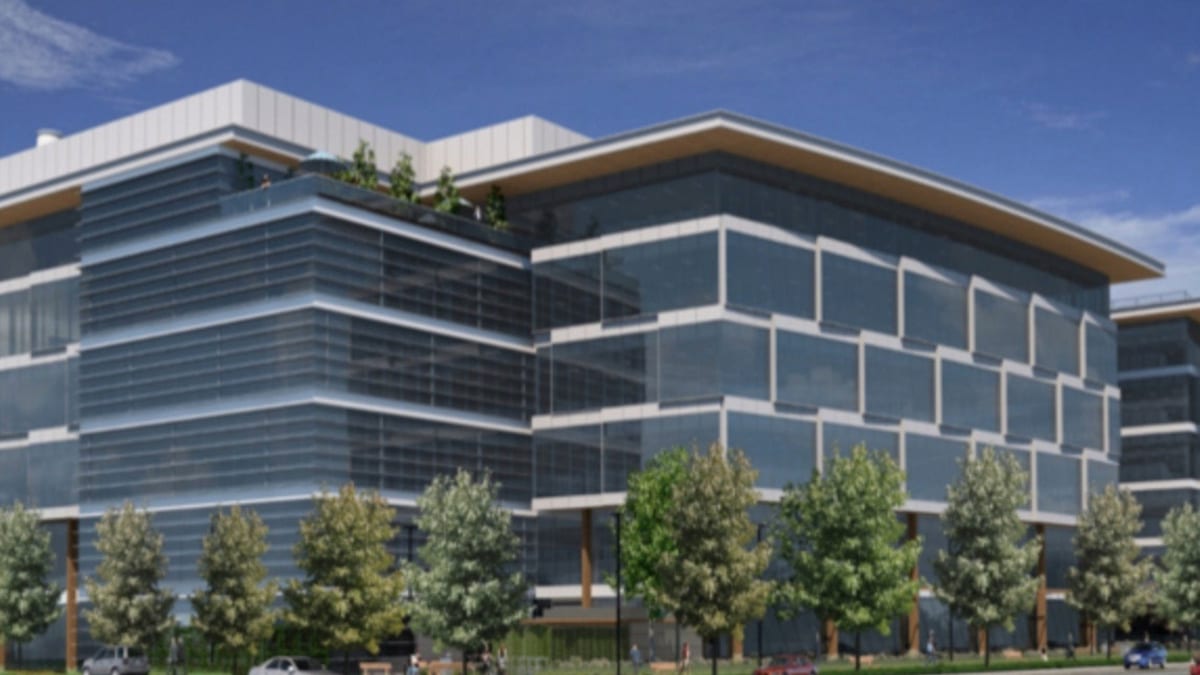 via Iwamotoscott Architecture
Alexan­dria is think­ing big as it lays out plans for 1.6M square foot Bay Area biotech cam­pus
The lat­est sprawl­ing biotech cam­pus un­der de­vel­op­ment in the Bay Area is tak­ing shape.
San Fran­cis­co Busi­ness Times re­porter Ron Leu­ty has the sto­ry, de­tail­ing Alexan­dria Re­al Es­tate's 1.6 mil­lion-square-foot blue­print cen­ter­ing on the old Kel­ly-Moore Paints head­quar­ters in San Car­los, wedged be­tween the boom­ing hub in South San Fran­cis­co, where Genen­tech is based, and the Stan­ford cam­pus to the south.
Alexan­dria has its own cam­pus in mind, ac­cord­ing to the re­port, with a park and 6 build­ings of 5 to 7 floors. That's in ad­di­tion to two build­ings it has un­der con­struc­tion near­by that to­tal 526,178 square feet. It's to be dubbed the Alexan­dria Dis­trict for Sci­ence & Tech­nol­o­gy and Chemo­Cen­tryx is signed up to move in.
Za­cks re­ports that Alexan­dria al­so picked up a build­ing in Stan­ford Re­search Park as they look to beef up their pres­ence in the uni­ver­si­ty's in­no­va­tion cen­ter.
Hori­zon Ther­a­peu­tics, mean­while, has just opened its new 20,000 square foot fa­cil­i­ty in South San Fran­cis­co, with new lab space and for­mu­la­tion and process de­vel­op­ment ca­pac­i­ty. And they ex­pect to use it as a base to strike up new al­liances with col­lab­o­ra­tors in the area.
Al­lo­gene chair­man Arie Bellde­grun — who has his own de­vel­op­ment com­pa­ny at work­ing build­ing new space around the globe — told me re­cent­ly that get­ting of­fice and lab space for a biotech in the Bay Area is one of the biggest chal­lenges faced by any start­up. He land­ed his build­ing from Ex­elix­is af­ter he hap­pened to over­hear ex­ecs dis­cussing their mov­ing plans — and then jumped in­to the con­ver­sa­tion with an of­fer to grab it. In ad­di­tion to the star­tups, ma­jors like Mer­ck have been build­ing up new re­gion­al op­er­a­tions as well. And GSK R&D chief Hal Bar­ron has helped push things along by strik­ing a string of re­search al­liances with Lyell and oth­ers in the area.
The boom­ing bio­phar­ma busi­ness, backed by record lev­els of cash flow­ing in­to star­tups and IPOs, has been bust­ing at the seams in San Fran­cis­co and Boston/Cam­bridge. And that will con­tin­ue to spawn new de­vel­op­ment projects like this — un­til the mon­ey stream slows down.