Al­ler­gan/Ed­i­tas fi­nal­ly kick off CRISPR tri­al — mark­ing first in vi­vo test of the gene-edit­ing tech­nol­o­gy
More three years af­ter Al­ler­gan $AGN dipped its toes in­to the world of CRISPR/Cas9 gene edit­ing by en­list­ing Ed­i­tas $ED­IT as a part­ner — the com­pa­nies are now off to the races with a tri­al in pa­tients with a rare eye dis­ease.
This tri­al marks the first in­stance of us­ing the tech­nol­o­gy to ed­it DNA with­in the body.
Mean­while, part­ners Ver­tex $VRTX and CRISPR Ther­a­peu­tics $CR­SP kick­start­ed a tri­al ear­li­er this year that em­ployed the tech­nol­o­gy to en­gi­neer a gene-edit­ed stem cell ther­a­py to treat pa­tients suf­fer­ing from se­vere he­mo­glo­binopathies, a group of blood dis­or­ders. Sang­amo Ther­a­peu­tics $SG­MO has test­ed its old­er zinc fin­ger tech­nol­o­gy in pa­tients with two lyso­so­mal stor­age dis­eases, but a set­back dif­fused en­thu­si­asm for the pro­gram — but the com­pa­ny bounced back with en­cour­ag­ing ear­ly da­ta on its he­mo­phil­ia pro­gram part­nered with Pfiz­er.
Al­ler­gan and Ed­i­tas had orig­i­nal­ly ex­pect­ed to file an ap­pli­ca­tion to test their ther­a­py in hu­mans by the end of 2017, but man­u­fac­tur­ing trou­ble pushed that time­line to Oc­to­ber 2018. To get the FDA en­dorse­ment, Ed­i­tas fought off a stiff patent chal­lenge — and like its peers — bat­ted back per­sis­tent ques­tions about off-tar­get ef­fects to ad­e­quate­ly con­vince the reg­u­la­tor it was armed and ready to make the jump from an­i­mal stud­ies to hu­mans.
The tri­al, chris­tened Bril­liance, will eval­u­ate their ex­per­i­men­tal ther­a­py AGN-151587 (ED­IT-101) for the treat­ment of Leber con­gen­i­tal amau­ro­sis 10 (LCA10), a rare, in­her­it­ed form of blind­ness caused by mu­ta­tions in the CEP290 gene.
LCA is a group of in­her­it­ed reti­nal de­gen­er­a­tive dis­or­ders caused by mu­ta­tions in at least 18 dif­fer­ent genes, and are con­sid­ered the most com­mon cause of in­her­it­ed child­hood blind­ness, oc­cur­ring in two to three per 100,000 live births glob­al­ly. The most com­mon form of the dis­ease, LCA10, ac­counts for ap­prox­i­mate­ly 20% to 30% of all LCA pa­tients.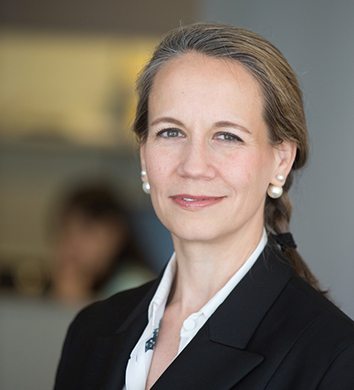 Ka­trine Bosley Ed­i­tas
Spark Ther­a­peu­tics' ap­proved gene ther­a­py Lux­tur­na, which de­liv­ered via a vi­ral vec­tor, is tai­lored to treat an­oth­er rare eye dis­ease due to mu­ta­tions in both copies of the RPE65 gene. The FDA nod sparked Roche's $4.3 bil­lion takeover of the com­pa­ny, al­though the deal is yet to be con­sum­mat­ed.
The Bril­liance study is set to en­roll 18 pa­tients — and in­clude up to five co­horts and eval­u­ate three dos­es of the drug. Each pa­tient will re­ceive a sin­gle dose of AGN-151587 ad­min­is­tered via an eye in­jec­tion aimed at pho­tore­cep­tor cells in the reti­na.
Ed­i­tas' se­nior team has seen up­heaval in the past year. In Jan­u­ary, CEO Ka­trine Bosley, who led the com­pa­ny for near­ly five years, an­nounced her ex­it and sev­ered ties with the board, with­out ex­pla­na­tion. Chief fi­nan­cial of­fi­cer An­drew Hack an­nounced his de­ci­sion to leave by March, back in De­cem­ber 2018, and chief med­ical of­fi­cer Ger­ald Cox jumped ship at the end of last year.
Be­set by set­backs, Al­ler­gan's Brent Saun­ders made the best of a bad sit­u­a­tion by agree­ing to be swal­lowed by Ab­b­Vie $AB­BV in an eye-wa­ter­ing $63 bil­lion deal ear­li­er this year. The US drug­mak­er was swayed by the po­ten­tial of Al­ler­gan's block­buster Botox fran­chise to sta­bi­lize its rev­enue as its $20 bil­lion cash cow Hu­mi­ra hur­tles to­wards a patent cliff in the Unit­ed States.
So­cial im­age: Shut­ter­stock