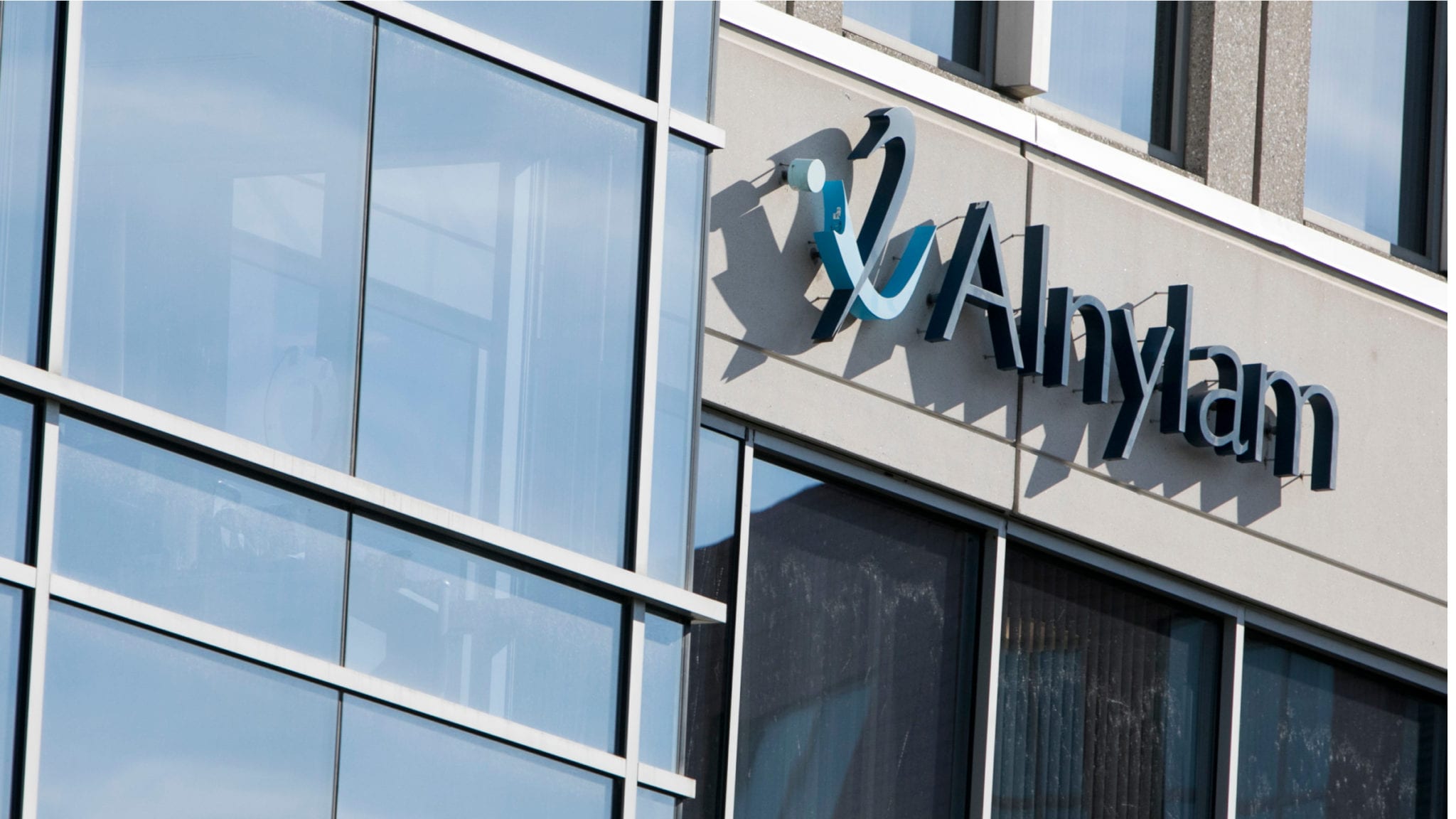 Al­ny­lam sets up 3rd po­ten­tial RNAi ap­proval with a show­case of pos­i­tive lumasir­an da­ta
A week af­ter nab­bing a pri­or­i­ty re­view, Al­ny­lam has re­leased piv­otal da­ta for their lat­est late-stage ex­per­i­men­tal drug — set­ting the stage for the RNA-tar­get­ing biotech to po­ten­tial­ly win their 3rd FDA ap­proval in as many years.
In the 39-per­son tri­al, pa­tients with an ul­tra-rare liv­er con­di­tion PH1 (pri­ma­ry hy­per­ox­aluria type 1) were giv­en ei­ther place­bo or the Al­ny­lam drug lumasir­an. Pa­tients with PH1 over­pro­duce a nat­ur­al meta­bol­ic end-prod­uct, uri­nary ox­alate, po­ten­tial­ly lead­ing to kid­ney stones and in many cas­es kid­ney fail­ure at a young age, along with dam­age across the body.
Of the 25 pa­tients who re­ceived lumasir­an, 21 — or 84% — saw their ox­alate lev­els fall to near the nor­mal range, and just over half saw their num­bers fall in­side the nor­mal range. That com­pared to 0% in the place­bo group. Over­all, pa­tients on the treat­ment arm saw their lev­els fall 65.4% on av­er­age – a 53.5% re­duc­tion when com­pared to place­bo.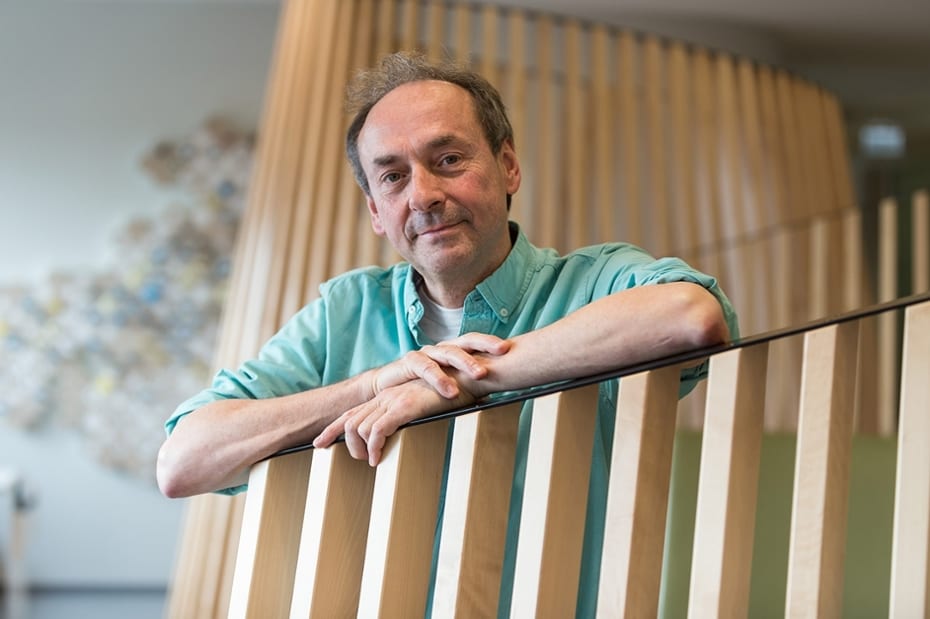 Jaap Groothoff
"Un­til now we had no good ther­a­py for this dis­ease," lead in­ves­ti­ga­tor Jaap Groothoff, who heads pe­di­atric Nephrol­o­gy at the Em­ma Chil­dren's Hos­pi­tal in Am­s­ter­dam told End­points News. "This is the first drug that re­al­ly showed to de­crease ox­alate pro­duc­tion in these pa­tients to a lev­el we think might very ef­fec­tive and might pre­vent them from hav­ing kid­ney fail­ure."
Like Al­ny­lam's oth­er drugs, lumasir­an us­es RNA in­ter­fer­ence (RNAi), a tech­nique for si­lenc­ing genes by de­liv­er­ing a match­ing se­quence. Specif­i­cal­ly, lumasir­an si­lences the gene for an en­zyme used in the pro­duc­tion of ox­alate, called gly­co­late ox­i­dase. The biotech's RNAi ri­val-turned-part­ner Dicer­na is al­so work­ing on a drug for the con­di­tion, tar­get­ing a dif­fer­ent en­zyme, called LDH, in the pro­duc­tion process.
Un­like lumasir­an, their drug is be­ing de­signed to work for all three types of pri­ma­ry hy­per­ox­aluria, al­though Al­ny­lam ex­ec­u­tives are con­fi­dent they have the bet­ter med­i­cine, cit­ing safe­ty con­cerns about the Dicer­na drug. They are al­so sev­er­al months ahead, with Dicer­na yet to re­lease piv­otal re­sults or sub­mit an NDA.
"LDH de­fi­cien­cy can lead to a buildup of lac­tate in the body and we don't know the safe­ty con­se­quences of that," Al­ny­lam R&D chief Ak­shay Vaish­naw told End­points. "Of course we hope there are no safe­ty con­se­quences, but that case has to be proven as they ac­cu­mu­late more da­ta."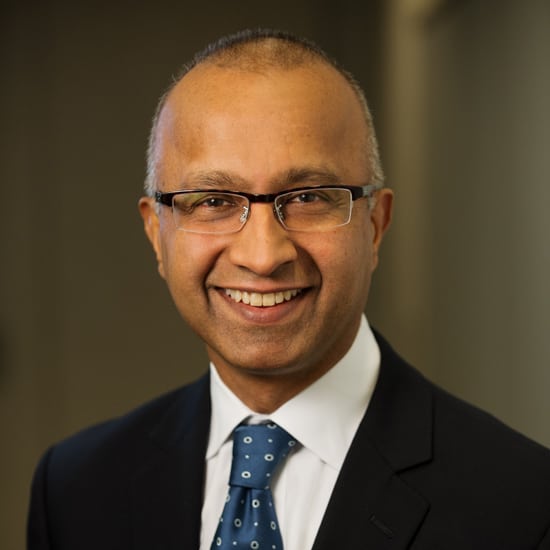 Ak­shay Vaish­naw
Ques­tions still re­main for Al­ny­lam's drug as well. In agree­ment with the FDA and EMA, Al­ny­lam test­ed changes in a bi­o­log­i­cal un­der­pin­ning for the dis­ease, rather than a symp­tom. Groothoff said the drug should al­low pa­tients to re­duce their flu­id in­take — which can be up to 6 liters per day to re­duce symp­toms — but fol­low-up tri­als will ex­am­ine whether lumasir­an can re­duce kid­ney stones or, more cru­cial­ly, whether the drug's ef­fects will be durable and if it can fore­stall kid­ney dam­age. "We hope that it will lead to a low­er num­ber of pa­tients in kid­ney fail­ure," Groothoff said. "There's no rea­son to be­lieve that [the drug] would wean off af­ter some time, but we have to see."
For Al­ny­lam, the lat­est drug is part of the cul­mi­na­tion of a strat­e­gy they turned to at the be­gin­ning of the pre­vi­ous decade, Vaish­naw said. That's when, af­ter 10 years of re­search, they fig­ured out ways to get their RNAi se­quences in­to cells. That was eas­i­est to do in the liv­er – a nat­ur­al first tar­get, be­cause it fil­ters all sub­stances in the blood – and they fo­cused on de­vel­op­ing drugs for rare, well-de­fined ge­net­ic dis­eases found there.
That led to the ap­proval of the first RNAi drug, On­pat­tro, in 2018, for a form of amy­loi­do­sis and to the sec­ond, Givlaari, in 2019, for acute he­pat­ic poryphia. Both drugs al­so came with price tags around $500,000, al­though they could be low­ered based on how ef­fec­tive they were or how many pa­tients ul­ti­mate­ly had the rare dis­ease. Vaish­naw de­clined to com­ment on po­ten­tial pric­ing for the lumasir­an, but not­ed PH1 pa­tients could go through mul­ti­ple or­gan trans­plants and life on im­mune-sup­pres­sive drugs or dial­y­sis.
"These are tremen­dous bur­dens to these pa­tients," he said. "This is what we're try­ing to al­le­vi­ate, and I think that is re­turn­ing a lot of val­ue."
Lumasir­an, though, may be the last drug in that ear­ly strat­e­gy. Al­though there are oth­er rare liv­er dis­ease can­di­dates in the pipeline, Al­ny­lam is near­ing the reg­u­la­to­ry stage for drugs that tar­get oth­er parts of the body and could have a larg­er im­pact. Al­though both drugs still go af­ter tar­gets in the liv­er, in­clisir­an – the cho­les­terol drug co-de­vel­oped by Al­ny­lam and re­cent­ly sub­mit­ted to the FDA by No­var­tis – and a Sanofi-part­nered drug for he­mo­phil­ia drug are both near­ing mar­ket.
The com­pa­ny is al­so work­ing on a Covid-19 can­di­date with Vir Biotech­nol­o­gy that di­rect­ly de­liv­ers RNAi as an in­halant di­rect­ly to the lungs. It is set to en­ter the clin­ic at the end of the year. And fur­ther out, Vaish­naw said, the com­pa­ny has fig­ured out ways of at­tach­ing mol­e­cules called lig­ands to RNA as hom­ing mis­siles, al­low­ing it to be de­liv­ered in the ner­vous sys­tem and else­where. The com­pa­ny last year signed an $800 mil­lion-deal with Re­gen­eron for cen­tral ner­vous sys­tem dis­or­ders, in­clud­ing Alzheimer's. They al­so have a pre­clin­i­cal NASH pro­gram and a Phase I he­pati­tis B drug.
"There's a lot of work to do over the next 10 years," Vaish­naw said.