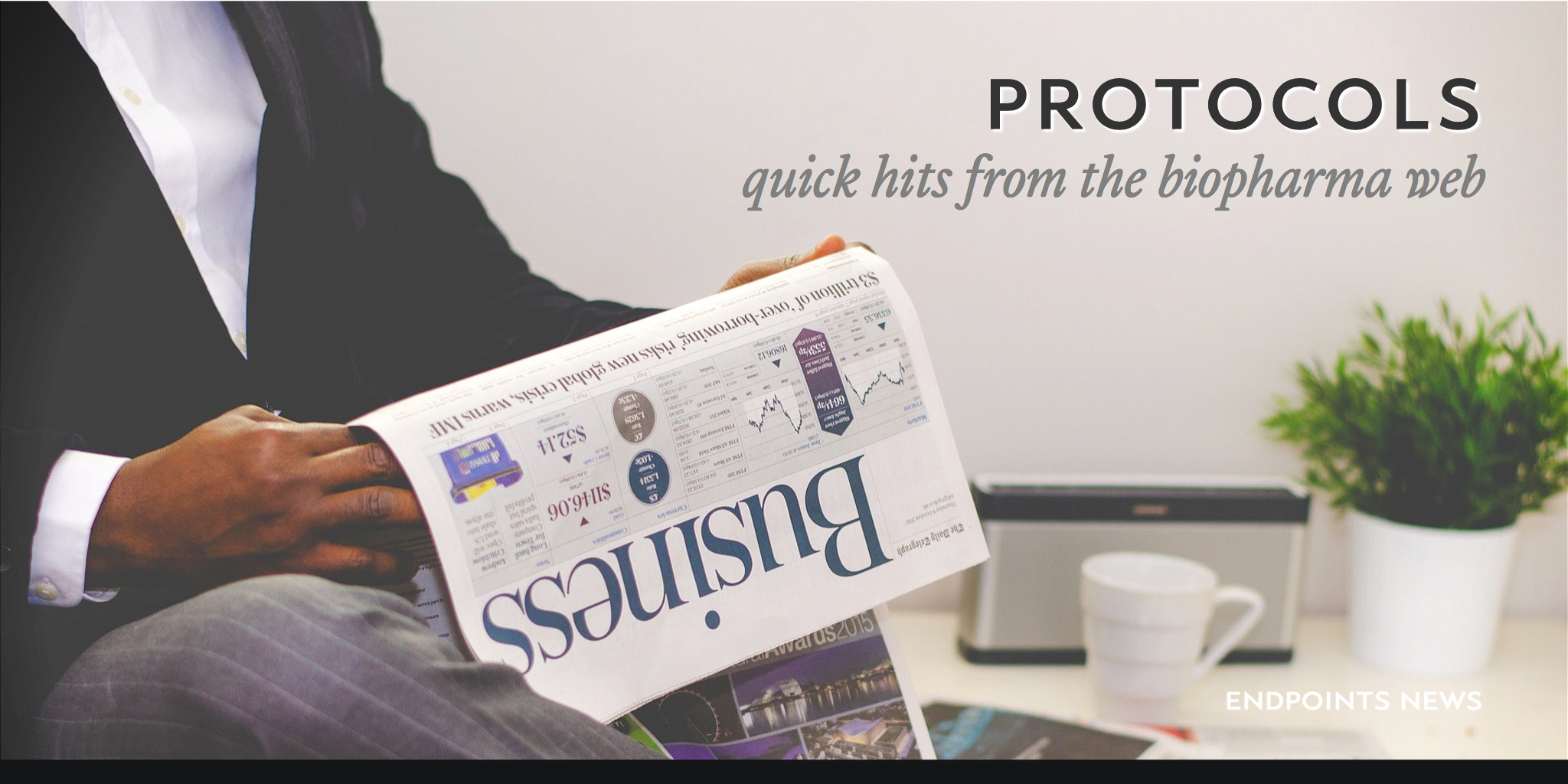 Alzheimer's re­search in line for $350M boost as Sen­ate pro­pos­es $3B hike to NIH bud­get; Al­lo­gene teams up with Stan­ford re­searchers
→ Law­mak­ers are once again lin­ing up to boost NIH spend­ing, re­ject­ing Pres­i­dent Don­ald Trump's re­peat­ed pro­pos­als to slice bil­lions out of their bud­get.
In an un­usu­al move, the Sen­ate ap­pro­pri­a­tions com­mit­tee re­leased their bill ahead of a vote in what was seen as an ef­fort to push things along be­fore the start of the new fis­cal year for the fed­er­al gov­ern­ment on Oc­to­ber 1. But there's clear­ly sub­stan­tial sup­port in both par­ties for in­creas­ing the NIH bud­get by $3 bil­lion — $1 bil­lion more than the House has sup­port­ed so far.
The Sen­ate bill would raise the NIH bud­get to $42.1 bil­lion.
Alzheimer's re­search, which has been a dis­as­ter zone in the clin­ic, would gain $350 mil­lion — bring­ing the to­tal close to $3 bil­lion. And there's an­oth­er $50 mil­lion be­ing added to an­tibi­otics re­search. But the Sen­ate ver­sion al­so clips out mon­ey to sup­port a study on firearm in­juries sup­port­ed by House Dems.
If com­plet­ed, law­mak­ers will have raised the NIH bud­get 40% over the past 5 years. Last year Con­gress hiked the NIH bud­get by $2 bil­lion, af­ter sidelin­ing the ad­min­is­tra­tion's at­tempt to find sav­ings there in­stead. Re­pub­li­cans and De­moc­rats — in­clud­ing ap­pro­pri­a­tions com­mit­tee chair Roy Blunt (R-MO) — have been push­ing for more mon­ey to ad­dress key re­search ar­eas which have strug­gled in re­cent years.
It's un­like­ly a bud­get will be agreed to by the Oc­to­ber 1 dead­line, set­ting up an­oth­er stretch where the NIH would op­er­ate at cur­rent lev­els un­til the fi­nal num­bers are blessed — like­ly by the end of this year.
→ Al­lo­gene Ther­a­peu­tics — fo­cused on the de­vel­op­ment of al­lo­gene­ic CAR-T ther­a­pies for can­cer — and Stan­ford Uni­ver­si­ty are team­ing up to in­ves­ti­gate a nu­cle­ic acid de­liv­ery sys­tem that more ef­fec­tive­ly, safe­ly and flex­i­bly de­liv­ers in­tra­cel­lu­lar RNA or DNA in­to lym­pho­cytes, in­clud­ing T cells. The sys­tem was de­vel­oped by Stan­ford re­searchers.
→ Ad­di­tion­al da­ta were re­leased from blue­bird bio for its Phase II/III Star­beam clin­i­cal study (ALD-102) of Lenti-D gene ther­a­py for boys 17 years and un­der with cere­bral adrenoleukody­s­tro­phy (CALD) — a ge­net­ic and rapid­ly pro­gres­sive dis­ease that can lead to se­vere loss of neu­ro­log­ic func­tion and death.
"With the longest fol­low-up from the Phase 2/3 Star­beam study now up to five years, the da­ta show that all boys with CALD who were treat­ed with Lenti-D and were free of ma­jor func­tion­al dis­abil­i­ties (MFDs) at 24 months con­tin­ued to be MFD-free. Im­por­tant­ly, there were no re­ports of graft fail­ure or treat­ment-re­lat­ed mor­tal­i­ty, and ad­verse events were gen­er­al­ly con­sis­tent with mye­loab­la­tive con­di­tion­ing," said David David­son, chief med­ical of­fi­cer of blue­bird bio.
In ad­di­tion, the com­pa­ny pre­sent­ed "up­dat­ed da­ta from the on­go­ing ob­ser­va­tion­al study (ALD-103) of al­lo­gene­ic hematopoi­et­ic stem cell trans­plant (al­lo-HSCT) in boys 17 years of age and un­der with CALD."
→ Reuters has re­port­ed that Chi­na Bi­o­log­ic $CBPO, a de­vel­op­er of plas­ma-based ther­a­pies, has re­ceived a $4.59 bil­lion in cash take-pri­vate buy­out of­fer from a buy­er group which in­cludes Beach­head Hold­ings, CITIC Cap­i­tal Chi­na Part­ners IV, PW Medtech Group, Parfield In­ter­na­tion­al, HH Sum-XXII Hold­ings and V-Sci­ences In­vest­ments. The com­pa­ny, which was list­ed on the Nas­daq in 2009, had its shares jump 7% af­ter mar­ket. Reuters said, and "the of­fer of $120 per share rep­re­sents a pre­mi­um of 16.3% to Chi­na Bi­o­log­ic's Wednes­day close of $103.10." This isn't the first deal re­ceived by the com­pa­ny. In Au­gust 2018, the com­pa­ny re­ject­ed a $3.9 bil­lion of­fer made by its for­mer CEO, David Gao.
→ GV-backed Broad spin­out Cel­sius Ther­a­peu­tics inked a num­ber of agree­ments — with the Park­er In­sti­tute for Can­cer Im­munother­a­py (San Fran­cis­co, Cal­i­for­nia), In­sti­tut Gus­tave Roussy (Paris, France) and the Uni­ver­si­ty Health Net­work (Toron­to, Cana­da) — to ac­cess tis­sue sam­ples from pa­tients re­ceiv­ing im­mune check­point in­hibitor ther­a­pies for triple-neg­a­tive breast can­cer, blad­der can­cer and kid­ney can­cer, re­spec­tive­ly.
→ En­docrine dis­ease-fo­cused Spruce Bio­sciences has re­leased pos­i­tive re­sults from its 12-week, Phase IIa study of tildac­er­font in adults with con­gen­i­tal adren­al hy­per­pla­sia.
The com­pa­ny said the study en­rolled pa­tients with clas­sic CAH ac­com­pa­nied by el­e­vat­ed an­dro­gens at base­line who were treat­ed with a dai­ly tildac­er­front pill over 12 weeks. Da­ta showed "mean re­duc­tions from base­line of 74% for ACTH, 82% for 17-OHP and 55% for A4. ACTH is the di­rect tar­get of tildac­er­font, while A4 is the crit­i­cal down­stream bio­mark­er used in clin­i­cal man­age­ment of pa­tients with CAH. Max­i­mum mean re­duc­tions ob­served at any time­point in the study were 84% for ACTH, 82% for 17-OHP and 79% for A4. In ad­di­tion, 60% of pa­tients with el­e­vat­ed, ab­nor­mal ACTH and 40% of pa­tients with el­e­vat­ed A4 saw re­duc­tions to nor­mal­iza­tion by week 12."
---
With con­tri­bu­tion from John Car­roll