Am­gen comes up with $1.5B pack­age to part­ner with Cy­tomX on a pre­clin­i­cal Pro­body ap­proach to can­cer
About six months af­ter Bris­tol-My­ers Squibb forked out $200 mil­lion in cash to ex­pand its work with Cy­tomX $CT­MX and the pre­ci­sion bi­ol­o­gy tech found on its Pro­body an­ti­body plat­form, Am­gen has signed off as the biotech's lat­est mar­quee col­lab­o­ra­tor.
Just as Bris­tol-My­ers $BMY was drawn to Pro­bod­ies for a shot at a new and bet­ter CT­LA4, among oth­er things, Am­gen $AMGN is com­ing in for a T-cell en­gag­ing bis­pe­cif­ic tar­get­ing the Epi­der­mal Growth Fac­tor Re­cep­tor (EGFR), a high-val­ue tar­get ex­pressed on mul­ti­ple can­cer types. They're build­ing on the biotech's pre­clin­i­cal work on an EGFRx­CD3 pro­gram.
Cy­tomX will col­lect a $40 mil­lion up­front, an­oth­er $20 mil­lion for a chunk of eq­ui­ty and up to $455 mil­lion in mile­stones. And there are three more undis­closed tar­gets on the ta­ble, which could de­liv­er an­oth­er $950 mil­lion in up­front and mile­stone pay­ments.
Shares of Cy­tomX shot up 34% on the news Tues­day evening.
In a twist, Cy­tomX is al­so get­ting rights to an Am­gen pro­gram — a pre­clin­i­cal T-cell en­gag­ing bis­pe­cif­ic pro­gram. Am­gen can stand to earn some cash from that as well, though they kept the terms out of their state­ment.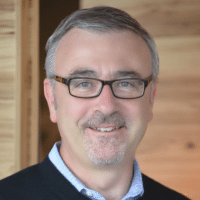 Sean Mc­Carthy
Cy­tomX's grow­ing line­up of big league ad­mir­ers have signed off on an es­sen­tial part of the biotech's pitch: They can use bet­ter tar­get­ing to con­cen­trate their T cell bis­pe­cif­ic di­rect­ly in the tu­mor mi­croen­vi­ron­ment, spar­ing healthy tis­sue and avoid the kind of tox­i­c­i­ties that have been a key lim­it­ing fac­tor in the field.
"This deal is an­oth­er ex­am­ple of a key ap­pli­ca­tion of our tech to solve a prob­lem," says CEO Sean Mc­Carthy, who took a minute with CFO and cor­po­rate de­vel­op­ment chief De­ban­jan Ray to chat about it.
In this case, Am­gen gets the right to pick up the late-stage work, but Cy­tomX al­so has an op­por­tu­ni­ty to co-fund the piv­otal work, leav­ing them a route to split prof­its at a lat­er point.
"We con­sid­er Am­gen the leader in the bis­pe­cif­ic space," says Ray, in part be­cause of the Blin­cy­to pro­gram picked up in the Mi­cromet buy­out 6 years ago, as well as the in-house work it's been do­ing. In this case, they're go­ing for a next-gen ap­proach that has the po­ten­tial to over­come key lim­i­ta­tions.
Who are you go­ing to call?