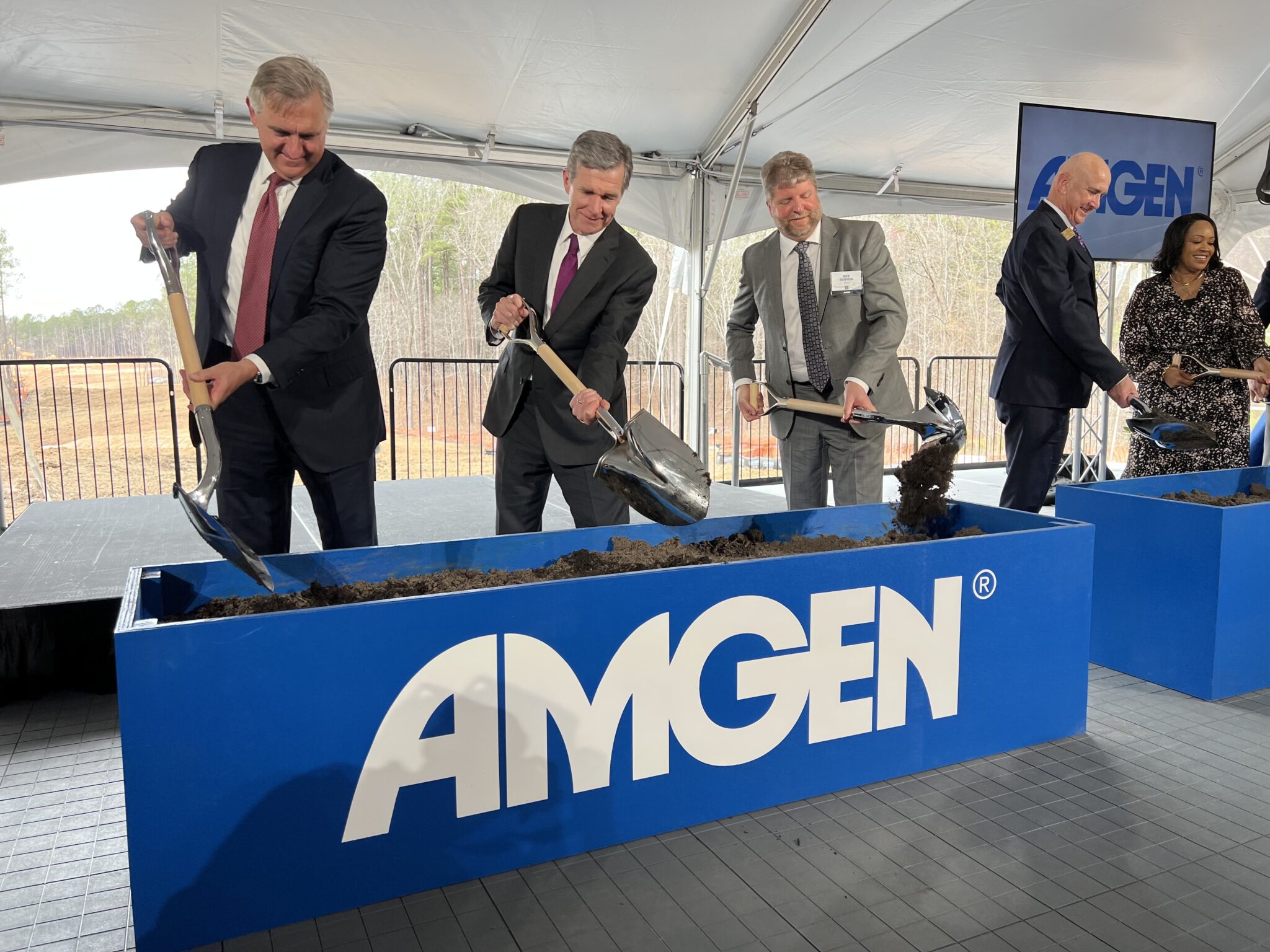 Gov. Roy Cooper was joined by Amgen executives and area politicians for a groundbreaking ceremony in Holly Springs, NC Monday.
Am­gen gets the dirt fly­ing on its new $550M man­u­fac­tur­ing site as phar­ma build­ing booms in NC
Am­gen's big, $1 bil­lion in­vest­ment in its man­u­fac­tur­ing op­er­a­tions is of­fi­cial­ly un­der­way, as the biotech broke ground on its Hol­ly Springs, NC site Mon­day. The $550 mil­lion drug sub­stance plant is one of two mas­sive up­grades in the US for the Cal­i­for­nia com­pa­ny, and it's look­ing to cap­i­tal­ize on the re­gion's tal­ent­ed pool of po­ten­tial em­ploy­ees.
Wake Coun­ty and the Hol­ly Springs lo­cal gov­ern­ment award­ed Am­gen with job de­vel­op­ment grants worth $12.6 mil­lion and $22.8 mil­lion, re­spec­tive­ly, con­tin­gent up­on hir­ing mile­stones. Con­struc­tion is sched­uled to wrap up by 2029, though the plant will be op­er­a­tional in 2025. New hires will in­clude en­gi­neers, tech­ni­cians, qual­i­ty, man­age­ment and ad­min­is­tra­tive staff. The av­er­age salary of the new po­si­tions added is ex­pect­ed to reach near­ly $120,000, close to dou­ble what the cur­rent av­er­age is in Wake Coun­ty. An­oth­er 350 jobs are ex­pect­ed to be added, up­on the site's com­ple­tion.
"Our com­mit­ment to con­tin­u­ous im­prove­ment and our sig­nif­i­cant in­vest­ments in new tech­nolo­gies have en­abled us to fur­ther ac­com­plish our mis­sion to serve pa­tients while sci­ence rapid­ly evolves," said CEO Robert Brad­way in pre­pared re­marks. "We are de­light­ed to be build­ing our newest fa­cil­i­ty in North Car­oli­na, a ma­jor hub for bio­phar­ma­ceu­ti­cal in­no­va­tion."
He's not alone in ex­press­ing that sen­ti­ment.
Fu­ji­film Diosynth joined the ex­pan­sion par­ty in Hol­ly Springs in March with the an­nounce­ment of a $2 bil­lion plant of its own. A month ear­li­er, Gilead opened an of­fice for fi­nance, IT and hu­man re­sources op­er­a­tions in the area. In Jan­u­ary, Eli Lil­ly an­nounced that it would in­vest $1 bil­lion in Con­cord, NC, about 25 miles from Char­lotte, to fo­cus on in­jecta­bles and med­ical de­vices. Am­gen's ex­pan­sion marks the 47th life sci­ences project to come to North Car­oli­na since 2017, Gov. Roy Coop­er said in an event.
"Our com­mu­ni­ty col­leges and our uni­ver­si­ties have been crit­i­cal to this," he said at the ground­break­ing cer­e­mo­ny Mon­day. "Our biotech­nol­o­gy cen­ter is there help­ing every step of the way."
#HollySpringsNC May­or Sean Mayef­skie at @Am­gen ground­break­ing: "The world's lead­ing com­pa­nies keep choos­ing Hol­ly Springs to grow their busi­ness­es."@wakegov @Raleigh­Wake @ncbiotech #Tri­an­gleDe­liv­ers pic.twit­ter.com/L9AL­gCp1oN

— Town of HollySprings (@To­HollySprings) March 7, 2022
A close prox­im­i­ty to tal­ent is part of what drew Am­gen to the area. North Car­oli­na A&T, UNC-Chapel Hill, Duke, North Car­oli­na State and Wake For­est are all with­in rough­ly an hour's dri­ve from the cam­pus, not to men­tion a num­ber of com­mu­ni­ty col­leges and tech­ni­cal schools that call the re­gion home as well.
Am­gen is a mem­ber of the OneTen Coali­tion, made up of 35 com­pa­nies that have pledged to change the em­ploy­ment par­a­digm for Black men and women in the US. The coali­tion — whose mem­bers in­clude Whirlpool, Delta Air­lines and AirBNB — has a goal to hire 1 mil­lion Black Amer­i­cans in­to good-pay­ing jobs over the course of the next 10 years, and Am­gen says it will work with lo­cal busi­ness­es, train­ing part­ners and col­leges to help re­tain and ad­vance Black tal­ent. One of those ways will be through the Am­gen Biotech Ex­pe­ri­ence, a part­ner­ship with Re­search Tri­an­gle-area schools that pro­vides teach­ers with a hands-on biotech learn­ing ex­pe­ri­ence in their high school class­rooms.
At the ground­break­ing of its $550 mil­lion man­u­fac­tur­ing fa­cil­i­ty in #HollySpringsNC to­day, @Am­gen an­nounced it is bring­ing a per­ma­nent Am­gen Biotech Ex­pe­ri­ence to Hol­ly Springs High School lat­er this year. https://t.co/zZmG3gKUp1 @HSH­Snews @WakeGOV pic.twit­ter.com/pX5djG1OeU

— Town of HollySprings (@To­HollySprings) March 7, 2022
Am­gen in­tro­duced a sim­i­lar agree­ment with Ohio State Uni­ver­si­ty to cre­ate an ex­pe­ri­en­tial learn­ing pro­gram. The deal is part of a 400-job ex­pan­sion in cen­tral Ohio to build up its pack­ag­ing op­er­a­tions, in­vest­ing $365 mil­lion 18 miles north­east of Colum­bus.
The plans for the ex­pan­sion were orig­i­nal­ly tucked in­side of the com­pa­ny's Q2 earn­ings re­port back in Au­gust. Am­gen said that both the Hol­ly Springs and Ohio sites will be built faster and at a low­er cost than the orig­i­nal plants.