Am­i­cus maps out a 3-year de­lay at the FDA for lead drug, send­ing shares in­to a tail­spin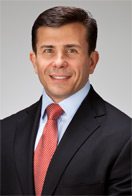 CEO John Crow­ley
More than a year af­ter Am­i­cus Ther­a­peu­tics was forced to do a sud­den about-face and walk back promis­es of a quick sub­mis­sion for its lead drug mi­gala­s­tat, the biotech has laid out plans for a new tri­al that will be need­ed to win an FDA ap­proval — push­ing back any prospect of an OK for treat­ing Fab­ry dis­ease by at least three more years.
The Cran­bury, NJ-based biotech's shares $FOLD cratered on the news, drop­ping 28%.
The biotech says it will now need to mount a spe­cial tri­al to ex­plore the drug's im­pact on GI symp­toms. It will ex­e­cute a 12-month, ran­dom­ized study with 35 pa­tients, with da­ta ar­riv­ing in 2019.
The lat­est set­back for a com­pa­ny that has been on a roller coast­er ride for years dashed hopes of in­vestors that the biotech would be able to line up for an ac­cel­er­at­ed ap­proval of the drug — al­ready OK'd in Eu­rope — with the da­ta al­ready in hand. In­ves­ti­ga­tors had pinned down ev­i­dence of mi­gala­s­tat's suc­cess in re­duc­ing lev­els of GL-3 that ac­cu­mu­lates in the kid­ney cells of pa­tients with the dis­ease. The drug is de­signed to work among pa­tients with amenable mu­ta­tions cov­er­ing about half of the pop­u­la­tion, rough­ly 25% of whom are in the US.
Gen­zyme and Shire mar­ket in­fused en­zyme re­place­ment ther­a­pies for the con­di­tion, which Am­i­cus wants to re­place with their pill.
Go­ing all the way back to the fall of 2015, Am­i­cus ex­ecs had ini­tial­ly ex­pressed en­thu­si­asm for their sit-down with reg­u­la­tors at the FDA. Then they took a sec­ond look at the min­utes of their meet­ing and rad­i­cal­ly changed course, rais­ing the prospect of a new tri­al.
CEO John Crow­ley put the de­lay in the best light pos­si­ble.
"While we be­lieve that the to­tal­i­ty of the da­ta from our stud­ies with mi­gala­s­tat sup­port the sub­mis­sion of a new drug ap­pli­ca­tion to­day, we ac­knowl­edge the FDA's po­si­tion that ac­cel­er­at­ed ap­proval based on kid­ney GL-3 re­duc­tion is not cur­rent­ly an op­tion. We have thus de­fined a plan to col­lect ad­di­tion­al GI da­ta to sup­port full ap­proval for mi­gala­s­tat that we be­lieve is fea­si­ble in a rea­son­able amount of time and with a high like­li­hood of suc­cess based on pos­i­tive GI da­ta gen­er­at­ed in our pre­vi­ous Phase III Study 011. FDA has been flex­i­ble in al­low­ing a crossover de­sign and in our use of es­tab­lished GI end­points to mea­sure clin­i­cal ben­e­fit in Fab­ry pa­tients. We are ful­ly com­mit­ted to the ad­di­tion­al work nec­es­sary to move mi­gala­s­tat to­ward ap­proval in the Unit­ed States."