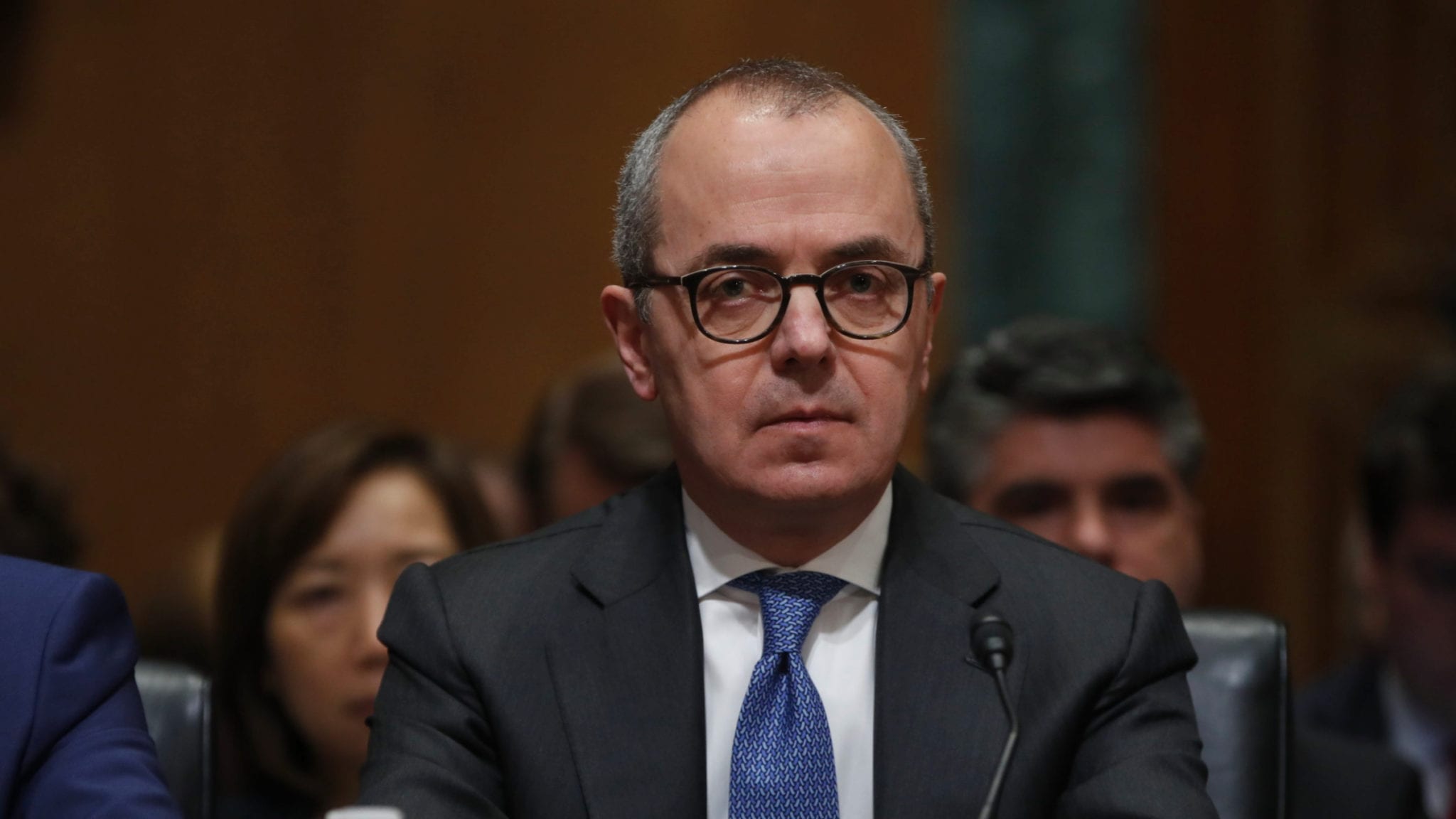 Giovanni Caforio, Bristol Myers Squibb CEO (Pablo Martinez Monsivais/AP Images)
Amid JAK de­ba­cle, Bris­tol My­ers set­tles in for FDA's long re­view of po­ten­tial first TYK2 drug
Bris­tol My­ers Squibb has $4 bil­lion hopes for its late-stage TYK2 in­hibitor deu­cravac­i­tinib, but the FDA's re­cent neg­a­tive re­view for the JAK in­hibitor class has damp­ened hopes some­what. Now, the agency will get its first good look at TYK2, and Bris­tol My­ers will have to wait and hold its breath.
The FDA has set a tar­get re­view date of Sept. 10, 2022, for deu­cravac­i­tinib, a po­ten­tial first-in-class oral in­hibitor for the TYK2 sig­nal­ing path­way in pso­ri­a­sis that would be a chal­lenger to the con­tro­ver­sial JAK in­hibitors, the drug­mak­er said Mon­day.
The agency will base its re­view on find­ings from the Phase III PO­E­T­YK-PSO pro­gram, which test­ed deu­cravac­i­tinib in a three-way head-to-head against Am­gen's Ote­zla and place­bo in mod­er­ate-to-se­vere plaque pso­ri­a­sis.
In terms of PASI 75, a mea­sure of dis­ease sever­i­ty, 58.7% and 53.6% of pa­tients on deu­cravac­i­tinib achieved PASI 75 re­sponse re­spec­tive­ly, in the PO­E­T­YK-PSO-1 and PO­E­T­YK-PSO-2 stud­ies, Bris­tol My­ers said in April. Mean­while, just 12.7% and 9.4% of place­bo pa­tients and 35.1% and 40.2% of pa­tients on Ote­zla achieved the same.
Even more promis­ing for Bris­tol My­ers, deu­cravac­i­tinib main­tained its edge over Ote­zla be­tween 24 and 52 weeks of treat­ment. At the six-month check-in, 69.0% and 59.3% of pa­tients on deu­cravac­i­tinib hit PASI 75 ver­sus 38.1% and 37.8% on Ote­zla. Of those deu­cravac­i­tinib pa­tients who hit the PASI 75 mark at six months, 82.5% and 81.4% main­tained that re­sponse at the one-year check in.
Deu­cravac­i­tinib showed sim­i­lar­ly high­er rates of skin clear­ance than place­bo and Ote­zla with a slight­ly high­er rate of se­vere side ef­fects than Am­gen's drug.
Those side ef­fects will be a key point of con­tention dur­ing the FDA's re­view, giv­en the TYK2 path­way is part of the JAK fam­i­ly. Bris­tol My­ers says deu­cravac­i­tinib's high de­gree of se­lec­tiv­i­ty means the drug doesn't in­hib­it JAK1, JAK2 or JAK3, which could help the drug avoid some of that class' se­vere side ef­fects.
In Sep­tem­ber, the FDA wrapped a post­mar­ket­ing safe­ty re­view for Pfiz­er's Xel­janz, find­ing an in­creased risk of se­ri­ous heart-re­lat­ed events such as heart at­tack or stroke, can­cer, blood clots, and death. That un­wel­come up­date took a big hit out of not on­ly Pfiz­er but the JAK class on the whole — in­clud­ing block­buster hope­fuls like Ab­b­Vie's Rin­voq — af­ter the FDA changed the class' la­bel to lim­it use to cer­tain pa­tients who are not treat­ed ef­fec­tive­ly or who ex­pe­ri­ence se­vere side ef­fects with the TNF block­ers.
While deu­cravac­i­tinib's chances ap­pear good in pso­ri­a­sis, break­ing out in­to oth­er in­di­ca­tions could prove a chal­lenge giv­en some less-than-stel­lar re­sults else­where. In Oc­to­ber, deu­cravac­i­tinib flopped a key Phase II test in ul­cer­a­tive col­i­tis, fail­ing to spur clin­i­cal re­mis­sion at three months and miss­ing key sec­ondary end­points at an in­ter­im check-in.
De­tails on the fail­ure were slim, but Bris­tol My­ers is still hold­ing out hope in this in­di­ca­tion with an­oth­er Phase II test in the works and a broad clin­i­cal pro­gram un­der­way.