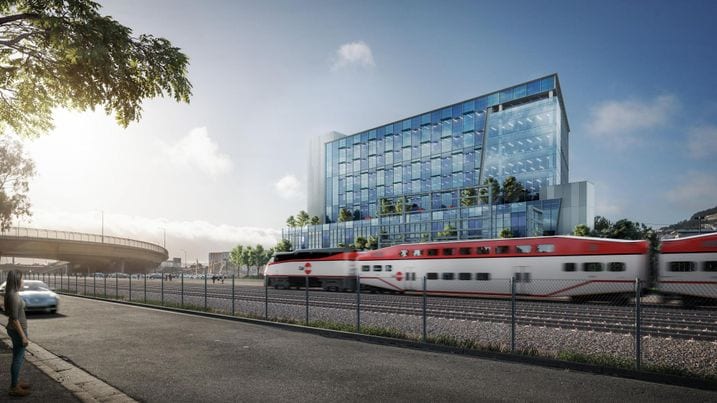 A rendering of 580 Dubuque Avenue. (Credit: DES Architects + Engineers)
Amid lab space scarci­ty, a life sci­ences com­plex to rise in South San Fran­cis­co hub
The ever-ex­pand­ing group of biotechs mov­ing in­to Oys­ter Point can now ex­pect new neigh­bors as the boom­ing life sci­ences hub in South San Fran­cis­co con­tin­ues to grow.
Re­al es­tate de­vel­op­er IQHQ has put its foot down on a main road skirt­ing the neigh­bor­hood, pur­chas­ing 580 Dubuque Av­enue for an undis­closed sum. Known as South City Sta­tion, the site gives them 213,000 square feet to build on.
Don't rec­og­nize the name? Try Cre­ative Sci­ence Prop­er­ties. The San Diego-based com­pa­ny changed its name back in Feb­ru­ary just as it un­veiled a whop­ping $770 mil­lion eq­ui­ty raise to buy and build life sci­ence cam­pus­es at life sci­ence hotspots around the world.
"Mid-tier to large life sci­ence ten­ants" will be the tar­get clien­tele, ac­cord­ing to the com­pa­ny.
"Once com­plete, South City Sta­tion will im­me­di­ate­ly meet the grow­ing de­mand for pre­mier life sci­ence re­al es­tate and R&D space in the thriv­ing South San Fran­cis­co mar­ket," Tra­cy Mur­phy, the pres­i­dent, said in a state­ment. "It will be de­vel­oped to at­tract top tal­ent."
These are peo­ple who have been ex­haust­ed by traf­fic and long com­mutes, Mur­phy told End­points News in an email. By con­trast, the new site's lo­ca­tion right next to a new Cal­train sta­tion ex­pect­ed to open in spring of 2021 promis­es an easy com­mute all the way through San Jose.
It's al­so a five-minute dri­ve from Oys­ter Point, one of the hottest de­vel­op­ments in the Bay Area, where a slate of play­ers from As­traZeneca to Ab­b­Vie to Sang­amo have set up shop. Genen­tech, the OG res­i­dent of the neigh­bor­ing area, has re­cent­ly out­lined how it can con­tin­ue grow­ing its sprawl­ing cam­pus over the next two decades.
Even though the San Fran­cis­co penin­su­la boasts of the high­est sup­ply of lab space in the US at 21.8 mil­lion square feet, the life sci­ence in­dus­try's ap­petite for space re­mains in­sa­tiable. A re­cent re­port not­ed that the va­can­cy rate for lab space sits at 7.5% — and pre-leas­es signed be­fore con­struc­tion even be­gins are com­mon.
In par­tic­u­lar, South San Fran­cis­co showed up in three of the five no­table lease trans­ac­tions spot­light­ed by the re­al es­tate ser­vices firm Cush­man & Wake­field. Cy­to­ki­net­ics, Lyell Im­munophar­ma and Am­gen all pre-leased to se­cure a spot.
IQHQ is al­ready op­er­at­ing along­side fel­low re­al es­tate gi­ants such as Kil­roy, Alexan­dria and Bio­med Re­al­ty, hav­ing man­aged the Gate­way of Pa­cif­ic and Kil­roy Oys­ter Point. Con­struc­tion for South City Sta­tion is sched­uled to start by the end of 2021.
Oth­er lo­ca­tions on its menu in­clude San Diego, Boston and the Gold­en Tri­an­gle in the Unit­ed King­dom.