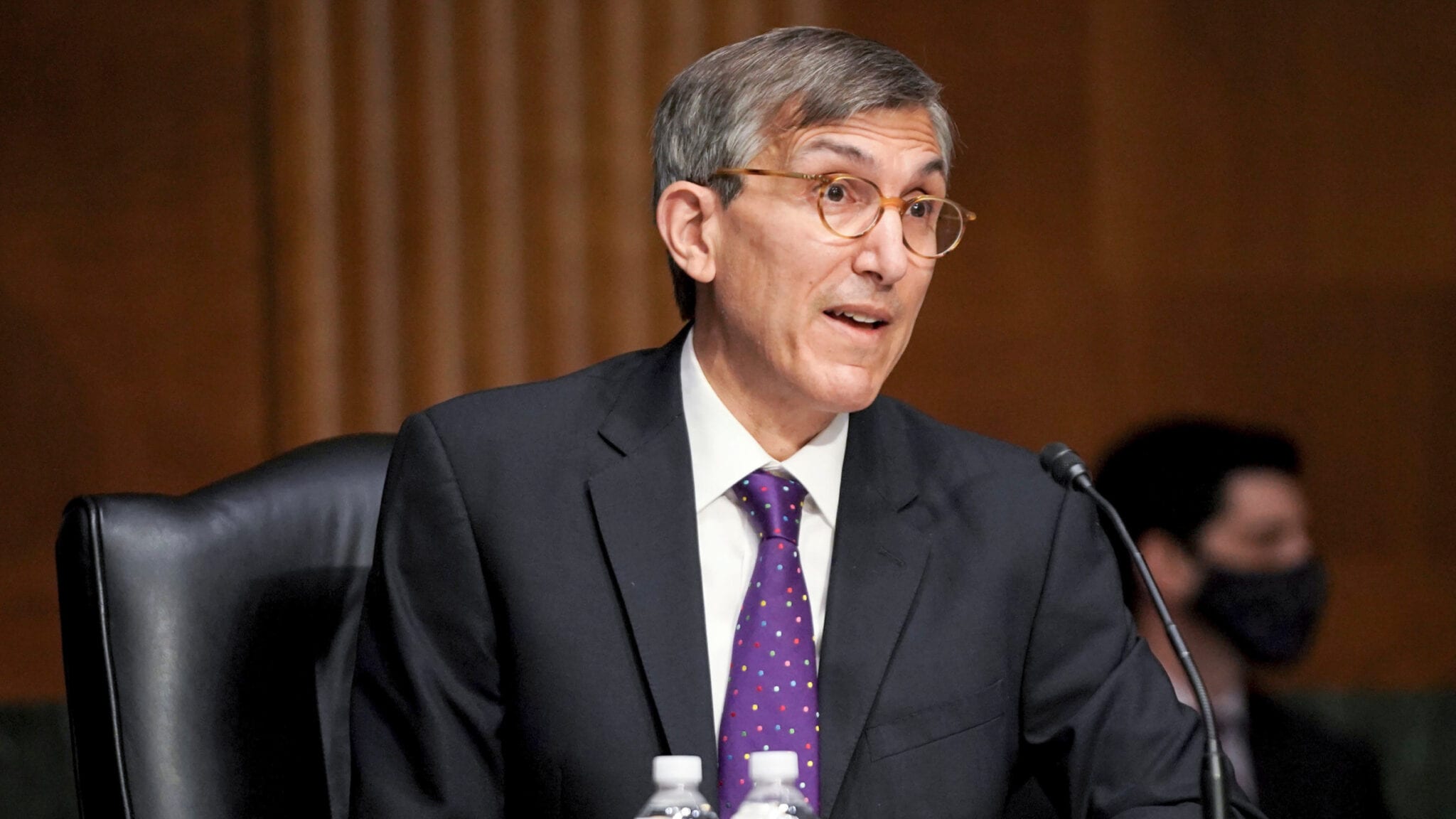 Peter Marks (Greg Nash/Pool via AP)
Amid med­dling con­cerns, FDA con­venes ad­comm for Pfiz­er/BioN­Tech boost­er
The FDA's pan­el of out­side vac­cine ad­vi­sors is set to meet in two weeks and dis­cuss Pfiz­er and BioN­Tech's sBLA ap­pli­ca­tion for a third, boost­er shot of their Covid-19 vac­cine — just three days be­fore the Biden ad­min­is­tra­tion said it would roll out boost­ers.
Reg­u­la­tors re­ceived the sBLA just a week ago, and they will be look­ing to those ex­perts to in­form their de­ci­sion mak­ing, said CBER chief Pe­ter Marks.
The an­nounce­ment for the ad­vi­so­ry com­mit­tee, sched­uled for Sept. 17, came as Mod­er­na said it's start­ed the sub­mis­sion process for its own boost­er. The biotech didn't spec­i­fy whether it's seek­ing an ex­pand­ed emer­gency use au­tho­riza­tion or a sup­ple­men­tal ap­proval on the BLA path­way.
The push for boost­ers came amid con­cerns that the White House had med­dled with the reg­u­la­to­ry process by un­veil­ing a na­tion­wide boost­er cam­paign ahead of any FDA re­views. The per­ceived over­reach was what, ul­ti­mate­ly, con­tributed to the sud­den de­par­tures of two top of­fi­cials who's been lead­ing the agency's vac­cine re­view for years, a for­mer se­nior FDA leader said.
Marks in­sist­ed in a state­ment that the FDA's "in­de­pen­dent eval­u­a­tion and de­ter­mi­na­tion of the safe­ty and ef­fec­tive­ness" of vac­cine boost­ers is a key part of the roll­out plan.
"A trans­par­ent, thor­ough and ob­jec­tive re­view of the da­ta by the FDA is crit­i­cal so that the med­ical com­mu­ni­ty and the pub­lic con­tin­ue to have con­fi­dence in the safe­ty and ef­fec­tive­ness of Covid-19 vac­cines," he said. "The FDA will re­view the sup­ple­men­tal ap­pli­ca­tion as ex­pe­di­tious­ly as pos­si­ble, while still do­ing so in a thor­ough and sci­ence-based man­ner."
Pfiz­er and BioN­Tech filed for ap­proval based on da­ta from a Phase III study where 306 vol­un­teers re­ceived a third dose be­tween 4.8 and 8 months af­ter their sec­ond shot and saw "ro­bust" an­ti­bod­ies against the orig­i­nal SARS-CoV-2 strain.
For Mod­er­na, the first batch of da­ta sub­mit­ted is from a Phase II tri­al that test­ed the 50 µg dose. The cur­rent Mod­er­na vac­cine is a 100 µg dose.