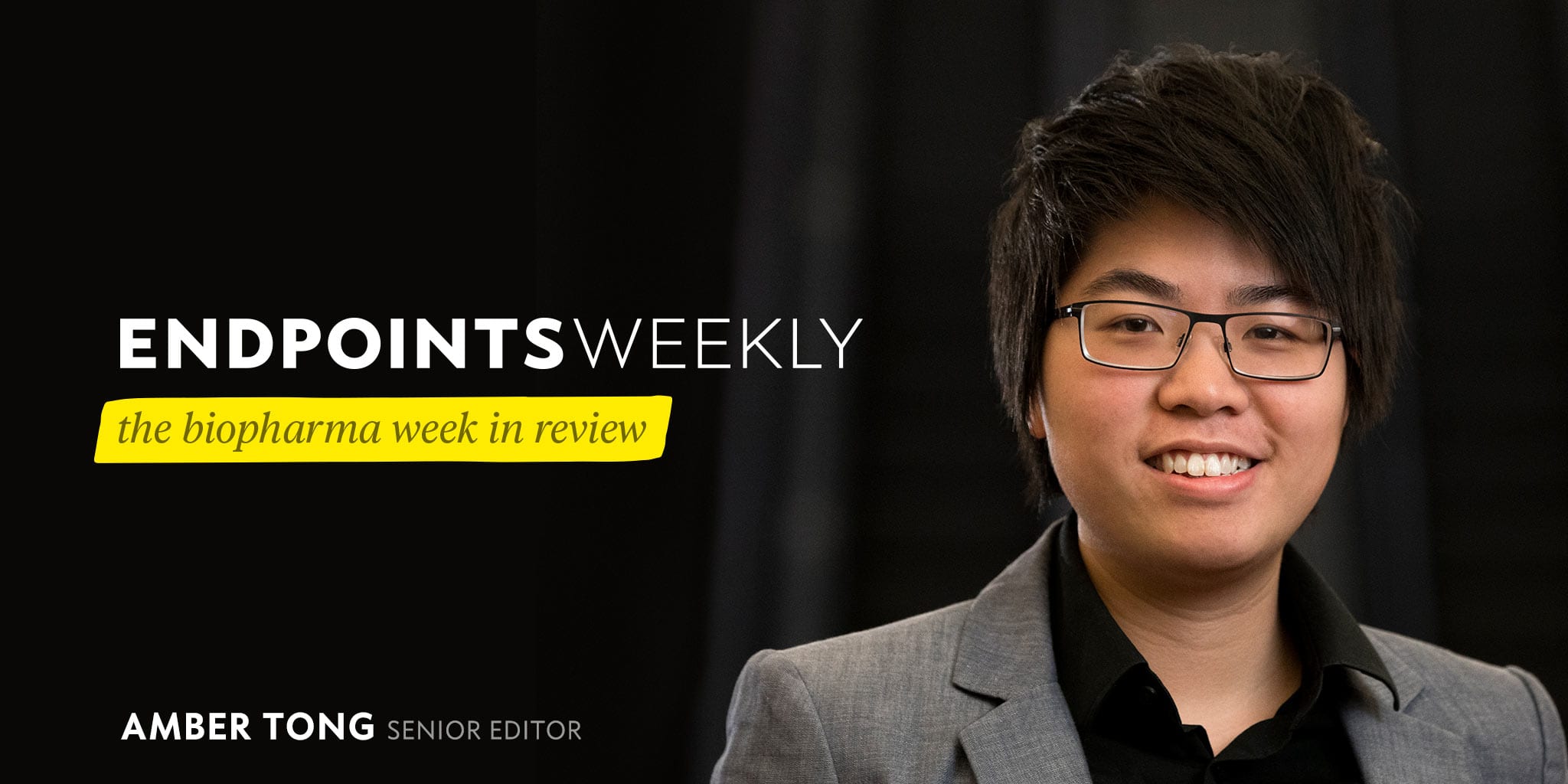 Amid mon­key­pox fears, biotechs spring to ac­tion; Mod­er­na's CFO trou­ble; Cuts, cuts every­where; Craft­ing the right pro­teins; and more
Wel­come back to End­points Week­ly, your re­view of the week's top bio­phar­ma head­lines. Want this in your in­box every Sat­ur­day morn­ing? Cur­rent End­points read­ers can vis­it their read­er pro­file to add End­points Week­ly. New to End­points? Sign up here.
It's al­ways a bit­ter­sweet mo­ment say­ing good­bye, but as Josh Sul­li­van goes off to new ad­ven­tures we are grate­ful for the way he's built up the End­points Man­u­fac­tur­ing sec­tion — which the rest of the team will now car­ry for­ward. If you're not al­ready, this may be a good time to sign up for your week­ly dose of drug man­u­fac­tur­ing news. Thank you for read­ing and wish you a rest­ful week­end.
Amid mon­key­pox fears, biotechs spring to ac­tion
With a rapid rise of mon­key­pox cas­es caus­ing con­cerns around the world, vac­cine pro­cure­ment is weigh­ing on the mind of gov­ern­ment of­fi­cials. Bavar­i­an Nordic land­ed con­tracts with both the US' BAR­DA and an un­named Eu­ro­pean coun­try to sup­ply its small­pox vac­cine, Jyn­neos. While the BAR­DA's $119 mil­lion op­tion has a longer term time­frame, the Eu­rope pur­chase high­lights an "emer­gency sit­u­a­tion." At the same time, Emer­gent BioSo­lu­tions ac­quired Tem­bexa, a small­pox treat­ment, from Chimerix for $225 mil­lion in cash. Ex­perts reck­on that small­pox vac­cines should of­fer some pro­tec­tion against mon­key­pox, and pre­vi­ous vac­ci­na­tions, cou­pled with the right pub­lic health re­sponse, should stem the cur­rent out­break.
Craft­ing the right pro­teins
For decades, pro­tein de­sign was a bi­o­log­i­cal bor­der­land. But in the last few years, a se­ries of break­throughs has sud­den­ly turned an aca­d­e­m­ic cu­rios­i­ty in­to a vi­able way of de­vel­op­ing new drugs, in­clud­ing ones that are more ac­cu­rate, more com­plex, or can be de­vel­oped faster than med­i­cines made through oth­er meth­ods. In his fi­nal End­points In Fo­cus, Ja­son Mast takes us in­side the lab of David Bak­er — once among the field's long rangers — at the Uni­ver­si­ty of Wash­ing­ton's In­sti­tute for Pro­tein De­sign to take a peek at how de­sign-based ap­proach­es are trans­form­ing drug de­vel­op­ment.
Cuts, cuts every­where
Mauled by the bear mar­ket, a mul­ti­tude of biotechs con­tin­ue to feel the heat — and the list might sur­prise you. Agios is shak­ing things up as 50 ex­plorato­ry re­search em­ploy­ees will be let go and CSO Bruce Car will de­part the com­pa­ny at the end of Ju­ly. With piv­otal da­ta still years away, Schol­ar Rock, the dark­horse SMA play­er, plans to lay off 39 peo­ple while CMO Yung Chyung steps down. French biotech Nanobi­otix, which IPO'd dur­ing the pan­dem­ic boom, is chop­ping pre­clin­i­cal re­search, amend­ing some on­go­ing stud­ies and mov­ing some em­ploy­ees ful­ly re­mote to stay afloat. San Fran­cis­co's Ap­plied Mol­e­c­u­lar Trans­port will cut its work­force by 40% on top rolling back pro­grams, and among those leav­ing is its CSO. Small cap biotech Aque­s­tive, mean­while, didn't pro­vide a rea­son for why long­time CEO Kei­th Kendall is hand­ing the ba­ton to COO Daniel Bar­ber.
Janet Wood­cock has a new role
Long­time CDER di­rec­tor Janet Wood­cock, who's now serv­ing as FDA com­mis­sion­er Rob Califf's prin­ci­pal deputy, would take on more of a role as "a strate­gic thought part­ner, with de­ci­sion-mak­ing au­thor­i­ties" at sev­er­al dif­fer­ent of­fices with­in the agency, ac­cord­ing to a new memo. In­sid­ers said the an­nounce­ment ef­fec­tive­ly means she won't be re­turn­ing to or step­ping on the toes of any­one serv­ing in the var­i­ous roles she held pre­vi­ous­ly.
Mod­er­na's CFO trou­ble
Days af­ter Mod­er­na sent new CFO Jorge Gomez pack­ing — af­ter just one day on the job — over an in­ves­ti­ga­tion launched by his for­mer em­ploy­er, the mR­NA biotech said it was blind­sided by the probe. Al­though den­tal equip­ment com­pa­ny Dentsply be­gan in­ves­ti­gat­ing Gomez in ear­ly March, Mod­er­na claimed it was un­aware un­til the pub­lic dis­clo­sure on May 10. It de­cid­ed to part ways with Gomez that same day. And Flag­ship's Noubar Afeyan, who's al­so chair of the Mod­er­na board, de­fend­ed the vet­ting and hir­ing process.
To­ward more di­verse clin­i­cal tri­als
While calls to di­ver­si­fy clin­i­cal tri­als have grown loud­er in re­cent years — gain­ing sup­port from fed­er­al agen­cies such as the FDA and NIH — progress has large­ly stalled, ac­cord­ing to a new re­port that sug­gests swaths of pa­tients in mi­nor­i­ty groups con­tin­ue to be left out. Pfiz­er is delv­ing in­to the is­sue through a new part­ner­ship with Head­lands Re­search that aims to ini­ti­ate re­search sites in ar­eas with di­verse pop­u­la­tions, while J&J launched its "De­pres­sion Looks Like Me" cam­paign in hopes of nor­mal­iz­ing the dis­cus­sion around de­pres­sion — es­pe­cial­ly for peo­ple in the LGBTQ+ com­mu­ni­ty.
---
DEALS
---
CELL & GENE TX
---
CHI­NA
---
R&D
As the US tran­si­tions away from Covid-19 vac­cine sci­ence in­to more ther­a­peu­tic work, the NIH award­ed $577 mil­lion to nine aca­d­e­m­ic groups in an ef­fort to dri­ve an­tivi­ral de­vel­op­ment for Covid and a slew of oth­er virus­es. The grants will cre­ate nine an­tivi­ral drug dis­cov­ery (AViDD) cen­ters, whose main goals are to do the pre­clin­i­cal dis­cov­ery work for drugs against virus­es with pan­dem­ic po­ten­tial.
Two years af­ter a bit­ter set­back at the FDA, with its cash re­serves ebbing away, Tri­ci­da is ex­e­cut­ing a high-stakes gam­ble on win­ning a swift ap­proval at the FDA by putting an "ad­min­is­tra­tive stop" to a piv­otal tri­al. A win would put them back in play with a new drug to com­mer­cial­ize. A loss, as one Wall Street an­a­lyst re­cent­ly as­sessed, would take the stock to ze­ro.
Ather­sys' stem cell ther­a­py has failed yet again. In a 206-per­son tri­al con­duct­ed in Japan, Ather­sys' ex­per­i­men­tal treat­ment for stroke failed its pri­ma­ry end­point of "ex­cel­lent out­come," a com­bined mea­sure of three stroke re­cov­ery scores. Then, as it's done in the past, the com­pa­ny piv­ot­ed to a post hoc analy­sis, fo­cus­ing on a younger sub­set of pa­tients.
A Phase IIb flop is cast­ing a shad­ow on Enan­ta Phar­ma­ceu­ti­cals' ef­forts to take on RSV, a no­to­ri­ous­ly tough field strewn with Big Phar­ma ri­vals. Al­though its an­tivi­ral failed to re­duce symp­toms for oth­er­wise healthy adults, the biotech is hold­ing out hope for a nar­row­er group of pa­tients who would need a treat­ment the most.
Ab­b­Vie is ap­proach­ing the FDA with a new ther­a­py to po­ten­tial­ly treat Parkin­son's dis­ease, us­ing pro­drugs of two med­ica­tions com­mon­ly used for the con­di­tion. Its NDA was for AB­BV-951, a so­lu­tion of lev­odopa and car­bidopa pro­drugs ad­min­is­tered through a 24-hour in­fu­sion. It's de­signed for ad­vanced Parkin­son's pa­tients who don't re­spond well to oral ther­a­py.
Rock­et Phar­ma­ceu­ti­cals' lat­est cut of gene ther­a­py da­ta has at least one an­a­lyst won­der­ing about the cu­ra­tive po­ten­tial. Re­port­ing topline re­sults from a Phase II piv­otal tri­al in­volv­ing pa­tients with se­vere leuko­cyte ad­he­sion de­fi­cien­cy-I (LAD-1), Rock­et said among nine par­tic­i­pants, the over­all sur­vival at one year is 100% — and there were al­so im­prove­ments in symp­toms, paving the way for a reg­u­la­to­ry fil­ing ear­ly next year.
When Ze­ga­logue, al­so known as dasiglucagon, got ap­proved by the FDA ear­ly last year for se­vere hy­po­glycemia in di­a­betes pa­tients, Zealand Phar­ma said that wasn't the end of its vi­sion for the drug. It's now de­liv­ered on a Phase III tri­al for a new in­di­ca­tion — a ge­net­ic con­di­tion called con­gen­i­tal hy­per­in­sulin­ism — with pos­i­tive re­sults that could pave the way for a fil­ing.
Mod­er­na and non­prof­it re­search group IAVI (In­ter­na­tion­al AIDS Vac­cine Ini­tia­tive) are jump­ing in­to the next stage of their col­lab­o­ra­tion around an mR­NA an­ti-HIV vac­cine. IAVI will spon­sor a new Phase I tri­al dubbed IAVI G003, which will take place in Rwan­da and South Africa to see if ear­li­er re­sults in the US will trans­late in­to a dif­fer­ent pop­u­la­tion.
Months af­ter tout­ing some fuzzy topline read­outs, As­traZeneca and its biotech part­ner Avil­lion de­tailed the da­ta they're tak­ing to reg­u­la­tors for their asth­ma drug, PT027. The in­haled, fixed-dose res­cue med­ica­tion, which com­bines two com­mon­ly used drugs, cut the risk of se­vere ex­ac­er­ba­tion by 27% (p<0.001) com­pared to al­buterol res­cue alone.
---
PEO­PLE
---
STAR­TUPS
Flag­ship craft­ed a new start­up out of pieces from a pair of fledg­lings in the VC's nest. And as Inzen and Cyg­nal merge in­to Sonata Ther­a­peu­tics, Roche vet and Cyg­nal CEO Pearl Huang will de­part in pur­suit of new op­por­tu­ni­ties. Where­as Inzen was fo­cused on the cel­lu­lar mi­croen­vi­ron­ment, Cyg­nal ze­roed in on the pe­riph­er­al ner­vous sys­tem.
We've seen plen­ty of new com­pa­nies fo­cus­ing on CAR-Ts — or CAR-NKs and CAR-Ms. But In­cep­tor Bio wants to at­tempt all three at once. With $37 mil­lion, it hopes to flesh out its on­col­o­gy pro­grams while al­so build­ing out its own man­u­fac­tur­ing fa­cil­i­ty in Gainesville, FL. While ac­knowl­edg­ing the chal­lenges, the biotech hopes the ap­proach yields more shots on goal.
New York-based Cam­bri­an Bio­phar­ma spun out a new start­up with the idea of ex­tend­ing women's "healthspans." Fo­cused on ovaries, Ovi­va is armed with $11.5 mil­lion from Cam­bri­an and the sci­en­tif­ic knowhow of two re­searchers at Mass Gen­er­al.
---
FI­NANC­ING
---
LAW
---
CORO­N­AVIRUS
---
PHAR­MA
---
MAR­KET­INGRX
In phar­ma pub­lic re­la­tions, every day feels like it might be a cri­sis. In fact, 76% of phar­ma com­mu­ni­ca­tions lead­ers ex­pect to face three or more crises this year — com­pared to less than half (49%) of their peers in oth­er in­dus­tries, ac­cord­ing to a new sur­vey. End­points Mar­ket­ingRx ed­i­tor Beth Bu­lik dives in­to the sen­ti­ment, how the Covid-19 pan­dem­ic am­pli­fied it and what PR ex­perts are do­ing to pre­pare.
What do physi­cians think about the emerg­ing mar­ket for re­cur­rent C. diff? That de­pends on which spe­cial­ists you talk to. Fe­cal mi­cro­bio­ta trans­plants, or FMT, are fa­vored by gas­troen­terol­o­gists fa­mil­iar with them, while in­fec­tious dis­ease doc­tors pre­fer tra­di­tion­al small mol­e­cule ther­a­pies, ac­cord­ing to a re­cent fu­ture mar­ket eval­u­a­tion by Spher­ix Glob­al In­sights.
Phar­ma ad spend­ing is con­cen­trat­ed at the top. A hand­ful of health con­di­tions — along with a hand­ful of brands in­side each con­di­tion — dom­i­nate in­dus­try ad­ver­tis­ing, ac­cord­ing to deep dive re­search from Me­di­aRadar. Its lat­est re­port finds that five ther­a­py ar­eas ac­count­ed for al­most half (43%) of all phar­ma DTC spend­ing last year, with di­a­betes com­ing up on top, fol­lowed by pso­ri­a­sis, arthri­tis, HIV/AIDs and breast can­cer.
GSK en­list­ed '80s child star turned di­rec­tor, writer and mom Soleil Moon Frye, known for her "Punky Brew­ster" char­ac­ter, dur­ing the pan­dem­ic last year to spot­light menin­gi­tis B vac­ci­na­tions for teens. At the time, the al­ready low rate for MenB vac­ci­na­tions was dip­ping even low­er. Now the "Ask2BSure" cam­paign is re-up­ping with Frye and oth­er par­ent in­flu­encers to con­tin­ue to raise aware­ness and with the ad­di­tion­al goal to em­pha­size the im­por­tance of par­ents' shared de­ci­sion-mak­ing with doc­tors.
Ab­b­Vie's Al­ler­gan Aes­thet­ics is en­list­ing re­al peo­ple for the first time in a new cam­paign for CoolSculpt­ing. Its lat­est push for the body fat-freez­ing sys­tem in­cludes TV com­mer­cials, along with dig­i­tal and so­cial me­dia, where peo­ple talk about hav­ing chil­dren or ag­ing and their bod­ies chang­ing.
Ho­log­ic en­lists long­time spokesper­son and breast can­cer sur­vivor Sh­eryl Crow to talk about an­nu­al mam­mo­grams; Three-time Olympic medal win­ner Gail De­v­ers stars in Hori­zon's lat­est dis­ease aware­ness cam­paign; J&J cen­ters pub­lic health threats in its newest Quick­Fire chal­lenge; catch up on these and snip­pets in this week's Mar­ket­ingRx roundup.
---
FDA+
---
MAN­U­FAC­TUR­ING
---
DON'T MISS
Biotech is one of the smartest, best ed­u­cat­ed in­dus­tries on the plan­et. And in these times, savvy, ex­pe­ri­enced lead­ers run­ning biotech star­tups are be­ing test­ed as nev­er be­fore, as even those with strong prospects are be­ing cooked in the same ket­tle as the bad. So how do you re­spond to these ex­tra­or­di­nary times? That's what End­points' John Car­roll will be ex­plor­ing dur­ing a live pan­el dis­cus­sion at BIO in San Diego. He in­tro­duces his guests here.
Mar­tin Shkre­li, the in­fa­mous biotech CEO who made head­lines for his jeer­ing as­sault on a le­gion of crit­ics in and out of Con­gress, is back on the streets af­ter four years in­side fed­er­al prison. As his lawyer con­firmed, the "phar­ma bro" had been trans­ferred to a halfway house in New York with a few more months to go un­der fed­er­al cus­tody, slat­ed to end Sep­tem­ber 14.
Gilead Sci­ences' $100 mil­lion pledge to fight the HIV epi­dem­ic in the south­ern US states vault­ed it to the top of an an­nu­al phil­an­thropic giv­ing list, ahead of the Bill & Melin­da Gates Foun­da­tion for the first time since the Fun­ders Con­cerned About AIDS be­gan count­ing.