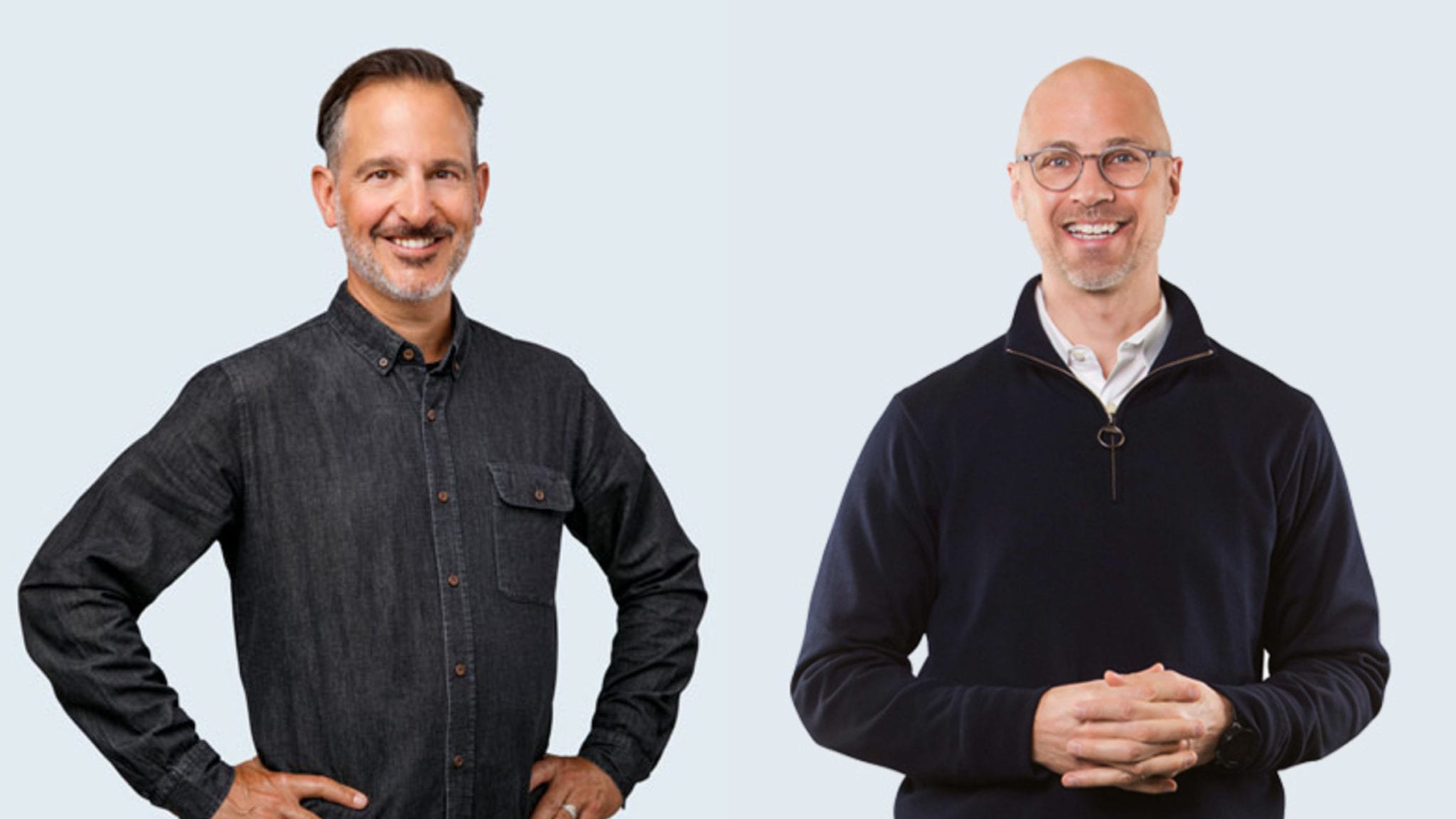 Jean-François Pariseau (left) and Dion Madsen (Amplitude)
Am­pli­tude rais­es $50M to fu­el 'emerg­ing' Cana­di­an biotech field
Nine months and an IPO since they spun out the Busi­ness De­vel­op­ment Bank of Cana­da's health­care arm in­to its own VC, the in­vestors be­hind Am­pli­tude have raised an­oth­er $50 mil­lion to pour in­to Cana­da's nascent biotech sec­tor.
The new round, part of the CAD $200 mil­lion the firm is try­ing to raise for its first fund, will go pri­mar­i­ly to­ward two ar­eas: what founders Jean-François Pariseau and Dion Mad­sen see as an "emerg­ing" tar­get­ed and cell ther­a­py field in Van­cou­ver and an emerg­ing ar­ti­fi­cial in­tel­li­gence field in Mon­tre­al. Sim­i­lar to some of the big­ger name VCs to their south, the part­ners will try to find promis­ing sci­ence out of aca­d­e­m­ic and in­no­va­tion cen­ters in the two metro ar­eas, pack­age them with some com­ple­men­tary and de-risk­ing in­tel­lec­tu­al prop­er­ty and some new tal­ent, and spin out biotechs.
"There are clus­ters emerg­ing in Cana­da around tar­get­ed and cel­lu­lar ther­a­py in Van­cou­ver and around AI in Toron­to or Mon­tre­al, and those would be ar­eas where we would" in­vest, Mad­sen told End­points News. "Typ­i­cal­ly, we're look­ing for re­al­ly sig­nif­i­cant in­no­va­tions."
Around 30% of the fund will al­so go to lat­er-stage medtech com­pa­nies.
As proof for the mod­el, Am­pli­tude is now tout­ing the suc­cess of the syn­thet­ic lethal­i­ty com­pa­ny Re­pare Ther­a­peu­tics, which in June raised $220 mil­lion in one of the largest IPOs in Cana­di­an biotech his­to­ry. It's a bit of a bold claim, though, giv­en that Am­pli­tude — then still un­der the aus­pices of the BDAC — was just one of sev­er­al in­vestors in the Ver­sant-launched com­pa­ny's Se­ries B last year, and that the biotech's pub­lic of­fer­ing came as part of an un­prece­dent­ed biotech stock mar­ket boom.
Still, for Mad­sen and Pariseau, it's val­i­da­tion that there is bil­lion-dol­lar sci­ence to be found in Cana­da for those who know how to build it.
Per­haps the most promi­nent ex­am­ple of that has come in the past few months in the form of a dif­fer­ent com­pa­ny, Ab­Cellera. Long a lit­tle-known play­er that helped gov­ern­ments, biotechs and Big Phar­ma build an­ti­bod­ies, the com­pa­ny emerged at the front of the Covid-19 treat­ment hunt af­ter they signed a part­ner­ship with Eli Lil­ly in March to de­vel­op neu­tral­iz­ing an­ti­bod­ies for the coro­n­avirus. They lat­er emerged as the first com­pa­ny to bring a neu­tral­iz­ing an­ti­body in­to the clin­ic, and they se­cured a $105 mil­lion Se­ries B from a hand­ful of big name in­vestors on the way.
Mad­sen said they had been watch­ing Ab­Cellera since 2013, short­ly af­ter its launch, en­cour­ag­ing them to de­vel­op their own com­pounds. They put in of­fers for both last year's Se­ries A, but they were still in for­ma­tion at the time and Ab­Cellera took an of­fer from DCVC. They were one of many to put in an of­fer for the Se­ries B.
"We were out­bid," he said.
When it comes to AI com­pa­nies, the firm will fo­cus on those that look a bit more like the biotechs that have their own wet labs and de­vel­op­ment pipelines, such as Daphne Koller's In­sitro, than the ones that just use ad­vance al­go­rithms to search out mol­e­cules, such as Atom­wise. The first ex­am­ple of that, Mad­sen said, was Deep Ge­nomics. They joined a $40 mil­lion Se­ries B for the biotech in Jan­u­ary.
"I think AI is be­com­ing more and more gen­er­a­tive as a tech­nol­o­gy, and more wide­ly used. To me, it's kind of the next evo­lu­tion," Pariseau told End­points. "And it's al­so cheap­er."