An FDA re­form agen­da: What would Com­mis­sion­er Scott Got­tlieb do in his first six months?
An ac­cel­er­at­ed ap­proval path­way for com­plex gener­ics, em­brac­ing killer apps, pub­lish­ing CRLs and a swift kick in the lead­er­ship at the FDA all fig­ure promi­nent­ly.
Pres­i­dent Trump has made it clear that he's look­ing for a rev­o­lu­tion at the FDA, which in turn has raised fears that he'll ap­point a rev­o­lu­tion­ary dereg­u­la­tor as com­mis­sion­er who will blow up a well es­tab­lished gold stan­dard on drug ap­provals.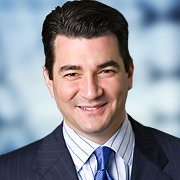 Scott Got­tlieb
The on­ly name which has sur­faced as a se­ri­ous con­tender for the top job at the FDA who would al­so be wel­comed by most peo­ple in the bio­phar­ma in­dus­try is Scott Got­tlieb, a for­mer deputy com­mis­sion­er for pol­i­cy un­der George W. Bush, con­ser­v­a­tive com­men­ta­tor and lon­grun­ning crit­ic of the agency as it was han­dled un­der the Oba­ma ad­min­is­tra­tion.
As a lead­ing con­tender for this job, Got­tlieb's nom­i­na­tion would con­form to the tra­di­tion of hav­ing a trained physi­cian in the com­mis­sion­er's of­fice. And he would al­so be com­ing in as a re­former with an un­der­stand­ing of the in­ner work­ings at the FDA, able to swift­ly ex­e­cute a se­ries of changes that would meet Trump's stat­ed goal of ac­cel­er­at­ing ap­provals and dra­mat­i­cal­ly low­er­ing some drug prices.
Like the rest of the se­ri­ous prospec­tive can­di­dates for this job, Got­tlieb has been keep­ing a low pub­lic pro­file, de­clin­ing re­quests for in­ter­views. Try­ing to ar­gue over a spe­cif­ic agen­da in news­pa­pers or on TV would on­ly threat­en his chances for the nom­i­na­tion, which in­sid­ers say is still like­ly weeks away.
But in a re­view of his pub­lic re­marks and back­ground dis­cus­sions with peo­ple fa­mil­iar with Got­tlieb's think­ing, I've as­sem­bled a to-do list that would like­ly fig­ure promi­nent­ly in Got­tlieb's first six months at the FDA.
Even if he doesn't get the tap, Got­tlieb has laid out agency re­forms that would like­ly fig­ure promi­nent­ly at the FDA over the next four years; a mid­dle way be­tween an­ar­chy and a brit­tle, bu­reau­crat­ic sta­tus quo, re­vis­ing but not dis­man­tling the agency's in­sis­tence that any new drug that hits the mar­kets has a clear risk/ben­e­fit pro­file for physi­cians and pa­tients to con­sid­er.
Easy pick­ings?
Got­tlieb does have some low hang­ing fruit to go af­ter, with a Re­pub­li­can con­trolled House and Sen­ate that are like­ly will­ing to go along.
First task: Re­form FDA rules for ap­prov­ing com­plex gener­ics. While most of the re­form­ers have con­cen­trat­ed on a back­log of thou­sands of ap­pli­ca­tions for gener­ic drugs, Got­tlieb has been say­ing for a few years now that the agency needs to have more flex­i­bil­i­ty in ap­prov­ing gener­ic ver­sions of com­plex ther­a­peu­tics, a mid­dle ground be­tween the sim­ple small mol­e­cule knock­offs that are rel­a­tive­ly easy to get through the FDA and biosim­i­lars, which have a spe­cif­ic ap­proval path­way.
These drugs in­clude some of the world's biggest block­busters, in­clud­ing Co­pax­one and Ad­vair, which are on­ly now on the verge of see­ing re­al gener­ic com­pe­ti­tion long af­ter los­ing patent pro­tec­tion. But there's a long list of these com­plex gener­ics that can be sped along — pro­vid­ed the Com­mis­sion­er can get the leg­is­la­tion need­ed to do that.
"Con­gress should con­sid­er leg­is­la­tion to mod­ern­ize the gener­ic drug frame­work to al­low FDA greater dis­cre­tion in the kinds of da­ta it re­lies on for its gener­ic ap­provals in this nar­row cat­e­go­ry of com­plex drugs," Got­tlieb told a Sen­ate com­mit­tee in Oc­to­ber 2016, tes­ti­mo­ny that was high­light­ed in a note by Ja­mi Ru­bin at Gold­man Sachs a few days ago. "This would re­quire, for ex­am­ple, grant­i­ng FDA the abil­i­ty to ask for more than just bioe­quiv­a­lence and bioavail­abil­i­ty da­ta in mak­ing judg­ments around same­ness."
"Con­gress should be tapped to give FDA the lat­i­tude to look at the sci­ence nec­es­sary to make com­fort­able and re­li­able de­ter­mi­na­tions," he wrote in a col­umn for Forbes back in 2015. Com­mis­sion­er Got­tlieb work­ing with the Trump ad­min­is­tra­tion and bi­par­ti­san sup­port­ers in Con­gress could make short work of this.
Got­tlieb has said in the past that leg­is­la­tion is need­ed, but an ag­gres­sive com­mis­sion­er could go a long way to clear­ing the path for com­plex gener­ics. So look for some quick, broad guid­ance that would give de­vel­op­ers a clear reg­u­la­to­ry path for the class, toss­ing aside the more cum­ber­some case-by-case method that has been in use — of­ten long af­ter these ri­vals could have made it to the mar­ket.
The ad­van­tage here is that Got­tlieb could have a dra­mat­ic im­pact in a short pe­ri­od, point­ing to an ac­com­plish­ment that would earn a lot of sup­port from the pub­lic as well as law­mak­ers — even as in­di­vid­ual drug­mak­ers try to qui­et­ly spear any such threat to their own block­busters. Just pick­ing off the top 10 com­plex gener­ics would re­duce costs by bil­lions, ush­er­ing in new com­pe­ti­tion.
Chang­ing the rules on com­plex gener­ics to fa­cil­i­tate ap­provals while go­ing af­ter the back­log in gener­ics in gen­er­al will re­quire the agency to at least fill its emp­ty po­si­tions. That will re­quire an ear­ly ex­cep­tion to the pres­i­dent's hir­ing freeze.
Get with the BTD pro­gram
Got­tlieb has been an un­abashed ad­mir­er of what FDA can­cer czar Rick Paz­dur has ac­com­plished with the break­through ther­a­py des­ig­na­tion when it comes to new can­cer drug ap­provals. On­col­o­gy R&D has been trans­formed over the past three years. De­vel­op­ment time­lines have been stream­lined and cut, in some cas­es by years, as reg­u­la­tors took a more flex­i­ble ap­proach to as­sess­ing da­ta and med­ical needs for dy­ing pa­tients.
But he isn't at all sat­is­fied that the en­tire agency has got­ten with the BTD pro­gram. And he's like­ly to ad­dress that quick­ly, putting in a team of reg­u­la­tors tasked with ramp­ing up the re­view process in spe­cif­ic di­vi­sions that have lagged be­hind.
This is not a top­ic that Got­tlieb has ad­dressed ex­ten­sive­ly in pub­lic over the past sev­en years, since a col­umn of his in the Wall Street Jour­nal cas­ti­gat­ed the FDA for stick­ing with bur­den­some tri­al re­quire­ments to land an ap­proval. Much has changed since then, which he has ac­knowl­edged. But much is still left to be done, a sub­ject he brought up last May in a speech he gave at IS­POR ti­tled "Ac­cel­er­at­ing Cures: Ad­dress­ing Un­met Pa­tient Need or Putting Pa­tients at Risk."
In that speech, Got­tlieb fo­cused care­ful­ly on how the FDA han­dles new drugs for rare dis­eases. As re­searchers un­der­stand­ing of rare dis­eases has grown, he writes, it stands to rea­son that the FDA's process for re­view­ing new drugs should speed up. But the re­verse hap­pened, as he il­lus­trat­ed with the reg­u­la­to­ry his­to­ry of Al­du­razyme, Hurler Syn­drome, or MPS 1. There are on­ly about 500 such pa­tients in the US.
Got­tlieb said:
As each of the sub­se­quent and dif­fer­ent en­zyme re­place­ment ther­a­pies tar­get­ing dis­tinct MPS dis­eases sought FDA ap­proval, the clin­i­cal tri­al re­quire­ments in­creased sub­stan­tial­ly. In oth­er words, as FDA got smarter about the mech­a­nism of these treat­ments, in­stead of us­ing that knowl­edge to stream­line de­vel­op­ment, the hur­dles grew sub­stan­tial­ly.
The use of bio­mark­ers as a sur­ro­gate end­point need­ed for a quick ap­proval is one way that the FDA can ad­vance.
The ex­per­tise at the FDA needs to be re­or­ga­nized, with a new ap­proach to eval­u­at­ing "tri­al de­sign, sta­tis­ti­cal analy­sis, and the prod­uct is­sues re­lat­ed to new plat­forms for pur­su­ing bi­o­log­i­cal tar­gets."
(P)er­haps all drugs for ul­tra or­phan dis­eases should be re­viewed by a sep­a­rate di­vi­sion just fo­cused on these prod­ucts – a sort of skunk works for ul­tra or­phan prod­ucts — where there is more ex­per­tise in sta­tis­ti­cal ap­proach­es to clin­i­cal tri­al de­sign that in­volve open la­bel or sin­gle arm stud­ies that are some­times the on­ly fea­si­ble ap­proach in these dis­ease set­tings. Con­sul­tants from the rel­e­vant clin­i­cal re­view di­vi­sion could in­form the clin­i­cal as­pects of the re­view. Right now, it's the clin­i­cal re­view di­vi­sion that dri­ves the process, with the ex­perts in the prod­uct and tri­al de­sign is­sues who serve as con­sul­tants to the process. This can en­able these oth­er con­sid­er­a­tions to be­come mar­gin­al­ized, even in cas­es where they are the more crit­i­cal and chal­leng­ing fea­tures.
New Bayesian ap­proach­es to sta­tis­ti­cal de­sign may help in cer­tain cas­es, he said. And Con­gress could spec­i­fy where FDA stan­dards could be ap­plied more flex­i­bly, help­ing reg­u­la­tors aban­don a rigid con­cep­tion that there's one pre­em­i­nent stan­dard that has to be ap­plied in all cas­es.
The FDA al­so hasn't just fa­cil­i­tat­ed new drug de­vel­op­ment over the last few years. It's al­so added on new rules re­lat­ed to pre-mar­ket de­vel­op­ment, most no­tice­ably the car­dio­vas­cu­lar out­comes stud­ies for some new meds.
Those kinds of add-ons will be rolled back, mak­ing it less ex­pen­sive to get new di­a­betes drugs to the mar­ket — a big is­sue in that field — with a shift to post-mar­ket­ing stud­ies.
There's a va­ri­ety of ways a new FDA un­der Got­tlieb could adopt new tech­nolo­gies and de­vel­op­ment de­signs that would both speed R&D ef­forts as well as low­er the front-end costs biotechs face to get through ear­ly-stage re­search. Mod­el­ing and sim­u­la­tion, not a new con­cept at the FDA, has al­ready been used to scale down the once epic scope of a de­vel­op­ment pro­gram. It's helped in ear­ly dose se­lec­tion and iden­ti­fy­ing pa­tient sub­pop­u­la­tions most like­ly to ben­e­fit, in­clud­ing of­ten ne­glect­ed pe­di­atric pop­u­la­tions, that can be helped.
PDU­FA VI in­cludes a range of fea­tures aimed at speed­ing de­vel­op­ment, in­clud­ing the bet­ter use of bio­mark­ers, adap­tive tri­al de­signs and bet­ter use of all the var­i­ous FDA pro­grams for ac­cel­er­at­ing ap­provals, from BTD to or­phan drug des­ig­na­tions, which can al­so be more de­fined to avoid re­peats of de­flaza­cort, the Marathon steroid ap­proved for Duchenne MD and prices any­where from 50 to 70 times what it's been sold for out­side the US.
Got­tlieb's "killer apps": get new de­vices on the mar­ket, mak­ing the FDA a fa­cil­i­ta­tor rather than an ob­sta­cle
Ap­ple's Tim Cook has been gin­ger­ly walk­ing around the FDA when it comes to the new Ap­ple Watch and some of the health ap­pli­ca­tions he's had in mind.
"We don't want to put the watch through the Food and Drug Ad­min­is­tra­tion process," Cook told The Tele­graph last fall. "I wouldn't mind putting some­thing ad­ja­cent to the watch through it, but not the watch, be­cause it would hold us back from in­no­vat­ing too much, the cy­cles are too long. But you can be­gin to en­vi­sion oth­er things that might be ad­ja­cent to it — maybe an app, maybe some­thing else."
You'll find Google's Ver­i­ly work­ing in the same space, for the same rea­sons, and with the same reg­u­la­to­ry con­cerns. Drug de­vel­op­ers have been in­creas­ing­ly whipped up about the op­por­tu­ni­ties here. Imag­ine a de­vice that could alert a pa­tient and physi­cian of heart risks, or a pend­ing episode of ma­jor de­pres­sion or schiz­o­phre­nia. How well are Parkin­son's symp­toms be­ing con­trolled by a drug?
Ap­ples been play­ing a slow de­vel­op­ment game here, know­ing that they're not go­ing to get any help from the FDA. That will have to change. The new FDA will make a point of open­ing up the reg­u­la­to­ry road­way on new med tech, en­cour­ag­ing play­ers like Ap­ple to dive deep­er.
And a per­son­al fa­vorite: Pub­lish­ing CRLs
Got­tlieb: "(T)he FDA should be re­quired to dis­close its rea­sons for re­ject­ing a drug."
It's a well known fact that de­vel­op­ers rou­tine­ly mis­rep­re­sent the con­tents of these re­jec­tion no­tices. Some big de­vel­op­ers, like Am­gen and No­var­tis, oc­ca­sion­al­ly don't even both­er try­ing.
In his 2010 col­umn for the Wall Street Jour­nal, Got­tlieb signed off on his sup­port for that long-await­ed piece of re­form. Know­ing that the FDA will pub­lish these let­ters — or pro­vide the con­tents some oth­er way — would save a lot of time and grief spec­u­lat­ing about what's hap­pen­ing. And it will keep de­vel­op­ers on the straight and nar­row path as they de­sign tri­als and map a reg­u­la­to­ry path­way most like­ly to suc­ceed.
The prospect of a pub­lic hang­ing at the FDA would fo­cus de­vel­op­ers' minds won­der­ful­ly.