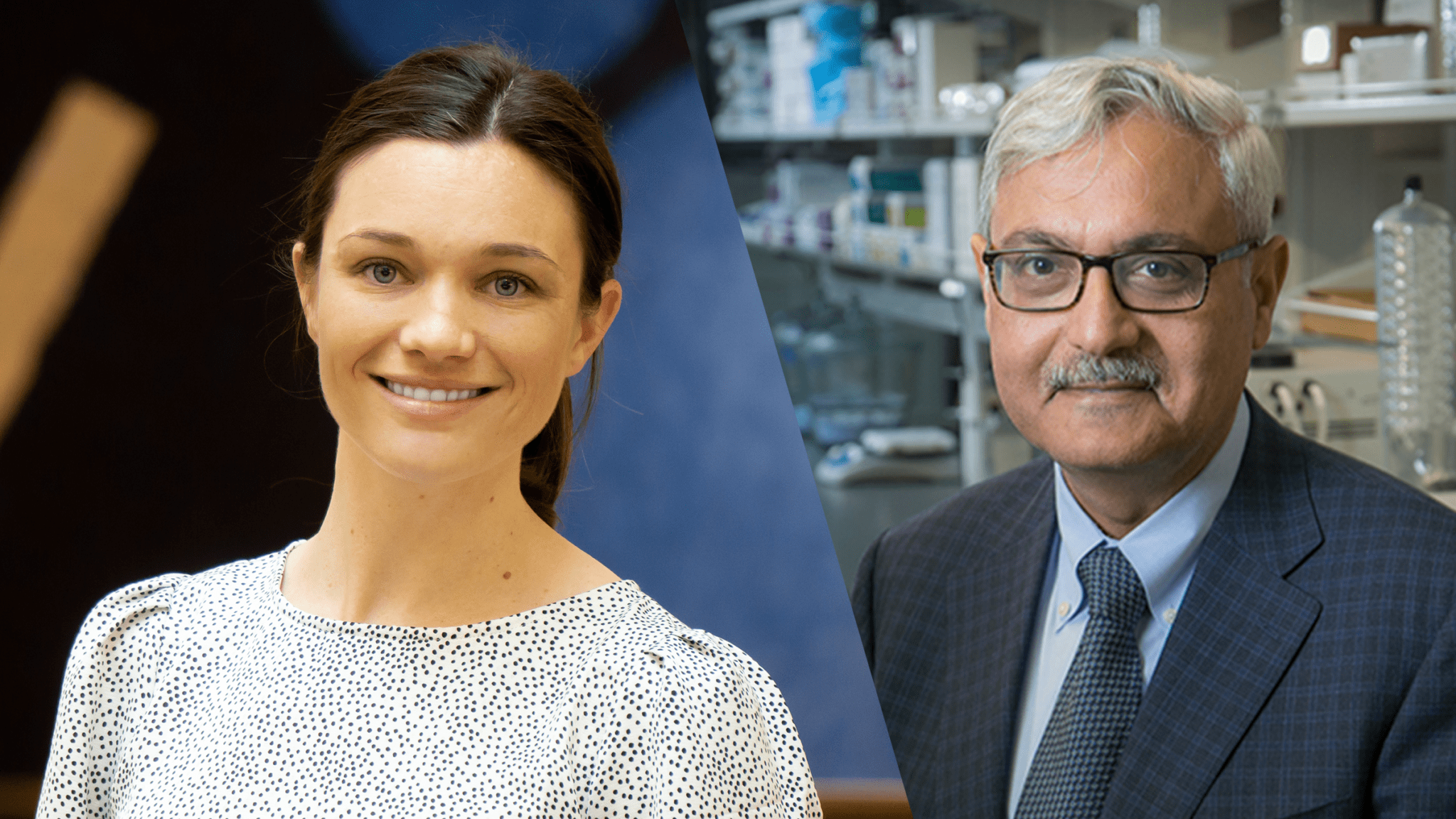 Kelli Luginbuhl and Ashutosh Chilkoti
Start­up sets out to tack­le the gene ther­a­py man­u­fac­tur­ing cri­sis
Af­ter Kel­li Lug­in­buhl fin­ished her PhD, her ad­vi­sor, Duke bio­engi­neer and Phase­Bio co-founder Ashutosh Chilkoti, sat her down and asked if she want­ed to launch and then run a com­pa­ny. Chilkoti had a once-ob­scure tech­nol­o­gy he and the ven­ture cap­i­tal­ist Joe McMa­hon thought could form the ba­sis of his sec­ond com­pa­ny and fi­nal­ly pay huge div­i­dends. Lug­in­buhl knew the tech from years in his lab and was al­ready look­ing for biotech jobs. It all added up.
Three years, some strate­giz­ing, and 10 or so pitch meet­ings lat­er, the trio is launch­ing Isol­ere Bio, with $7 mil­lion in seed fund­ing led by North­pond Ven­tures and tech­nol­o­gy they be­lieve can al­low gene ther­a­py com­pa­nies to vast­ly in­crease the num­ber of dos­es they can pro­duce. It's one po­ten­tial so­lu­tion to a slow-boil­ing cri­sis that has be­come in­creas­ing­ly acute, as new com­pa­nies strug­gle to get the ma­te­ri­als they need for tri­als and some com­mon dis­eases re­main the­o­ret­i­cal­ly un­fix­able by gene ther­a­py, be­cause com­pa­nies would nev­er be able to make enough dos­es for that many pa­tients.
The prob­lem is par­tial­ly that the fa­cil­i­ties don't yet ex­ist to pro­duce this much of gene ther­a­py. Ex­perts, how­ev­er, al­so point to an­ti­quat­ed man­u­fac­tur­ing process­es.
"In gene ther­a­py, man­u­fac­tur­ing has a lot of in­ef­fi­cien­cies to over­come, which our tech­nol­o­gy is unique­ly po­si­tioned to ad­dress," Lug­in­buhl, who serves as CEO, told End­points News.
Large phar­ma com­pa­nies and CD­MOs have known about the gene ther­a­py man­u­fac­tur­ing short­fall for a few years, spend­ing bil­lions to retro­fit old drug-mak­ing fa­cil­i­ties or build new ones to as­sure ca­pac­i­ty for a fu­ture where hun­dreds of gene ther­a­pies are in clin­i­cal tri­als and dozens are on the mar­ket (cur­rent­ly on­ly two are ap­proved in the US, both for rare dis­eases). More re­cent­ly, though, a small hand­ful of star­tups have tried to not on­ly build new fac­to­ries but rein­vent how gene ther­a­pies are made, turn­ing a large­ly aca­d­e­m­ic process in­to an in­dus­tri­al one. That in­cludes the George Church spin­out 64xBio and the mon­strous­ly backed Bob Nelsen start­up Re­silience.
Like Re­silience and 64x, Isol­ere is try­ing to boost the pro­duc­tion of AAV, the non-dis­ease caus­ing virus that most gene ther­a­py com­pa­nies use to de­liv­er healthy or func­tion­al re­place­ment genes in­to pa­tients. They're do­ing so by chang­ing one ob­scure process in the man­u­fac­tur­ing chain: how AAV is fil­tered out of the huge bags of cells used to pro­duce the virus.
AAVs are large, 20-sided par­ti­cles, but cur­rent­ly man­u­fac­tur­ers fil­ter the virus­es out with the same decades-old pro­ce­ses they would use for much small­er mol­e­cules: chro­matog­ra­phy columns, ver­ti­cal tubes where you mix a so­lu­tion from the cells with beads that bind to and pre­vent the AAV from pass­ing through ini­tial­ly, while every­thing else flush­es out. It's high­ly in­ef­fi­cient, though, Lug­in­buhl said. Among oth­er is­sues, the columns have low ca­pac­i­ty. Be­tween 70% and 80% of the so­lu­tion is gen­er­al­ly lost, Lug­in­buhl said.
Chilkoti's lab is known for its work on bio­ma­te­ri­als, the ones he put to use found­ing Phase­Bio, hop­ing to build drugs that float­ed through the body dif­fer­ent­ly and en­abled more pa­tient-friend­ly dos­ing reg­i­mens. The bio­ma­te­ri­als Isol­ere is bring­ing for­ward bind to the AAV and form the same kind of liq­uid-liq­uid sep­a­ra­tion as you see in oil in wa­ter emul­sions — like a pro­tec­tive bub­ble around AAV, sep­a­rat­ing it from the rest of the so­lu­tion.
That ma­te­r­i­al can shep­herd the AAV through the fil­tra­tion process, Lug­in­buhl said. The goal is to im­prove yields by 50%.
It's "a huge pain point in AAV man­u­fac­tur­ing that we're po­si­tioned to ad­dress," she said.
Lug­in­buhl said their tech­nol­o­gy can work on any AAV and added, rel­a­tive­ly seam­less­ly, in­to ex­ist­ing man­u­fac­tur­ing process­es. So far, they've on­ly test­ed it on 2 liter tanks, but she said they've been work­ing with ma­jor gene ther­a­py com­pa­nies and hope to sign a co-de­vel­op­ment deal that would let them scale up the process.
The goal is to get to the mar­ket in 16 months. A Se­ries A is in the works, she said, but of less­er con­cern. For now, they have the run­way, she said, and the field is in dire need of new tech­niques.
"You hear that quote that we're train­ing chil­dren for jobs that don't ex­ist to­day," she said. "The med­i­cines of the fu­ture are modal­i­ties we may not even know ex­ist to­day. And so it's im­por­tant to be ready to man­u­fac­ture the next gen­er­a­tion of med­i­cines."
"To do that we need new ideas and new in­no­va­tions in man­u­fac­tur­ing," she added. "The down­stream pu­rifi­ca­tion field had re­al­ly re­mained quite stag­nant."