An­a­lysts write off Di­men­sion's lead pro­gram af­ter see­ing weak da­ta on he­mo­phil­ia B, shares plunge
Shares of Di­men­sion Ther­a­peu­tics $DMTX were pum­meled on Tues­day, af­ter the biotech post­ed sub­par Fac­tor IX scores on its gene ther­a­py pro­gram for he­mo­phil­ia B.
By the num­bers: Pa­tients in one co­hort tak­ing DTX101 had peak Fac­tor IX (FIX) ex­pres­sion of 13%, 20% and 12% over 4 to 8 weeks, ac­cord­ing to in­ves­ti­ga­tors. At the 12-week fol­lowup, though, the scores had slipped to 5% and 8% in two pa­tients at 12-weeks fol­low-up, and 7% for the third pa­tient at 7 weeks. "For the low-dose co­hort, ex­pres­sion lev­els achieved 10-11% peak ac­tiv­i­ty, sta­bi­liz­ing be­tween 3-4% at last fol­low-up."
Spark Ther­a­peu­tics, which has a ri­val gene ther­a­py for he­mo­phil­ia B, has al­ready boast­ed that four par­tic­i­pants ex­pe­ri­enced con­sis­tent and sus­tained fac­tor IX ac­tiv­i­ty lev­els, with a mean greater than 30% of nor­mal. But Spark al­so has had to con­tend with ev­i­dence of an im­mune re­sponse that has had to be bat­ted back with steroids.
In ad­di­tion, Di­men­sion re­port­ed el­e­va­tions in ala­nine amino­trans­ferase (ALT) — ev­i­dence of liv­er tox­i­c­i­ty — in 5 of 6 pa­tients, spurring a need to use steroids. One pa­tient in co­hort 2 ex­pe­ri­enc­ing a grade 4 ad­verse event due to an el­e­vat­ed lab­o­ra­to­ry ALT, and the biotech is hold­ing back on dos­ing co­hort 3 un­til they have a chance to re­view things with the FDA.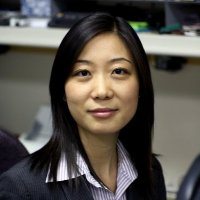 Gena Wang, Jef­feries
That's not what an­a­lysts want­ed to see.
Re­port­ed Gena Wang at Jef­feries:
DMTX re­port­ed He­moB da­ta which ap­pears sub­par with 3-8% FIX ac­tiv­i­ty and steroid use in 5/6 pts. While we see lim­it­ed chance in He­moB with cur­rent da­ta, we be­lieve pun­ish­ment is over­done (trad­ing be­low cash). He­moA oppt re­mains some­what open and we see a sig­nif­i­cant­ly dif­fer­ent bar for the OTC pro­gram (urea-cy­cle dis­or­der, da­ta could be in 2017). PT low­ered to $7 to re­flect re­duced oppt in he­mo­phil­ia but main­tain Buy rat­ing and we see up­side from here.
The com­par­i­son be­tween Di­men­sion and its top ri­val proved un­ap­peal­ing to in­vestors, who slashed Di­men­sion's shares by about half in mid-day trad­ing.
UniQure has an­oth­er he­mo­phil­ia B gene ther­a­py it's work­ing on, which has al­so paled in com­par­i­son with Spark's ef­fort. Bio­Marin, mean­while, is seen as well out in front with its work on he­mo­phil­ia A.
"We are en­cour­aged by the ap­par­ent ef­fi­cien­cy of gene trans­duc­tion and the ear­ly trend we are see­ing in sus­tained FIX ac­tiv­i­ty across both co­horts with our wild-type FIX AAVrh10 vec­tor in pa­tients. We con­tin­ue to ex­plore the ther­a­peu­tic win­dow for DTX101 as our da­ta ma­ture and in light of the ALT ris­es that ap­pear to be as­so­ci­at­ed with a de­cline in FIX ac­tiv­i­ty," said Dr. An­nal­isa Jenk­ins, MBBS, FR­CP, Chief Ex­ec­u­tive Of­fi­cer of Di­men­sion.