An­oth­er pro­tein degra­da­tion biotech emerges, with the promise of a new ap­proach from an old hand
The mon­ey keeps pour­ing in for pro­tein degra­da­tion.
A field that six years ago had the fi­nan­cial equiv­a­lent of tum­ble­weed is now flush with cash. Last month, a pair of biotechs, now backed with big phar­ma and big biotech deals, land­ed a to­tal of $222 mil­lion in fund­ing on con­sec­u­tive days. And in Oc­to­ber, Plex­i­um launched out of San Diego with $28 mil­lion in Se­ries A fi­nanc­ing and a promise for a dif­fer­ent ap­proach to a bare­ly adult field.
The newest ad­di­tion comes out of Scot­land and a for­mer fel­low of the field's god­fa­ther, Alessio Ciul­li. Ciul­li has for the last cou­ple years been help­ing in­cu­bate the com­pa­ny, known as Am­phista, in his lab at the Uni­ver­si­ty of Dundee, un­til last Oc­to­ber, when Am­phista moved to their own lab out­side Glas­gow. To­day they an­nounced a $7.5 mil­lion Se­ries A – with the promise of a larg­er Se­ries B lat­er this year – but they're keep­ing the specifics of the tech­nol­o­gy close to the vest.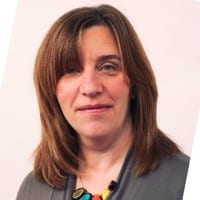 Nic­ki Thomp­son
"I can't go in­to too much de­tail about ex­act­ly how we're do­ing this," CEO Nico­la Thomp­son told End­points News. "What I can say is that with our nov­el ap­proach and our nov­el bi­func­tion­al mol­e­cule and our de­grade-in­duc­er war­head, we're in­de­pen­dent of the tra­di­tion­al ap­proach­es."
Mean­ing that Am­phista works dif­fer­ent­ly — how­ev­er they de­fine dif­fer­ent­ly — than pro­tein degra­da­tion has so far, quite pos­si­bly by us­ing a few dif­fer­ent pro­teins.
In 2001, Craig Crews and Ray­mond De­shaies pub­lished a pa­per in the Pro­ceed­ings of the Na­tion­al Acad­e­my of the Sci­ences ex­plain­ing how you could use a mol­e­cule to take dis­ease-caus­ing pro­tein and ba­si­cal­ly shoot it di­rect­ly in­to the body's garbage dis­pos­al sys­tem.
The mol­e­cule, called PRO­TAC or pro­te­ol­y­sis-tar­get­ing chimera, looks like a dumb­bell. On one side are atoms that bind to the pro­tein re­searchers want to re­move. On the oth­er side are atoms that bind to a pro­tein known as an E3 lig­ase. The E3 lig­ase sends the tar­get­ed pro­tein to a mol­e­c­u­lar shred­der. One of the ad­van­tages of such an ap­proach over tra­di­tion­al small mol­e­cules and an­ti­bod­ies is that it doesn't re­quire an ac­tive site; you can use it to drug troves of the pre­vi­ous­ly in­ac­ces­si­ble pro­teins and the dis­eases they caused.
Pro­tac-1, as the pro­to­type was called, was too large to work as a drug in hu­mans. But in 2012, with fund­ing from Glax­o­SmithK­line, Crews, his grad stu­dent and a for­mer fel­low in his lab – Ciul­li – found a small mol­e­cule binder for an E3 lig­ase called von Hip­pel–Lin­dau dis­ease tu­mour sup­pres­sor, or sim­ply VHL. The next year Crews found­ed Arv­inas, which in 2019 be­came the first com­pa­ny to bring a pro­tein de­grad­er in­to the clin­ic, and a host of biotechs and large drug­mak­ers soon joined the game.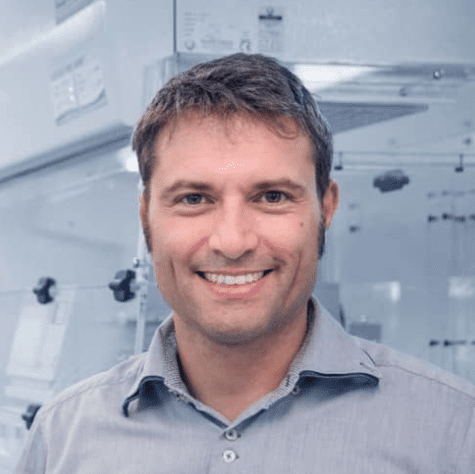 Alessio Ciul­li
These biotechs and phar­ma com­pa­nies, though, al­most ex­clu­sive­ly use VHL or one of three oth­er E3 lig­as­es, out of the hun­dreds that ex­ist in the hu­man body. A ma­jor goal of the field has been to ex­pand that short list of us­able lig­as­es, and with them, the po­ten­tial of pro­tein degra­da­tion as ther­a­py. That ap­pears to be where Ciul­li and Am­phista step in, al­though it's un­clear.
"We're in­de­pen­dent of the tra­di­tion­al E3 lig­as­es that are used com­mon­ly by the field," Thomp­son, who pre­vi­ous­ly worked in drug dis­cov­ery and busi­ness de­vel­op­ment for Roche and GSK, said. "We don't use those E3 lig­as­es."
Asked if they used oth­er E3 lig­as­es, Thomp­son de­clined to com­ment.
The idea, Thomp­son said, is that us­ing their ap­proach they'll be able to over­come some is­sues re­cent­ly seen with the cur­rent lig­as­es, cit­ing re­sis­tance mech­a­nisms.
The com­pa­ny will start in on­col­o­gy, with plans to an­nounce an ini­tial tar­get lat­er this year. Am­phista now con­sists of 10 em­ploy­ees, pri­mar­i­ly bi­ol­o­gists and chemists, work­ing out of a lab in BioC­i­ty just out­side of Glas­gow, al­though Thomp­son de­clined to an­swer if work was be­ing done at the lab amid the Covid-19 pan­dem­ic.
"We are hav­ing to think about work­ing dif­fer­ent­ly," Thomp­son said. "At the mo­ment, I'm not see­ing a big im­pact on our over­ar­ch­ing time­lines."