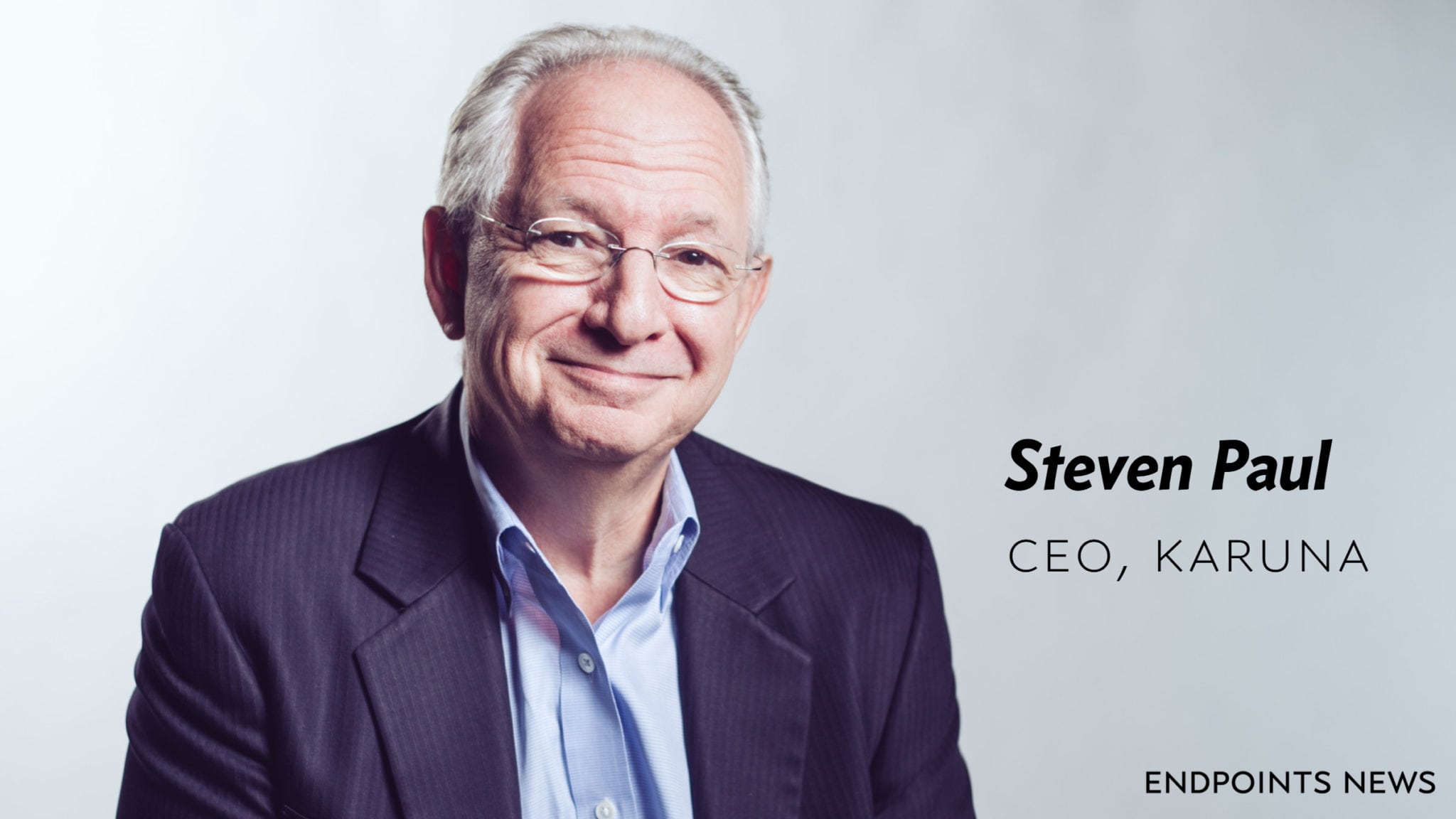 Arch-backed biotech hauls in a fast B round as its re­born an­ti-psy­chot­ic zooms to a PhII fin­ish line
Steve Paul has booked a $68 mil­lion clin­i­cal round for his sin­gle as­set an­ti-psy­chot­ic biotech now in a Phase II study for schiz­o­phre­nia. And with $110 mil­lion in to­tal an­nounced ven­ture back­ing in 7 months, this one — Karuna Ther­a­peu­tics with a com­bo drug styl­ish­ly dubbed KarXT — is shap­ing up as a pos­si­ble turn in­to the fast lane to Wall Street, 2018 style.
Paul, you may re­call, com­plet­ed a lengthy de­vel­op­ment stint at Eli Lil­ly, where he spent a con­sid­er­able amount of time beat­ing his head against the stone wall of Alzheimer's as the phar­ma gi­ant burned through bil­lions in its mis­guid­ed ef­forts to come up with a block­buster drug for that dis­ease. One of those drugs he stud­ied was the mus­carinic re­cep­tor ag­o­nist xanome­line, an an­ti-psy­chot­ic which was shelved with many oth­ers due to some se­ri­ous side ef­fects. Karuna is com­bin­ing that old drug with tro­spi­um chlo­ride (Sanc­tura) to con­trol the side ef­fects, look­ing to fol­low up with clin­i­cal da­ta to back them up ahead of what would have to be an am­bi­tious piv­otal plan to get through to a mar­ket­ing ap­proval.
As the A round came through last Au­gust, the el­der and more ex­pe­ri­enced 35-year vet Paul el­bowed com­pa­ny founder An­drew Miller aside for the CEO post, with Miller stay­ing on as COO. And the com­pa­ny has laid out plans for get­ting this drug to the mar­ket for both schiz­o­phre­nia as well as Alzheimer's, which we all know is no easy tar­get — even for an­ti-psy­chotics.
"We did see an ef­fect on mem­o­ry," Paul told me last sum­mer, "sim­i­lar to Ari­cept. What was quite sur­pris­ing, we mea­sured psy­chot­ic symp­toms in a de­ment­ed el­der­ly sub­group that had psy­chosis. And what we saw was a nice dose-de­pen­dent re­duc­tion in para­noia, vo­cal out­bursts and so on, com­pared to place­bo."
At that time the biotech was still vir­tu­al, with on­ly 6 FTEs and a cast of sup­port­ing play­ers in the out­sourc­ing world. Now there's more than $100 mil­lion rid­ing on their abil­i­ty to re­pro­duce the good re­sults, with­out any re­peat of the bad an­ti­cholin­er­gic ad­verse ef­fects you might ex­pect to see in a mus­carinic acetyl­choline re­cep­tor ag­o­nist.
It shouldn't take too long to find out what they have. The biotech's ran­dom­ized Phase II, with 180 pa­tients, should wrap in ear­ly No­vem­ber, ac­cord­ing to clin­i­cal­tri­als.gov.
ARCH's Bob Nelsen led the lat­est round, with this big group com­ing in be­hind: Fi­deli­ty Man­age­ment & Re­search Com­pa­ny, Even­tide As­set Man­age­ment, Piv­otal bioVen­ture Part­ners, Part­ner Fund Man­age­ment, Well­come Trust, Sands Cap­i­tal, Alexan­dria Ven­ture In­vest­ments, and founder PureTech Health.