Are­na sheds ties to weight drug Belviq, com­plet­ing a makeover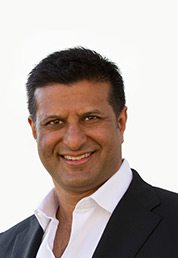 Amit Mun­shi, Are­na
From now on, you can scratch any lin­ger­ing rep Are­na Phar­ma­ceu­ti­cals $AR­NA had as an obe­si­ty-fo­cused biotech. Four-and-a-half years af­ter the FDA ap­proved its weight drug Belviq for mar­ket­ing, and long af­ter vi­sions of block­buster sales van­ished like a mi­rage, the biotech has sold off rights to the drug to its part­ner Ei­sai and backed away from any re­main­ing fi­nan­cial com­mit­ment for fur­ther tri­al work.
Right on cue, Are­na al­so filed a $50 mil­lion ATM Wednes­day af­ter­noon.
In its place Are­na will take a promise for up to $26 mil­lion in com­mer­cial mile­stones and redi­rect about $80 mil­lion it es­ti­mates were ear­marked for Belviq. That mon­ey will now be put it in ser­vice of three mid-stage drugs in its pipeline. There's an­oth­er $23 mil­lion in sup­port pay­ments and a 31.5% roy­al­ty will be re­placed with roy­al­ty pay­ments of 9.5% on an­nu­al glob­al net sales of lor­caserin less than or equal to $175 mil­lion, 13.5% on an­nu­al glob­al net sales greater than $175 mil­lion but less than or equal to $500 mil­lion and 18.5% on an­nu­al glob­al net sales greater than $500 mil­lion.
Quar­ter­ly sales and roy­al­ties for the drug, though, have been in de­cline.
The move com­pletes a shift set in mo­tion by CEO Amit Mun­shi, who stepped in last spring just as his for­mer biotech — the biosim­i­lar man­u­fac­tur­er Epirus — was about to crash and burn. Mun­shi has al­ready re­or­ga­nized Are­na, lay­ing off 120 full time po­si­tions; the biotech now has about 50 staffers for its de­vel­op­ment mis­sion. And Mun­shi's set to look to four da­ta read­outs on Are­na's whol­ly-owned or part­nered as­sets.
Their top clin­i­cal pro­gram is for etrasi­mod (APD334), which Mun­shi de­scribes as the "sec­ond S1P mod­u­la­tor be­hind Re­cep­tos (ozan­i­mod)," bought out by Cel­gene for more than $7 bil­lion. Phase II da­ta is due in late 2017. Ra­linepag (ADP811) will de­liv­er mid-stage da­ta on pul­monary ar­te­r­i­al hy­per­ten­sion lat­er in the year. And their cannabi­noid 2 re­cep­tor ag­o­nist for Crohn's pain wraps the in-house pipeline. Nelotanserin, a 5-HT2A in­verse ag­o­nist, is part­nered with Ax­o­vant for de­men­tia as­so­ci­at­ed psy­chosis.
If you look back at the wave of obe­si­ty drugs near­ing the FDA at the same time in 2012, Mun­shi tells me, each was linked by "some an­a­lyst with bil­lion-plus peak sales. Each are sub-$50 mil­lion to­day." Lin­ger­ing safe­ty con­cerns from an ear­li­er gen­er­a­tion of weight drugs cre­at­ed an over­hang of con­cerns that Are­na and Ei­sai were nev­er able to shake, says the CEO. Pay­ers nev­er stepped up with a com­mit­ment to re­im­burse for the drugs. But he says he still be­lieves that Ei­sai can turn it around, look­ing for more da­ta from a longterm car­dio out­come tri­al.
Now, though, the new, slimmed down mis­sion at Are­na will be mi­nus the weight of Belviq.