Ar­rest­ed and charged with fraud, Pixar­Bio CEO Frank Reynolds could face up to 20 years in prison
A cu­ri­ous se­ries of set­backs at Pixar­Bio has cul­mi­nat­ed in the ar­rest of and charges against CEO Frank Reynolds and two of his as­so­ciates, the SEC an­nounced to­day.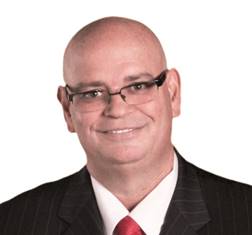 Frank Reynolds
Reynolds, 51, was charged by crim­i­nal com­plaint with se­cu­ri­ties fraud along­side Jay Herod and Ken­neth Strom­s­land. Ac­cord­ing to the com­plaint, the trio al­leged­ly be­gan de­fraud­ing in­vestors as soon as Reynolds found­ed the com­pa­ny in Au­gust 2013, "by mak­ing false and mis­lead­ing state­ments about the com­pa­ny — its prospects, its fi­nanc­ing, and the back­ground and track record of Reynolds — and by en­gag­ing in ma­nip­u­la­tive trad­ing of its shares."
An ex­am­ple of those state­ments came in the form of an email and mem­o­ran­dum to po­ten­tial in­vestors, in which Reynolds promised "a HUGE re­turn on in­vest­ment (ROI)" based on a mar­ket val­ue of $1 bil­lion dol­lars. In re­al­i­ty, the com­plaint states, Pixar­Bio did not have such mar­ket val­ue, or, as it claims, a prod­uct to end "thou­sands of years of mor­phine and opi­ate ad­dic­tion."
From the US At­tor­ney's Of­fice in Mass­a­chu­setts:
Rather, the com­plaint al­leges, the prospec­tive drug, car­ba­mazepine, is not a treat­ment for opi­ate ad­dic­tion at all, but an ex­ist­ing drug for which Pixar­Bio pur­port­ed to have de­vel­oped an ad­di­tion­al means of de­liv­ery, via in­jec­tion, in a time-re­lease form.
Pixar­Bio $PXRB re­verse-merged its way to the OTC mar­ket in Au­gust 2016. About three months lat­er, Herod and Strom­land al­leged­ly be­gan trad­ing its stock in a way that "sim­u­lat­ed mar­ket in­ter­est and ar­ti­fi­cial­ly pushed up the trad­ing price," us­ing tech­niques known as "matched trad­ing" and "mark­ing the close."
Last year, when End­points News re­port­ed that the biotech was forced to give up its leased prop­er­ty in Mass­a­chu­setts and lay off half of its staff as it bled cash and grap­pled with an SEC fraud in­ves­ti­ga­tion, Reynolds re­spond­ed with a lengthy state­ment deny­ing any wrong­do­ing.
"We've en­joyed the en­gage­ment with the SEC," he wrote. "I have an ex­cel­lent SEC com­pli­ance ed­u­ca­tion and SEC com­pli­ance ex­pe­ri­ence so we've all learned a lot about fu­ture SEC com­pli­ance to en­sure we'll avoid fu­ture re­views. We have nev­er been ac­cused of Fraud as [Boston Busi­ness Jour­nal re­porter Max Sten­dahl] stat­ed, so we were shocked to read it but we'll wrap up the SEC re­view and move for­ward to­ward FDA ap­proval."
Boast­ing its tech­nol­o­gy's roots in the lab of MIT pro­fes­sor Bob Langer, the com­pa­ny pre­vi­ous­ly pre­dict­ed an ap­proval and mar­ket launch for its pain treat­ment in 2018.
Now, as Reynolds, Herod and Strom­s­land face a judge in the Dis­trict Court of Mass­a­chu­setts, they are look­ing at a max­i­mum fine of $5 mil­lion and a sen­tence of no greater than 20 years in prison if con­vict­ed.