As Con­gress bat­tles over gov­ern­ment drug price ne­go­ti­a­tion, new poll finds strong sup­port on both sides of the aisle
More than 80% of Amer­i­cans "strong­ly fa­vor" or "some­what fa­vor" al­low­ing the fed­er­al gov­ern­ment to ne­go­ti­ate with drug com­pa­nies, in­clud­ing 92% of De­moc­rats and 76% of Re­pub­li­cans polled by the Kaiser Fam­i­ly Foun­da­tion late last month and ear­li­er this month.
The poll re­leased Tues­day morn­ing comes as Con­gress re­mains dead­locked on how to find a way to give drug price ne­go­ti­at­ing pow­er to Medicare, as part of an ef­fort to help pay for a larg­er so­cial spend­ing bill from the De­moc­rats. With on­ly a slim ma­jor­i­ty in the Sen­ate, and Pelosi's planned vote dead­line com­ing up quick­ly at the end of the month, De­moc­rats seem to be re­peat­ing their past fail­ures, find­ing holes in their buck­et of sup­port.
Sens. Kyrsten Sine­ma of Ari­zona and Bob Menen­dez of New Jer­sey, where Mer­ck, No­var­tis and J&J are based or have US head­quar­ters,, both seem, at best, to be on the fence with drug pric­ing re­forms. Ac­cord­ing to Politi­co, Rep. Scott Pe­ters, a De­mo­c­rat who like­ly won't back drug re­forms, said that Sine­ma op­pos­es the cur­rent drug price re­form ideas, al­though Sine­ma's spokesper­son tried to walk back those com­ments.
But the KFF poll of about 1,150 US adults, in­clud­ing 474 adults ages 65 and old­er, may bring some so­lace to De­moc­rats who thought their sup­port for drug price ne­go­ti­a­tions would hurt them at the polls.
The poll found that 84% of re­spon­dents found the fol­low­ing state­ment "very con­vinc­ing" or "some­what con­vinc­ing" that "ne­go­ti­a­tion is need­ed be­cause Amer­i­cans pay high­er prices than peo­ple in oth­er coun­tries, many can't af­ford their pre­scrip­tions, and drug com­pa­ny prof­its are too high."
The phar­ma­ceu­ti­cal in­dus­try has long main­tained that al­low­ing the fed­er­al gov­ern­ment to ne­go­ti­ate pre­scrip­tion drug prices in any ca­pac­i­ty will be noth­ing short of crip­pling for the en­tire in­dus­try, lead­ing to less R&D and few­er new drugs. The CBO has warned of al­most 60 few­er new drugs over three decades with a ma­jor Medicare drug price ne­go­ti­a­tions bill. And cu­ri­ous­ly, about 1 in 5 peo­ple sur­veyed on both sides of the aisle said they trust the bio­phar­ma in­dus­try on drug prices.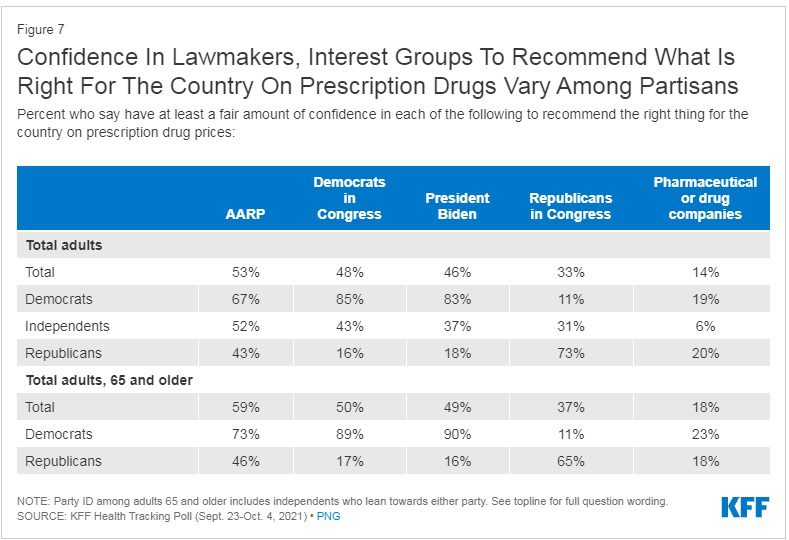 But KFF polling found that on­ly 6% of those sur­veyed said they think "drug com­pa­nies need to charge high prices in or­der to fund the in­no­v­a­tive re­search nec­es­sary for de­vel­op­ing new drugs," while 93% said "that even if U.S. prices were low­er, drug com­pa­nies would still make enough mon­ey to in­vest in the re­search need­ed to de­vel­op new drugs." This view is con­sis­tent across par­ti­san­ship and age groups, KFF said.
In­dus­try group PhRMA quick­ly crit­i­cized the KFF poll on Tues­day, say­ing in a state­ment:
It's un­for­tu­nate when a re­spect­ed or­ga­ni­za­tion is com­pelled to put out a mis­lead­ing poll that con­tra­dicts years of its own non­par­ti­san re­search. This poll doesn't present the whole de­bate and re­lies on straw-man ar­gu­ments to steer the pub­lic to­ward a de­sired out­come. As Kaiser has shown for years, the pub­lic over­whelm­ing­ly re­jects gov­ern­ment price-set­ting when they learn it threat­ens ac­cess to med­i­cines and fu­ture in­no­va­tion.