As coro­n­avirus out­break reach­es 'tip­ping point,' GSK lends ad­ju­vant tech to Chi­nese part­ner armed with pre­clin­i­cal vac­cine
As the coro­n­avirus orig­i­nat­ing out of Wuhan spreads to South Ko­rea, Italy and Iran, stok­ing al­ready in­tense fears of a pan­dem­ic, Glax­o­SmithK­line has found an­oth­er pair of trust­ed hands to place its ad­ju­vant sys­tem. Chi­na's Clover Bio­phar­ma­ceu­ti­cals will add the ad­ju­vant to its pre­clin­i­cal, pro­tein-based vac­cine can­di­date against SARS-CoV-2.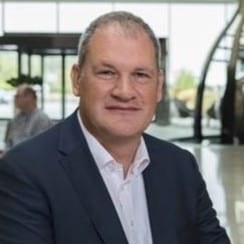 Thomas Breuer
Clover, which is based in the in­land city of Cheng­du, boasts of a plat­form dubbed Trimer-Tag that pro­duces co­va­lent­ly-trimer­ized fu­sion pro­teins. Its can­di­date, COVID-19 S-Trimer, re­sem­bles the vi­ral spike (S)-pro­tein found in the virus.
Thomas Breuer, CMO of GSK Vac­cines, praised the re­search as "cut­ting edge" and their pro­pos­al promis­ing.
Ear­li­er this month the phar­ma gi­ant put out word that it's mak­ing its plat­form avail­able to a net­work of in­ves­ti­ga­tors af­fil­i­at­ed with CEPI, the Coali­tion for Epi­dem­ic Pre­pared­ness In­no­va­tion in Oslo.
"The use of an ad­ju­vant is of par­tic­u­lar im­por­tance in a pan­dem­ic sit­u­a­tion since it may re­duce the amount of vac­cine pro­tein re­quired per dose, al­low­ing more vac­cine dos­es to be pro­duced and there­fore con­tribut­ing to pro­tect more peo­ple," Breuer said in a state­ment.
There's no time­line on when their can­di­date might be ready for a clin­i­cal tri­al, let alone be­com­ing com­mer­cial­ly avail­able. But Clover said it has "one of the largest in-house, com­mer­cial-scale cGMP bio­man­u­fac­tur­ing ca­pa­bil­i­ties in Chi­na," which would al­low it to rapid­ly scale up pro­duc­tion of a new vac­cine.
Where­as doc­tors in Chi­na and around the world have had some suc­cess treat­ing Covid-19 pa­tients with un­proven but seem­ing­ly ef­fec­tive ther­a­pies — from HIV drugs to a malar­ia med to oth­er ex­per­i­men­tal an­tivi­rals — the plight of Wuhan has demon­strat­ed how the sheer size of the pa­tient pop­u­la­tion can over­whelm med­ical sys­tems and leave many be­hind. These fears are ex­ac­er­bat­ed by the up­dates pour­ing in from Iran, where 50 new deaths have been re­port­ed in one city, as well as Ko­rea, whose case­load has surged to over 800 in a mat­ter of days. Vac­cines re­main the Holy Grail.
Aside from the more tra­di­tion­al ap­proach, CEPI is al­so back­ing new ef­forts to de­vel­op an mR­NA vac­cine, which would hi­jack the cell's ma­chin­ery and coax the body to make its own anti­gens that then kick up an im­mune re­sponse. Both CEPI part­ner Cure­Vac and Mod­er­na, work­ing with the NIH, have in­di­cat­ed that they will be ready for hu­man test­ing ear­ly this sum­mer — a much faster pace al­beit for a much new­er tech­nol­o­gy.
The abil­i­ty to mass man­u­fac­ture any suc­cess­ful mR­NA vac­cines that emerge, though, still re­mains in ques­tion and the NIH has plead­ed with large drug­mak­ers to step up.