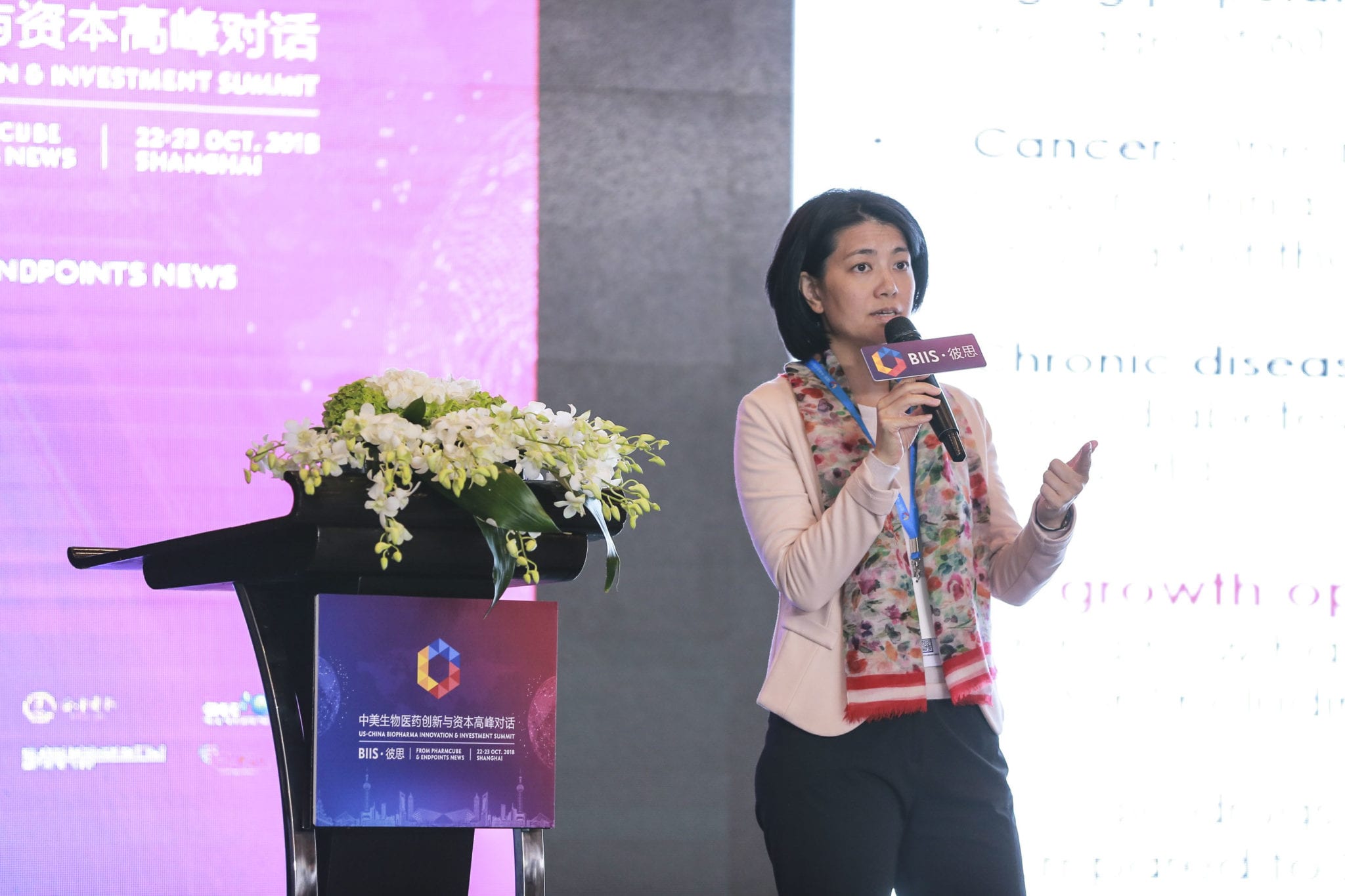 Nisa Leung speaking in Shanghai, October 2018, at BIIS 2018 (credit: Endpoints, PharmCube)
As health­care heats up on HKEX, Qim­ing sets up $500M fund ded­i­cat­ed to pub­lic com­pa­nies
Since its found­ing in 2006, the part­ners at Qim­ing have built a rep for them­selves as pre­scient ven­ture in­vestors, of­fer­ing cap­i­tal to star­tups like Zai Lab at a time when it was far from cer­tain whether Chi­na's nascent bio­phar­ma in­dus­try would ever take off.
But it did, and now Qim­ing has gath­ered $500 mil­lion to branch out.
The VC firm is now launch­ing a pub­lic eq­ui­ties unit dubbed Springhill Fund, which will in­vest in list­ed com­pa­nies in a va­ri­ety of health­care sub­sec­tors with an ini­tial re­gion­al fo­cus in Greater Chi­na and Asia, End­points News has learned.
Nisa Le­ung, one of Qim­ing's four man­ag­ing part­ners and the point per­son for Chi­nese bio­phar­ma, will be spear­head­ing this fund.
Hong Kong's 2018 re­form of its stock list­ing rules al­low­ing pre-rev­enue biotechs to go pub­lic on the HKEX has en­abled growth through­out the ecosys­tem, ac­cord­ing to Qim­ing. The city has be­come the sec­ond-largest venue for biotech IPOs, as more Chi­nese biotechs jump to the pub­lic mar­ket at a faster pace.
Qim­ing's past track record may of­fer a hint on where the new mon­ey will go. Now on­to its sev­enth fund (which closed at $1.2 bil­lion), it counts some 370 health and tech com­pa­nies in the port­fo­lio. On top of the big­ger names like Zai Lab, Tigermed and CanSi­no, the biotech bench fea­tures a slate of can­cer play­ers like In­ven­tis­Bio, Ab­bisko and Ja­co­bio, as well as rare dis­ease spe­cial­ist CAN­bridge.
Through its new­er US arm, Qim­ing has al­so joined top-tier US bets on the hottest ideas state­side, from in vi­vo CAR-T to virus-like par­ti­cle "soc­cer balls."