As NL­RP3 play­ers head for first clin­i­cal face-off, No­vo, Sanofi fu­el trans-At­lantic con­tender with $55M
In the rel­a­tive short his­to­ry of in­flam­ma­some re­search, Adam Keeney sees two time points mark­ing ma­jor break­throughs: the ear­ly 2000s, when the role of in­flam­ma­somes as a ma­jor in­nate im­mu­ni­ty node was elu­ci­dat­ed; and 2015, when sci­en­tists ob­served that an old Pfiz­er com­pound they thought were block­ing IL-1 ac­tu­al­ly tar­get­ed NL­RP3. Keeney's biotech, NodThera, was found­ed the year af­ter along­side sev­er­al oth­ers to cre­ate its own su­pe­ri­or small mol­e­cule drugs.
"It was a rel­a­tive­ly good NL­RP3 in­hibitor, just not a good drug in terms of PK and PD — it need­ed to be giv­en 3, 4 times a day at very high dos­es — but it is a good tool com­pound," the CEO told End­points News.
Hav­ing made some break­throughs on the chem­istry side on the back of $40 mil­lion in Se­ries A cash, NodThera is now ready to har­vest Phase I da­ta on its lead com­pound, push a sec­ond one to­ward the clin­ic, and eval­u­ate sev­er­al more, all based on the same start­ing point.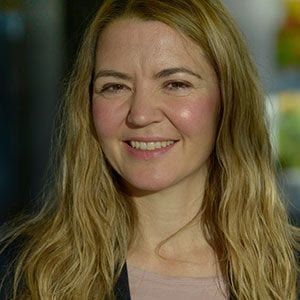 Nan­na Lüneborg
No­vo Ven­tures is lead­ing the $55 mil­lion fund­ing, with both new in­vestors (Cowen Health­care In­vest­ments and Sanofi Ven­tures) and old sup­port­ers (5AM Ven­tures, F-Prime Cap­i­tal, Sofinno­va Part­ners and found­ing in­vestor Ep­i­darex Cap­i­tal) chim­ing in.
If noth­ing else, NodThera is "cer­tain­ly equal" to elite peers like IFM, In­fla­zome, Roche's Je­cure and Olatec, said No­vo Ven­tures part­ner Nan­na Lüneborg. But giv­en the broad ap­pli­ca­tion of this mech­a­nism of ac­tion in in­flam­ma­to­ry con­di­tions, the top team — with Keeney lead­ing a grow­ing clin­i­cal group in Boston, CSO Alan Watt man­ning the head­quar­ters in Cam­bridge, UK and a lab in Seat­tle, WA — is per­haps a more im­por­tant part of the bet.
While No­vo had known NodThera since its found­ing and con­sid­ered NL­RP3 a wor­thy tar­get, the firm wait­ed un­til the C-suite was in place and the pipeline was more ma­ture.
"It's not just about the mol­e­cules here, it's very much about find­ing a clever clin­i­cal de­vel­op­ment path as well," she said.
With quite a so­phis­ti­cat­ed un­der­stand­ing of how the tar­get in­ter­acts chem­i­cal­ly, Keeney said, NodThera al­so boasts of a plat­form that al­lows its sci­en­tists to de­sign drugs with new prop­er­ties to cater to dif­fer­ent dis­eases. The sec­ond can­di­date, for ex­am­ple, makes for a good neu­ro drug be­cause of its abil­i­ty to pen­e­trate the blood-brain bar­ri­er.
The com­ing months, though, will be ded­i­cat­ed to fin­ish­ing the healthy vol­un­teer study of NT-0167, the lead drug, through clin­i­cal proof of con­cept.
"It's a very rich, bio­mark­er-dri­ven Phase I pro­gram that I think will build con­fi­dence in the mol­e­cule (and) that will have dose se­lec­tion da­ta avail­able for it to launch in­to a com­pre­hen­sive clin­i­cal pro­gram," he said.
The re­sult­ing da­ta could po­si­tion NodThera for a pub­lic of­fer­ing, per­haps to be pre­ced­ed by a crossover round — hope­ful­ly one where due dili­gence and oth­er dis­cus­sions aren't done in a pan­dem­ic-strick­en, locked-down world.