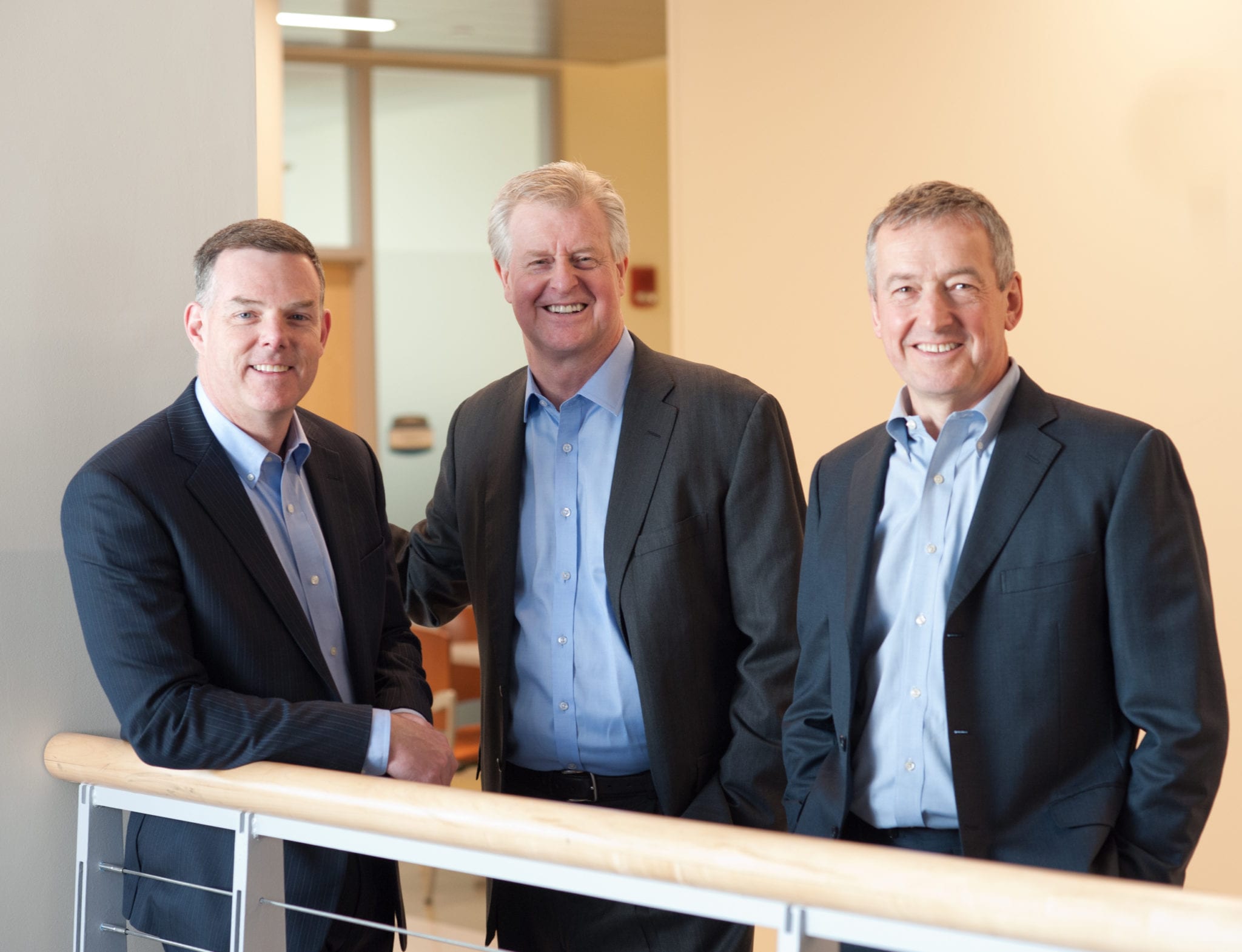 Rallybio founders (L-R): Jeff Fryer, Martin Mackay and Steve Uden
As Sanofi prunes pipeline, ex-Alex­ion crew at Rally­bio picks up ane­mia drug
More than a year af­ter it bought Kymab for $1.5 bil­lion, Sanofi is get­ting rid of a pre­clin­i­cal pro­gram that came with the deal.
Sanofi has out-li­censed its KY1066 an­ti­body to New Haven, CT-based Rally­bio who has re­dubbed it RLYB331. The deal saw Rally­bio make an up­front cash pay­ment of $3 mil­lion to Sanofi in ad­di­tion to promis­ing de­vel­op­ment and com­mer­cial mile­stones and mid to high sin­gle-dig­it roy­al­ties on net sales.
Rally­bio, which was formed by old Alex­ion ex­ecs, is a clin­i­cal-stage biotech fo­cused on de­vel­op­ing ther­a­pies for pa­tients with se­vere and rare dis­eases. Tues­day's deal is fair­ly stan­dard for the biotech, as its mod­el is to scout rare dis­ease drugs in acad­e­mia and phar­ma and form a pipeline of drugs to ex­e­cute a quick piv­ot to reg­u­la­tors.
This deal al­so comes as Sanofi re­shapes it­self through di­vest­ments, pipeline prun­ing and launch­ing spin-offs as CEO Paul Hud­son at­tempts to rein­vig­o­rate the com­pa­ny. By the end of this year, the com­pa­ny is look­ing to re­duce its ap­proved drug port­fo­lio to about 125 fran­chis­es, ei­ther by di­vest­ing or dis­con­tin­u­ing pro­grams.
CEO Mar­tin Mack­ay tells End­points News that this an­ti­body has been on Rally­bio's radar for quite a while. Ac­cord­ing to Mack­ay, RLYB331 can ad­dress se­vere ane­mia with in­ef­fec­tive ery­thro­poiesis and iron over­load, with ap­pli­ca­tions in a range of dis­eases like be­ta-tha­lassemia and a sub­set of myelodys­plas­tic syn­dromes, among oth­ers.
RLYB331 it­self is a mon­o­clon­al an­ti­body that in­hibits Ma­trip­tase-2 (MTP-2), which can in­crease lev­els of an iron-reg­u­lat­ing pep­tide hor­mone. The stan­dard of care for many such hema­to­log­i­cal dis­or­ders leaves some pa­tients with iron over­load-as­so­ci­at­ed ane­mias, which can re­sult in com­pli­ca­tions and even death.
"We see re­al­ly big po­ten­tial here. We've worked in rare dis­eases for many years now. And the key thing about work­ing in rare dis­eases is mak­ing sure that the ben­e­fit is tru­ly trans­for­ma­tive," Mack­ay said. "And we're not look­ing for an in­cre­men­tal step ben­e­fit here."
In terms of a time­line to­ward de­vel­op­ment, Mack­ay said that the ob­jec­tive now is just for Rally­bio to ful­ly un­der­stand the an­ti­body, but it does plan to move quick­ly once that is achieved.
Tues­day's deal comes af­ter Rally­bio brought in sig­nif­i­cant fund­ing over the past sev­er­al years, cul­mi­nat­ing with a $145 mil­lion Se­ries B in 2020.