#AS­CO21: As­traZeneca's PD-L1 Imfinzi tacks on 5-year sur­vival da­ta in NSCLC, which it's call­ing 'un­prece­dent­ed'
Amid a sea of com­peti­tors in PD-(L)1, As­traZeneca has looked to out­run the big dogs in Mer­ck and Bris­tol My­ers Squibb with its Imfinzi. One way to dif­fer­en­ti­ate? Long-term ef­fect — and now As­traZeneca has five-year da­ta in NSCLC it thinks can set its drug apart.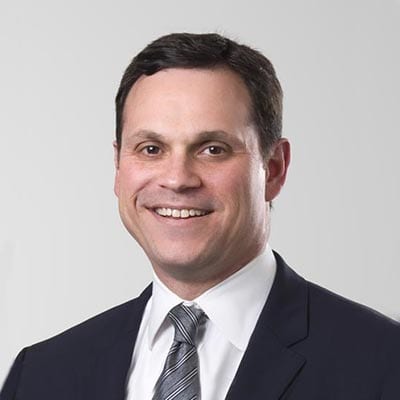 David Spigel
Imfinzi post­ed an over­all sur­vival rate of 43% for Stage III non-small cell lung can­cer pa­tients whose tu­mors can't be re­moved five years af­ter chemora­di­a­tion treat­ment, ac­cord­ing to da­ta from the Phase III PA­CIF­IC study set to be re­leased at this week­end's #AS­CO21.
The OS rate for pa­tients who re­ceived Imfinzi was 10% high­er than those who re­ceived place­bo. His­tor­i­cal­ly, just be­tween 15% and 30% of pa­tients in this group sur­vive for 5 years af­ter treat­ment, but the 43% mark is no­table progress, Sarah Can­non Re­search In­sti­tute CSO David Spigel said in a press re­lease.
Mean­while, the pro­gres­sion-free sur­vival rate for pa­tients was 33% com­pared with 19% in the place­bo group, As­traZeneca said.
"More­over, three quar­ters of these pa­tients had al­so not pro­gressed in that time," Spigel said. "This is a mo­men­tous achieve­ment at the five-year land­mark in this cu­ra­tive-in­tent set­ting."
Lung can­cer is re­spon­si­ble for 1 in 5 can­cer deaths, As­traZeneca said. Be­tween 80 and 85% of lung can­cer pa­tients have NSCLC, and a quar­ter of those pa­tients are di­ag­nosed at Stage III, which the ma­jor­i­ty of tu­mors can­not be re­moved with surgery. For pa­tients in the PA­CIF­IC Phase III tri­al, Imfinzi is the first new treat­ment avail­able to pa­tients.
The PA­CIF­IC tri­al was con­duct­ed at 235 lo­ca­tions in 26 coun­tries and in­volved 713 pa­tients. Imfinzi is be­ing test­ed in sev­er­al dif­fer­ent stud­ies. Sci­en­tists hope that it could be used as a treat­ment for pa­tients with he­pa­to­cel­lu­lar car­ci­no­ma, bil­iary tract can­cer (which is a form of liv­er can­cer), cer­vi­cal can­cer and ovar­i­an can­cer, among oth­ers. As a part of its im­munother­a­py port­fo­lio, As­traZeneca is work­ing to­ward de­vel­op­ing ap­proach­es that can use Imfinzi as a sin­gle treat­ment across a broad range of tu­mors.