#ASH17: Roche un­veils stel­lar PhII DL­B­CL da­ta for one of its top hema­tol­ogy drugs in the pipeline
One of Genen­tech's top ex­per­i­men­tal hema­tol­ogy drugs has de­liv­ered out­stand­ing re­sults in a mid-stage study for ag­gres­sive cas­es of dif­fuse large B-cell lym­phoma, a field that has been over­shad­owed by the two ap­proved CAR-Ts in the field.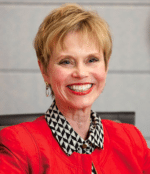 San­dra Horn­ing
New­ly re­ward­ed a break­through ther­a­py des­ig­na­tion from the FDA — and a sim­i­lar sta­tus from the EMA — in­ves­ti­ga­tors say they tracked a com­plete re­sponse rate of 40% in the Phase II tri­al. The drug — po­latuzum­ab ve­dotin — was added to ben­damus­tine and Rit­ux­an (BR), a com­bo that pro­vid­ed a 15% CR rate in the con­trol arm that was clear­ly over­shad­owed by the triplet.
The study al­so gath­ered promis­ing over­all sur­vival rates, with the triplet group achiev­ing a me­di­an OS of 11.8 months com­pared to 4.7 months in the con­trol group.
Promis­ing Phase II da­ta with a BTD qual­i­fies for a quick re­view at the FDA, and Roche CMO San­dra Horn­ing says they're head­ed to reg­u­la­tors to dis­cuss the path for­ward.
The drug — which us­es ADC tech from Seat­tle Ge­net­ics — is a first-in-class an­ti-CD79b an­ti­body drug con­ju­gate which tar­gets a pro­tein promi­nent in B-cell non-Hodgkin lym­phoma, and Genen­tech is fol­low­ing up with a range of stud­ies in­volv­ing com­bos with its top can­cer ther­a­pies.
Roche needs all the help it can get in can­cer right now, with gener­ics eat­ing away at its top 3 fran­chise ther­a­pies.
"As many as 40 per­cent of peo­ple with dif­fuse large B-cell lym­phoma do not re­spond to ini­tial ther­a­py or ex­pe­ri­ence the re­turn of their dis­ease, at which point their treat­ment op­tions are lim­it­ed and the prog­no­sis is very poor," said Horn­ing.