#ASH17: Ve­rastem's Ab­b­Vie castoff is head­ed for the FDA — even af­ter miss­ing over­all sur­vival goal
When Ve­rastem $VSTM CEO Robert For­rester high­light­ed the pos­i­tive end­point from the piv­otal study of du­velis­ib a few months ago, he didn't want to talk about the sec­ondary da­ta points. That, he said, was be­ing saved for a fu­ture sci­en­tif­ic con­fer­ence.
And to­day at ASH you can see the added da­ta isn't some­thing you'd want to dis­cuss much.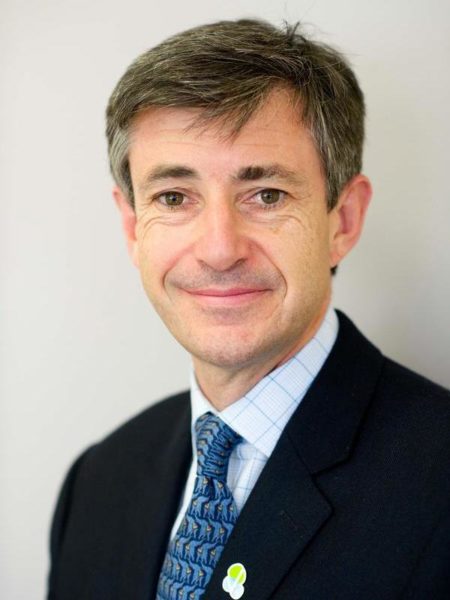 Robert For­rester
The drug — which hit sta­tis­ti­cal sig­nif­i­cance on pro­gres­sion-free sur­vival — flunked the key over­all sur­vival sec­ondary, fail­ing to do any bet­ter than Arz­er­ra (ofa­tu­mum­ab) in ex­tend­ing the lives of pa­tients with re­lapsed or re­frac­to­ry chron­ic lym­pho­cyt­ic leukemia/small lym­pho­cyt­ic lym­phoma.
The pos­i­tive da­ta that Ve­rastem is stick­ing with is for the me­di­an PFS: 13.3 months ver­sus 9.9 months for the con­trol. By the in­ves­ti­ga­tor as­sess­ment, there was an even bet­ter 17.6-month me­di­an PFS ver­sus 9.7 months for Arz­er­ra.
This is the da­ta that Ve­rastem is now hus­tling to the FDA, look­ing for an ap­proval to treat sec­ond-line cas­es. The p val­ue for the OS da­ta, p=0.4807, demon­strat­ed the drug group was no worse off, some­thing that was "like­ly due to oth­er avail­able ther­a­pies fol­low­ing pro­gres­sion," ac­cord­ing to the com­pa­ny.
This was the drug that Ab­b­Vie $AB­BV paid $275 mil­lion up­front to part­ner on with In­fin­i­ty $IN­FI, but then walked away as the drug proved suc­cess­ful — but ex­treme­ly dis­ap­point­ing — in a Phase II study. For­rester picked up the rights to the drug for ex­act­ly noth­ing down as In­fin­i­ty re­struc­tured and re­fo­cused on some­thing else.
For­rester — and ex-In­fin­i­ty R&D chief Ju­lian Adams, for that mat­ter — be­lieve the drug can def­i­nite­ly win an ap­proval. And Ve­rastem be­lieves it can mar­ket the drug look­ing for peak sales of sev­er­al hun­dred mil­lion dol­lars a year.
Ve­rastem's PR to­day out­lines the sales mod­el. Diep Le, Ve­rastem's CMO, said:
CLL/SLL most­ly af­fects el­der­ly pa­tients and many are un­able or un­will­ing to be hos­pi­tal­ized or come in­to the clin­ic for fre­quent IV in­fu­sions. The CLL/SLL treat­ment land­scape there­fore is mov­ing away from chemother­a­pies and to­ward more tar­get­ed, prefer­ably oral reg­i­mens. While pa­tients are liv­ing longer many will be in­tol­er­ant to, or re­lapse fol­low­ing, their ini­tial ther­a­py em­pha­siz­ing the need for new op­tions. Oral du­velis­ib is the first PI3K in­hibitor to show ef­fi­ca­cy as an oral monother­a­py in a ran­dom­ized Phase 3 study in pa­tients with re­lapsed or re­frac­to­ry CLL/SLL and may of­fer an ap­peal­ing al­ter­na­tive for pa­tients who have pro­gressed or re­lapsed.
The NDA will be de­liv­ered in Q1.